The Best Movie-Inspired Halloween Costumes for Dogs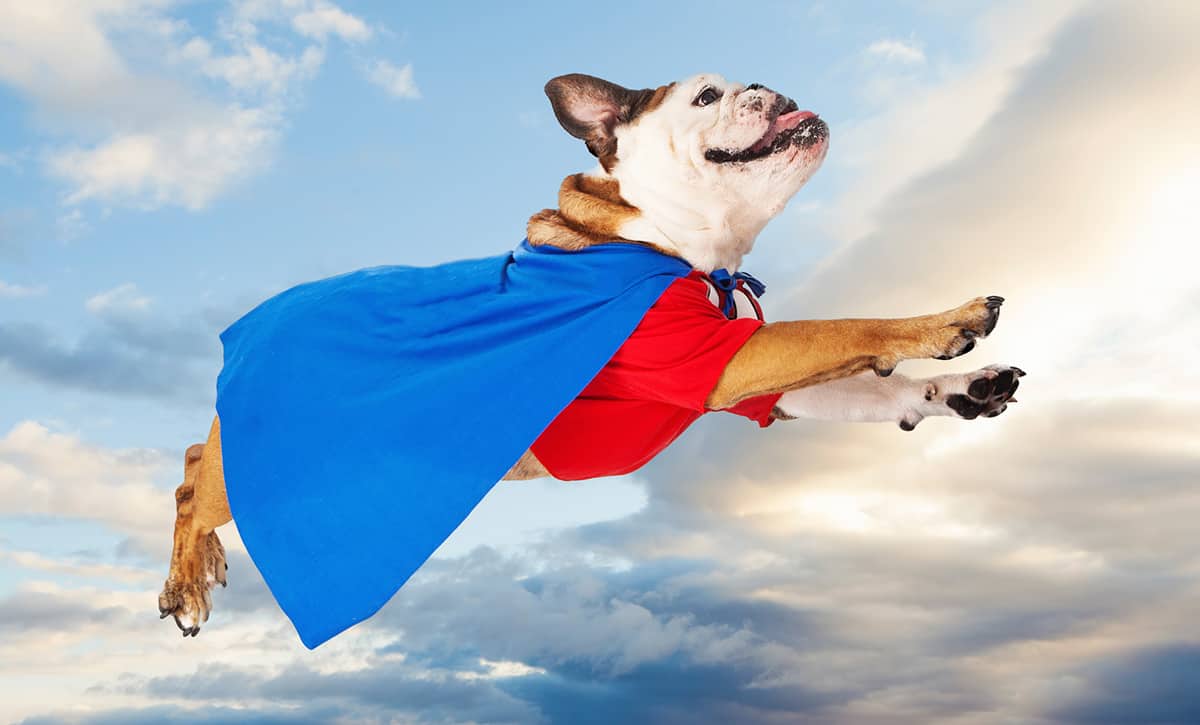 Published on September 20th, 2019
Take your dog to the movies with these excellent movie-inspired Halloween costumes for dogs.
Struggling to decide what to dress your dog up as this Halloween?
Movie inspired Halloween costumes always go down well, especially when it's really obvious what movie the costume relates to.
If you're dog is always up for a bit of dress-up time, here are 17 fun movie costumes for dogs that they are bound to love this Halloween!
Related: How to keep your dog safe this Halloween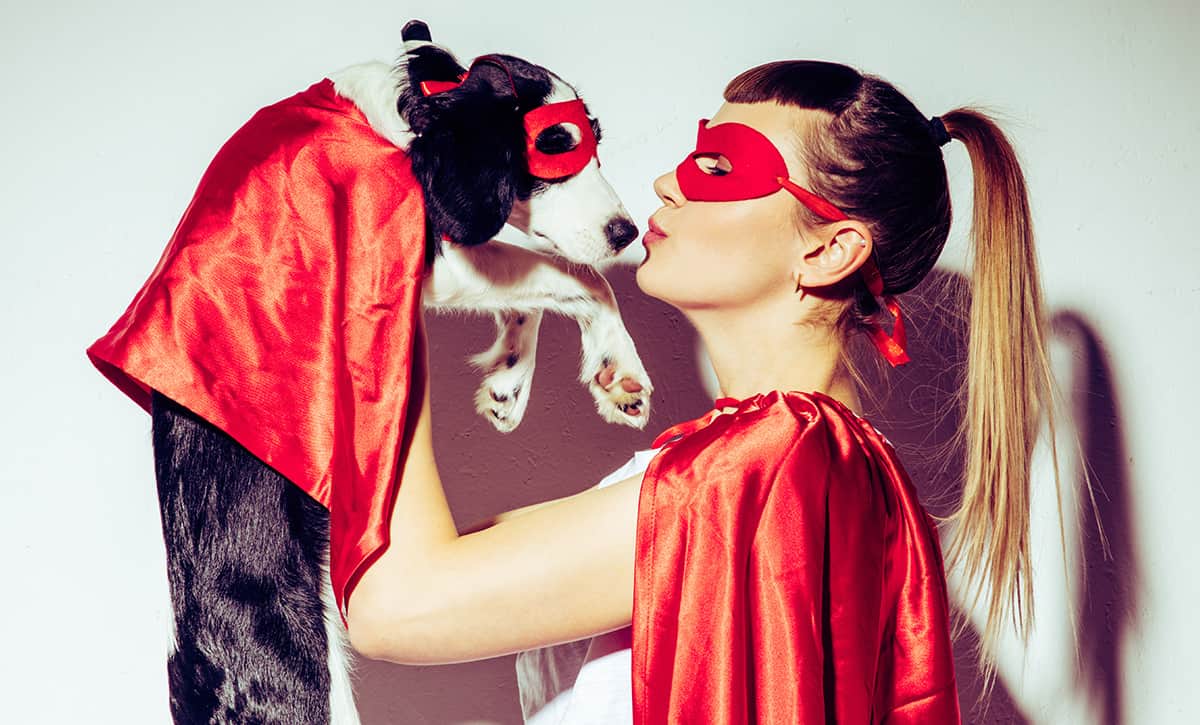 Film inspired Halloween costumes for dogs
Disclosure: This post contains affiliate links, which means that I will earn a commission if you click through and make a purchase (at no additional cost to you).
Nightmare on Elm Street
We'll start this costume collection with a Halloween movie classic – The Nightmare on Elm Street.
Turn your dog into Freddie Krueger with this costume.
It comes in small, medium, large and extra-large sizes so you should be able to find the right fit for your dog.
Minions
Did someone say… BANANAS?
Here's to everyone's favourite little yellow critters!
This pet dog minion costume is super adorable and fairly easy for your dog to wear as it's really just a patterned dog coat with a hat.
Ghostbusters
There's something strange… in the neighbourhood… who you gunna call?
GHOSTBUSTERS!!
Get ghoul-fighting as a team with these matching Ghostbusters costumes for you and your dog.
All the Halloween ghosts and creatures will be running away from you in no time at all!
Star Wars dog costumes
I couldn't decide my favourite Star Wars dog costume, so I've included two different ones.
The first is this gorgeous little Ewok costume.
I have shih tzus, who look like Ewoks at the best of time, so this costume would be absolutely perfect for them.
If you think your pooch would be more on the Dark Side than a Jedi-hero, then how about this imposing Darth Vader dog costume?
There is loads of detail in this costume and I love how the cape flies out at the sides for a really striking appearance.
This is an ideal Halloween costume for large dogs, as shown in the photo of the German Shepherd.
Jaws
I can almost hear the theme music playing now!
Turn your dog into the world's scariest shark with this fun Jaws themed costume.
This costume may take your dog a little bit of time to get used to as it's fairly bulky, so be sure to order it with plenty of time to gradually introduce your pet to it so that they aren't scared or uncomfortable.
Beetlejuice
If you're a Tim Burton fan then this Beetlejuice costume could be perfect for you.
If your dog is black and white in colour then he'll match the costume perfectly!
You can get Beetlejuice costumes for adults too – check out this awesome collection of dog-and-owner matching Halloween costumes to see them.
Scooby Doo
Scooby dooby doo, where are you?
I used to LOVE watching Scooby Doo when I was a kid and trying to guess the ending of all the supernatural crimes that the team were solving each week.
This is an official licensed Scooby Doo costume of the famous Mystery Machine van.
Jurassic World
Turn your dog into a dinosaur with this Jurassic Park inspired outfit for dogs.
I am a huge Jurassic World fan, so this is one of my favourite costumes from this whole collection.
My dogs aren't overly fond of wearing costumes though, so I don't think they would really appreciate me getting them this to dress up in at Halloween!
Paw Patrol
Okay, so this one is definitely more cute than spooky, but not EVERY costume can be scary, right?
This outfit is based on the character 'Chase' from the popular kids' cartoon Paw Patrol.
I've never seen this show, but I know that load of kids are obsessed with it, so this could be a great costume to get your kids excited at Halloween, particularly if they get to dress up as Paw Patrol characters as well.
James Bond dog costume
Just how suave does this dog look in his James Bond tuxedo?
If your dog is more of a gentleman than a superhero then this could be the ideal outfit for him.
He'll probably be more interested in gravy bones than dry martinis though!
Teenage mutant ninja turtle
Turn your pooch into a crime-fighting ninja turtle!
This is so cute, but you're need an experienced dog who is used to wearing fancy dress to be comfortable wearing this as it's quite a big costume.
Be sure to check your dog doesn't get too hot while wearing it.
Super hero costumes for dogs
There are SO many different super hero costumes for dogs to buy.
You can tell that superheros are incredibly popular simply by the large level of merchandise available for many of the different heroes.
Here are some of my favourite superhero dog costumes.
Spider Man
Everyone's favourite friendly neighbourhood Spiderman comes to life in this fun Spiderman costume for dogs.
This lightweight dog coat is ideal for dogs who are new to costume wearing.
Even if your dog won't wear the hat, you'll still be able to tell who they are dressed up as, even if they are only wearing the coat.
Robin
If you're planning on dressing up at Batman this Halloween then you need your trusty sidekick by your side!
Take your pooch with you on all your bad-guy-beating adventures with this cute Robin costume.
Wonderwoman
Got a female dog? This is the super hero costume for her!
This official licensed Wonderwoman costume is the female empowering outfit that we all need to have in our wardrobes!
It comes in four different sizes so you can choose the one that's best for your dog.
Superman
The final costume in this collection of movie costumes for dogs is a Superman costume.
As with the Wonderwoman costume, this is officially licensed and comes in four sizes.
If you have a male and a female dog, I think they would look fabulous as matching DC superheros Wonderwoman and Superman.
Top movie costumes for dogs
I hope you enjoyed this collection of movie costumes for dogs.
If you'd prefer to DIY your dog's outfit rather than buy it then check out these simple Halloween dog costumes to make.
There are some movie-inspired costume ideas in that list as well.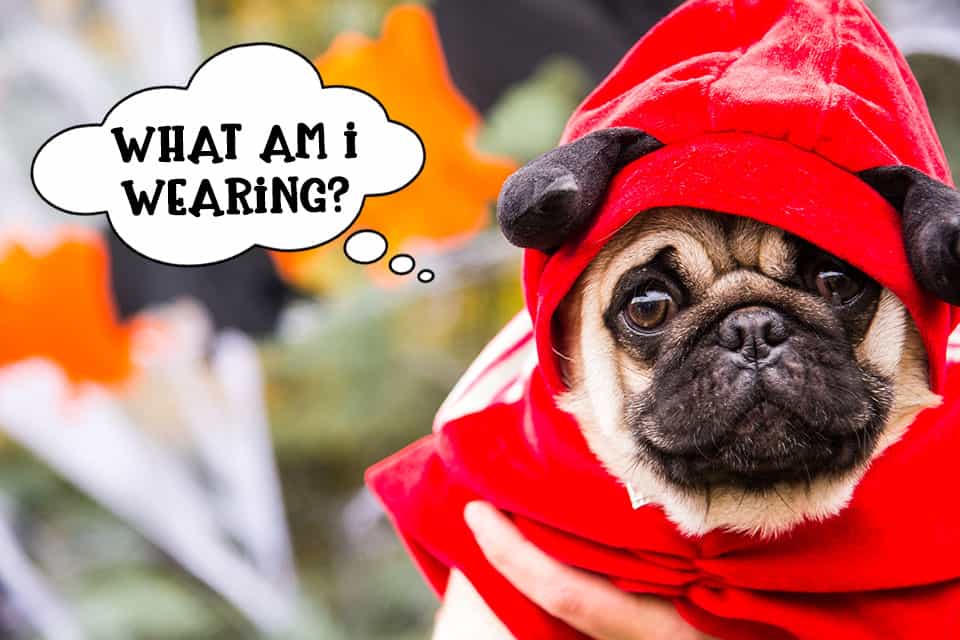 And of course, don't forget to check out these fun-filled Halloween movies that feature dogs.
Happy Halloween!