11 Ingenious Dog & Owner Halloween Costume Ideas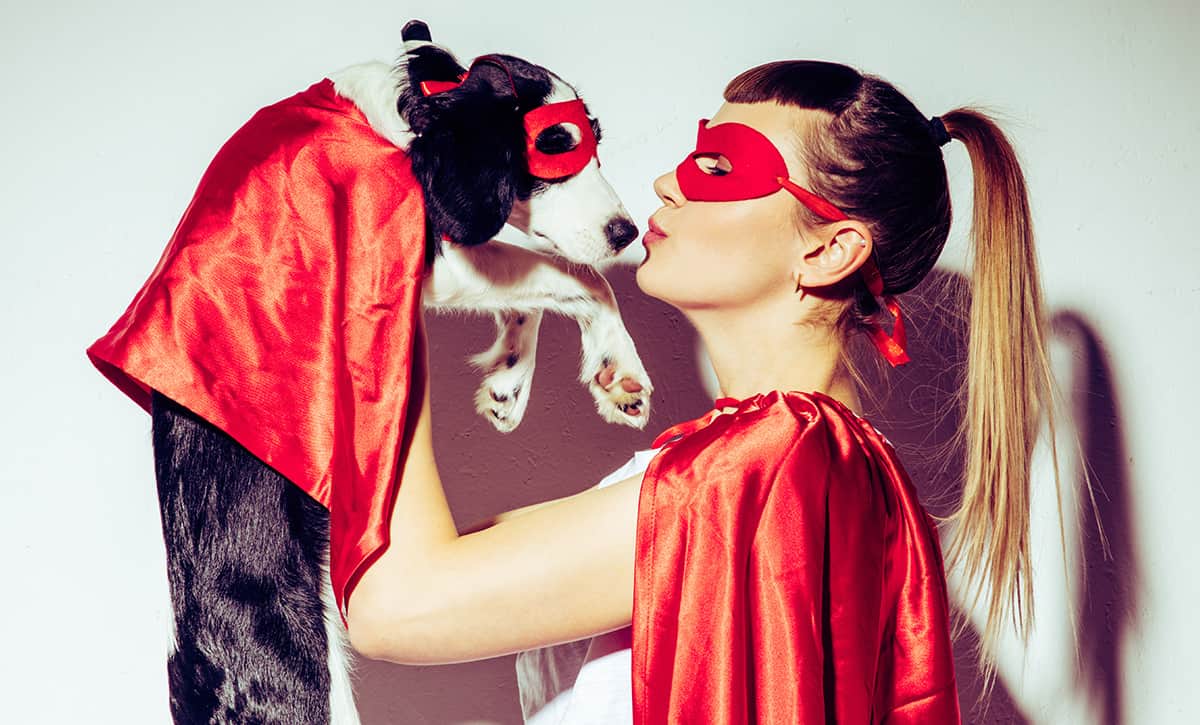 Updated on October 19th, 2019
Do you love to match your costume with your dog at Halloween? Here are ten clever dog & owner Halloween costume ideas to make your family stand out this Holiday season.
I love seeing family photos on Instagram and Facebook of couple dressed up for Halloween and their dog matching them too.
Of course, not every dog enjoys wearing costumes, so if your dog doesn't then don't force them too.
However, if your dog starts wagging his tail at the sight of his latest outfit then dressing him up for Halloween is something to consider!
Don't forget, your dog's happiness is what's important, especially when there are lots of things he might be scared of this Halloween.
Related: How to keep your dog safe this Halloween
Here are ten ingenious family costume ideas for you and your dog.
Disclosure: This post contains affiliate links, which means that I will earn a commission if you click through and make a purchase (at no additional cost to you).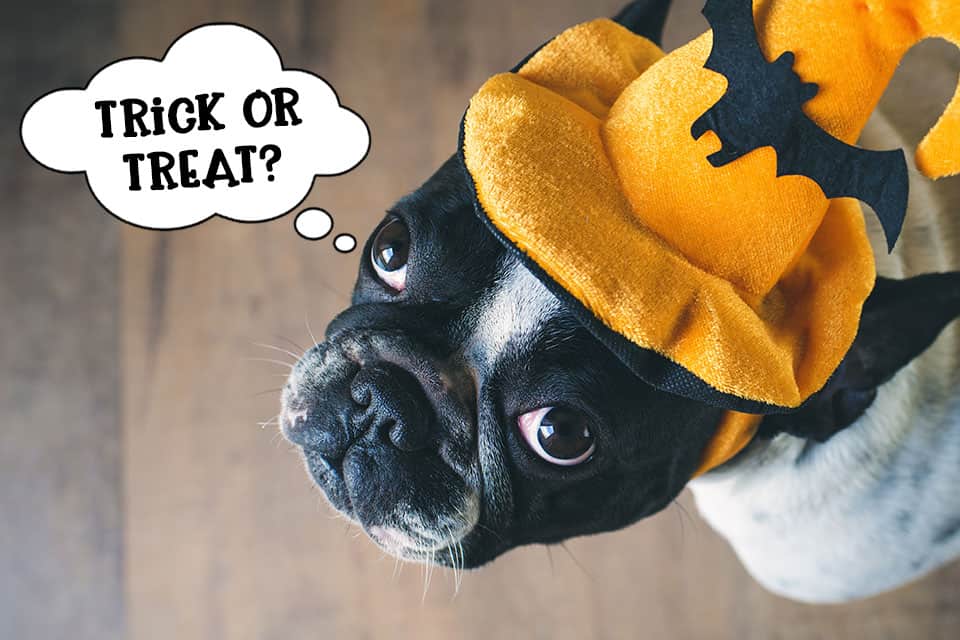 Dog and owner Halloween costume ideas
You could be ultra-creative this year and make your own doggie Halloween costume on one of these themes, but in case (like me!) you aren't that handy with a needle and thread, there are Amazon links below each costume to go ahead and buy them.
Lion and lion tamer
Did someone say 'RAWRRRRRR'?
Put the chills into your neighbors by dressing your dog up as a lion with a big furry main.
This works especially well if you have a large pale-coloured dog such as a labrador, retriever or bullmastiff as they really given off the 'lion' vibe once you add the main!
These costumes would also be fabulous for a Greatest Showmen themed Halloween party.
PBPBOX Dog Lion Mane with Open Ears Adjustable Lion Wig Pet Costume
BRING OUT YOUR PET'S INNER LION! Make your dog into a real King Of The Jungle with this lion disguise. Everyone will get a laugh out of your pup's new look, and your dog will love the attention.
ONE SIZE FITS MOST. The combination of a buckle clasp and an expandable elastic band means this wig will fit any medium to large dog.
COMFORTABLE AND FUN. A soft inner lining, light weight, gentle elastic, and holes for your dog's ears make this mane comfortable to wear.
QUALITY MATERIALS FOR A GREAT LOOK. The faux hair is lustrous and flowing, and is the perfect orange-brown color of a lion's mane. The attached lion ears complete the effect.
NO-RISK PURCHASE! UNCONDITIONAL MONEY-BACK GUARANTEE. If you're unsatisfied with this item for any reason, we'll immediately refund your purchase price.
Vampire & Vampire Bat
Go classic Hammer Horror with this Dracula inspired costume collection.
Vampires are a traditional Halloween costume that always have the scare-factor.
What vampire couple would be complete without their little vampire bat (aka dog!) to take to parties with them?
The male vampire costume is a luxury that usually retails at a fairly high price, but you can usually find it on sale here. If you see it for less than £40, I think that's a bargain!
Dinosaurs
Everybody loves dinosaurs, right?
This little dinosaur onesie for dogs is super-adorable.
If your dog is okay with wearing a dog coat in the winter, they should be alright with this costume as it's fairly similar.
However, the adult dinosaur costumes may be a bit scary for your dog, especially as they need to inflate which might be noisy.
If you get these costumes, it might be a good idea to get your dog used to them before Halloween. Slowly introduce him to the costumes, and the inflator, until he is comfortable being around them and the noise.
Cowboys & cowgirls
Yeeeee-haaaaaaaaaa!!
Take your pooch to the Wild West this Halloween with this fabulous cowboy costume.
This is a good costume for dogs because it's really just a dog coat with a little cowboy on top, so most dogs should be happy to wear this if they are used to wearing dog coats.
For your family costumes, if you don't want to go for the full costume then you could just purchase a couple of cowboy hats and wear them with some jeans and checked shirts.
Ghostbusters team
There's something strange… in the neighbourhood… who you gunna call?
GHOSTBUSTERS!!
Get ghoul-fighting as a team with these matching Ghostbusters costumes for you and your dog.
All the Halloween ghosts and creatures will be running away from you in no time at all!
Pirates
Ride the seven seas with these fabulous pirate costumes.
Just how cute is that little pirate hat for your pooch?
Just like with the cowboy costumes, if you want to go a bit more low-key to your party this year, a simple pirate hat, white short and black shorts could give off the pirate vibe without you having to wear a full costume.
Beetlejuice
How's this for the perfect movie-inspired Halloween costumes for you and your dog?
If you're a Tim Burton fan then these Beetlejuice costumes could be perfect for you.
If your dog is black and white in colour then he'll match the costume perfectly!
Police Officer & Prisoner
Uh-oh! Someone is in the dog house!
Round up your dog and get ready to send him down with these fun policeman and prisoner costume ideas.
You'll be the perfect little crime-busting family all together.
Batman, Robin & Batgirl
Superheroes are one of the most popular themes for Halloween costumes.
Don't let your dog miss out on all the fun by turning them into your crime-fighting sidekick.
You can be Batman, Batgirl and Robin all together.
This will look amazing for those Insta-perfect family photos!
Jedi, Yoda & R2D2
Stay away from the dark side this October by joining the Jedi Order with these fun Star Wars costumes.
Although the photo has a larger dog in the Yoda costume, I think it would look SO CUTE on smaller dogs such as shih tzus, pugs or French bulldogs.
I've never actually seen a Star Wars film, but out of all the female costumes I've chosen, this one is my favourite.
Buzz Lightyear, Woody and Jessie from Toy Story
You've got a friend in me!
Go back to your childhood with these Toy Store inspired Halloween costumes.
You've got Woody, Jessie and of course your pooch will be the original Space Ranger himself, Buzz Lightyear.
You'll be instantly recognisable as these Pixar favourites when you go out family trick-or-treating in these costumes.
Halloween costumes for you and your dog
So there you have it, my selection of the best Halloween costumes for dogs and owners.
I hope that you have found something in there to inspire your costume efforts this year!
If you're planning on taking your dog trick-or-treating this year, you could perhaps get yourselves ready whilst watching a dog-themed Halloween movie, or by playing some spooky music to get you all in the mood.
Happy Halloween 🙂