100+ Frozen Dog Treats for Summer [Free Recipes!]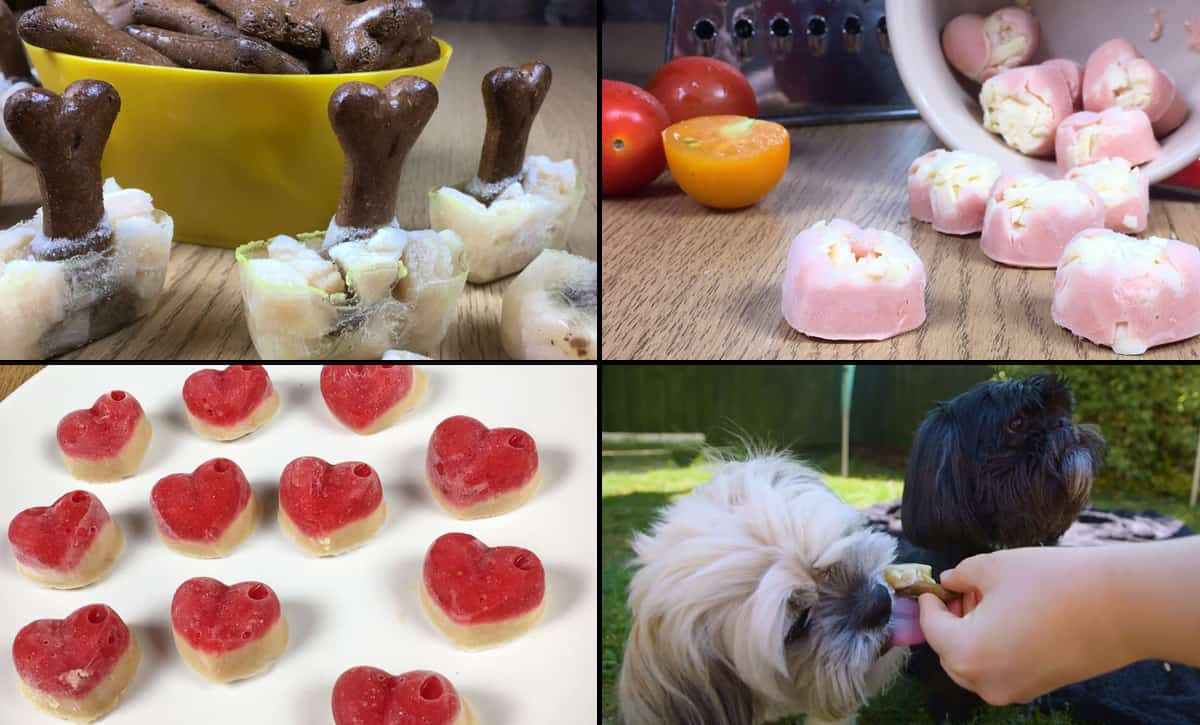 Published on February 26th, 2020
Is your dog feeling the heat this summer? If so, cool them down with some homemade frozen dog treats. Find over 100 frozen dog treat recipes here, with a HUGE range of ingredients.
Frozen dog treats are really easy to make and can be done with ingredients that you probably already have in your kitchen.
What frozen treats can I give my dog?
Frozen dog treats can be made with a wide range of ingredients, including: peanut butter, meat, broth, vegetables, fruit, yogurt and more.
One of my dogs likes meaty treats the best, whereas the other one will eat – well – pretty much anything – but treats with peanut butter in have to be his fave.
If your dog has a foodie favourite then it can probably be turned into a frozen treat to help keep your dog cool this summer.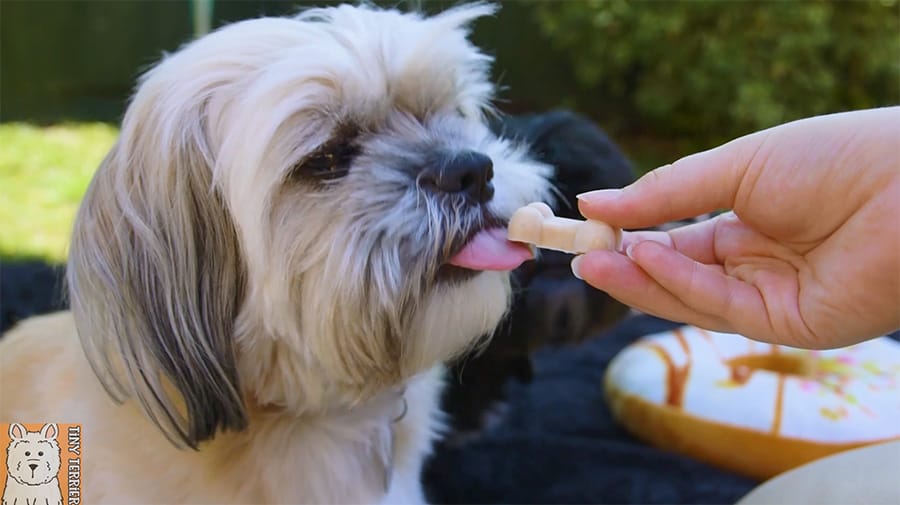 How do I make frozen dog treats for summer?
Making frozen dog treats is so easy!
For the most part, all your need to do it chuck the ingredients in a blender, whizz them all up, put into an ice cube tray and then freeze.
Sometimes they require a little more work, for example if you are using shredded meat, or making your own bone broth to go in them.
There are over 100 recipes listed below. Some are REALLY simple and only have two ingredients, and a few are more complicated.
Whatever your cooking level or kitchen ability, there will be something here to suit you.
You could even get your kids involved with making up the recipes for the furry companions.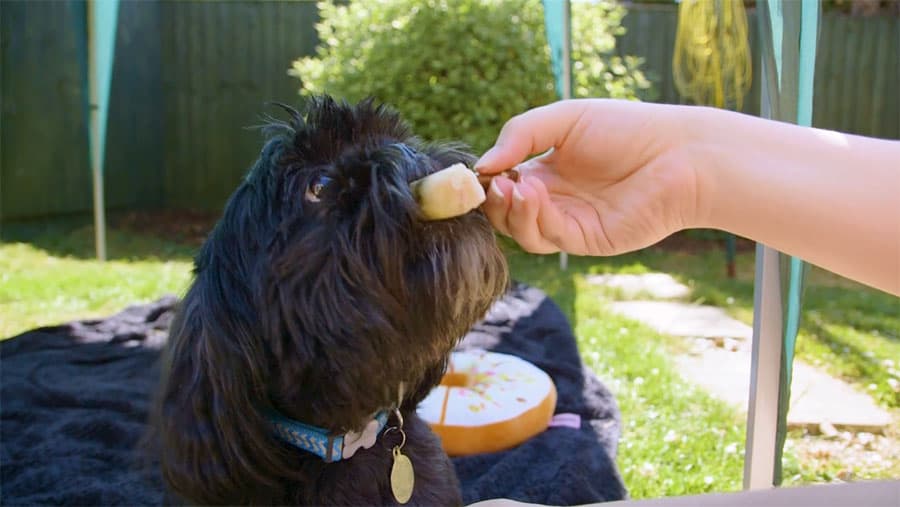 100+ frozen dog treat recipes
I've scoured the web for the BEST frozen dog treat recipes.
I've collected them all into this HUGE resource for you, split out by the main ingredient.
Whatever your pooch's preferred tastes, you'll find something here!
Frozen dog treats with strawberries
I like making frozen dog treats with strawberries as they are so fresh and cheap to buy in the summer, and the look and smell amazing!
These recipes are perfect for using up strawberries if they have started to go a little bit past their prime.
Don't feed the stalks to your dogs – just the radiant red fruit.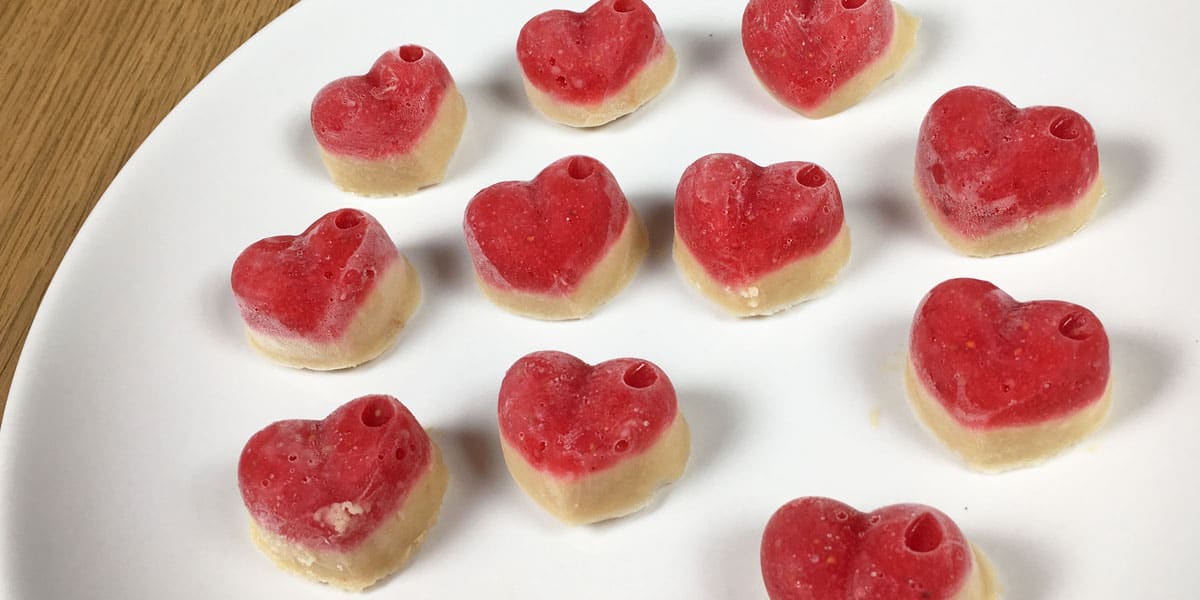 The best strawberry dog treat recipes
Frozen dog treats with peanut butter
Peanut butter is one of my favourite things to bake with, both for me and for the dogs!
One of my dogs is a little fussy over peanut butter and he won't eat it all of the time, but the other one LOVES it.
Do your dogs like peanut butter?
If they do, this list of peanut butter frosty paws is sure to get their mouths watering this summer!
When you use peanut butter in dog recipes, make sure it does NOT contain any Xylitol.
Xylitol is an artificial sweetener which is highly poisonous to dogs.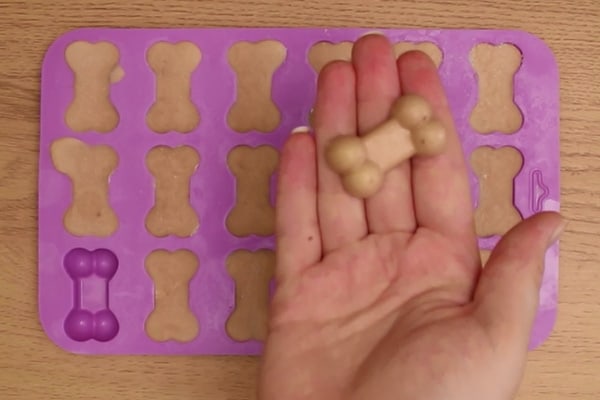 My favourite peanut butter frozen dog treats
Frozen dog treats with pumpkin
If you've ever wondered "can dogs eat pumpkin", the answer is YES!
It has to be cooked – you can't feed them pumpkin raw.
It's actually a pretty good idea to take the time and cook some pumpkin for your dog, because it can help them with some common digestive problems.
Make sure you only feed them the cooked flesh though, not the rind, seeds or the goopy stringy bits!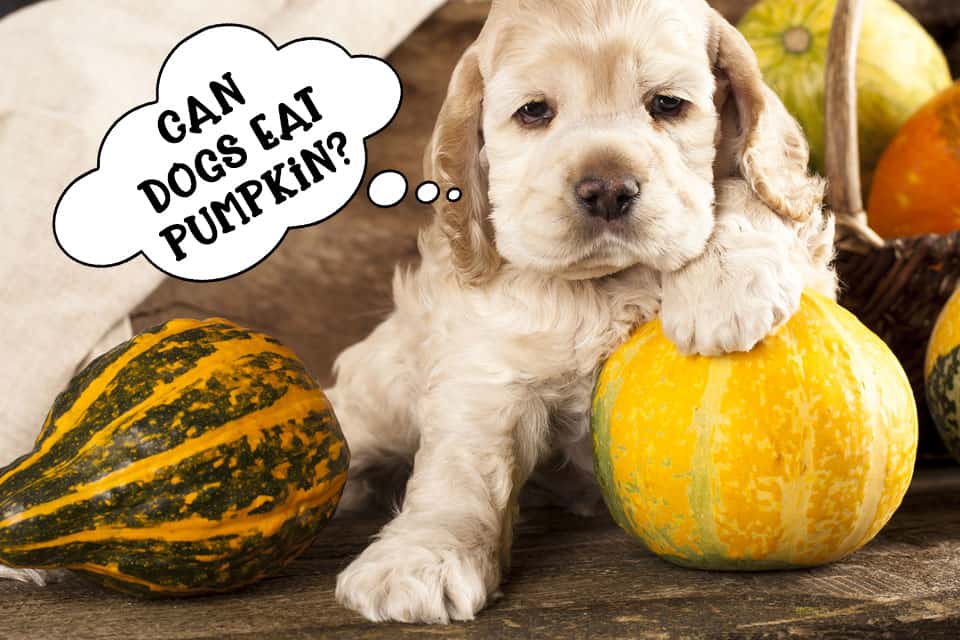 The best frozen pumpkin dog treats
Dairy free frozen dog treats
One of my dogs struggles a bit with eating any dairy.
It tends to give him a bit of a poorly tummy!
Freddie (the cream coloured pooch in the photo below) is much more limited in what he can tolerate than Socks (the black one).
I tend to make sure Freddie only eats dairy free dog treats because yoghurt, milk and cheese usually ends up giving him a bit of a dodgy tum.
If you have a dairy sensitive dog as well then these dairy-free recipes will help to make sure they don't suffer after eating your tasty creations!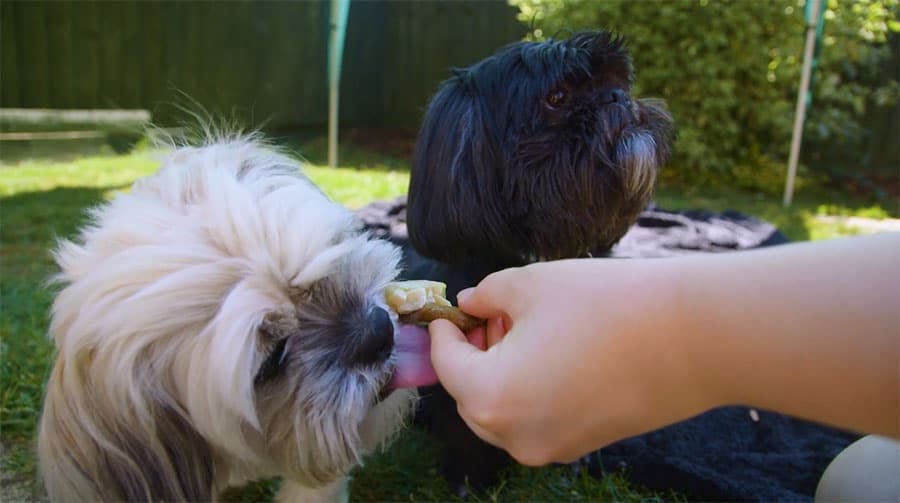 10 amazing dairy free frozen dog treats
Frozen dog treats with watermelon
Watermelon is a great ingredient for frozen dog treats as it's healthy, it smells good and it's a great colour too to get your dog interested in it.
It can be quite rich though, so only give it to your dog in moderation.
Your dog shouldn't eat watermelon pips or rind, but the pink flesh is usually fine for them to eat.
Use up your leftover watermelon by blending it up and feeding it to your pup!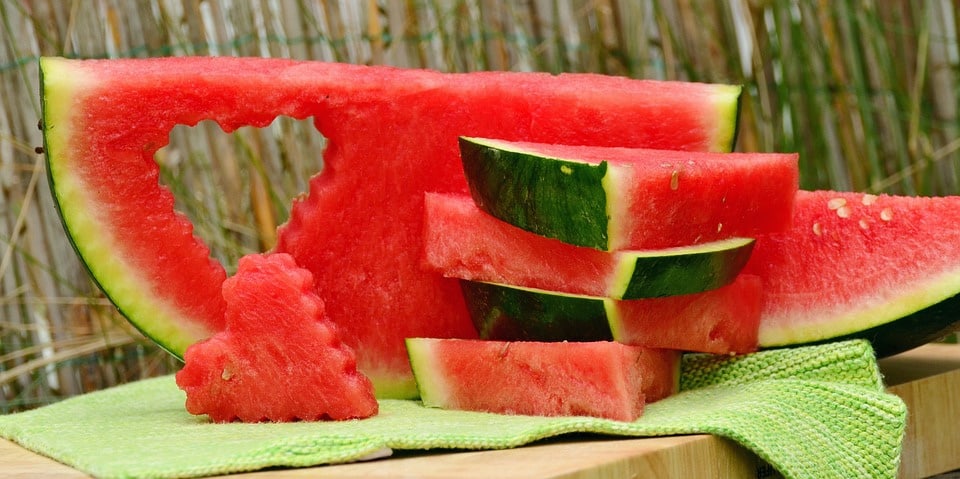 Top 10 watermelon dog treats
Frozen blueberry dog treats
My dogs don't like blueberries and tend to spit them out if you try to feed it to them, but I know that lots of dogs DO like blueberries!
My husband is sort-of glad that the dogs don't like blueberries because one of HIS favourite treats are blueberry muffins.
If the dogs won't eat the blueberries… that means I make muffins!
Muffins aren't ideal for summer though and frozen based treats are much better, so here are some blueberry based frosty paws recipes for Rover in the hot weather.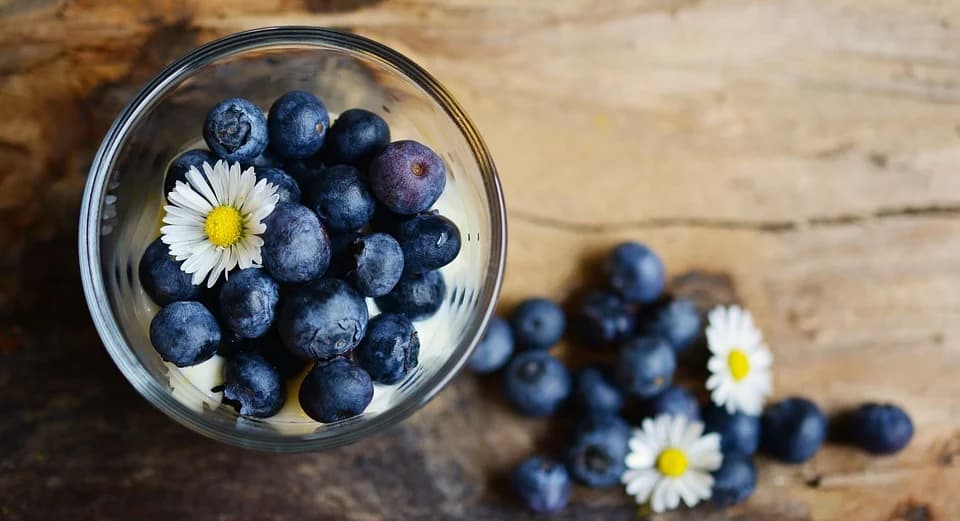 Blueberry frozen treats for dogs
Frozen dog treats with banana
Banana is my idea of fruit hell.
I REALLY don't like it! The look, the smell, the slimy texture – everything about it makes me cringe.
Unfortunately though, it's one of my husband's favourite fruits, so we always have them in the house.
My dogs enjoy eating it too, which is lucky when it gets to summer as they makes wonderfully smooth and creamy dog treats when you blend them up.
I might not like it myself, but as my dogs enjoy banana I suck-up my hatred of them to create them their favourite treats!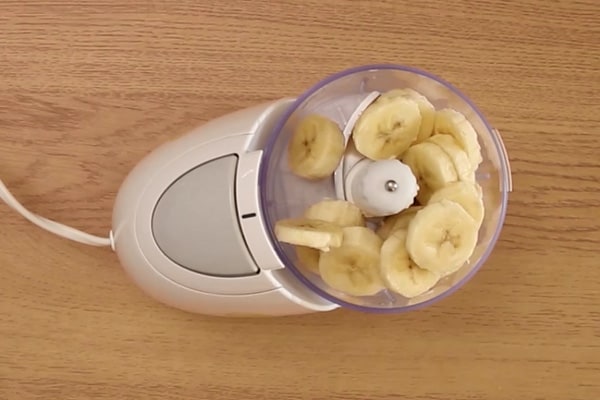 Super-easy banana dog treats you can freeze
Meaty frozen dog treats
Does your dog turn his nose up at fruit and vegetables?
I can't really blame him – dogs are designed to eat meat, after all!
If your dog is ALLLLLLLL about the meat treats then this is the section of this article that will be best for them…
From chicken to bacon, meaty chunks to tasty broth, find all your meaty treat inspiration here.
As you can see, Socks REALLY likes his chicken lollipops!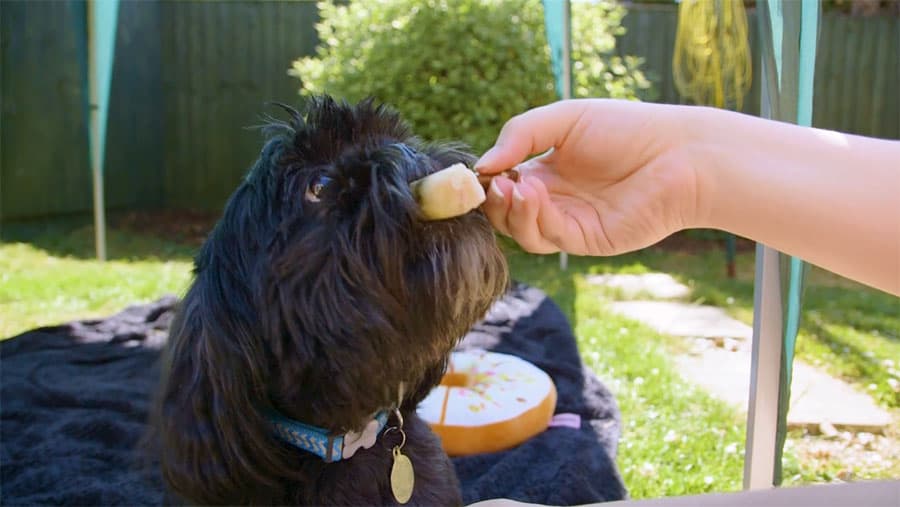 Frozen dog treats with meat in them
Vegetable based frozen dog treats
A dog can't live off of meat alone.
Well, maybe he can, but he should really eat some veggies too!
The following list of recipes for dogs shows frozen treats packed full of healthy, colourful and TASTY vegetables.
Because you know what mom says… you always need to eat your greens to grow up big and strong!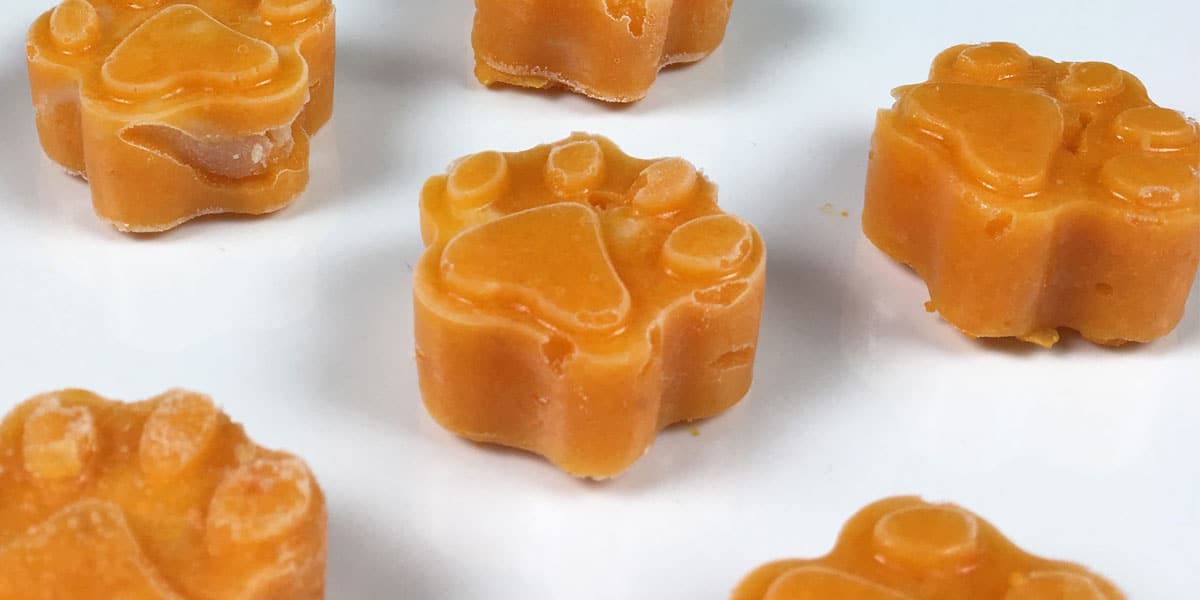 Healthy vegetable treats for dogs
Frozen dog treats with yogurt
As I said earlier, some dogs can't eat much yogurt, whereas others can tolerate it just fine.
If your dog CAN eat yoghurt and dairy, then check out these tasty yogurt-based dog treats.
You could always try substituting dairy yogurt for coconut yogurt to remove the lactose element.
Just be sure to buy sugar-free and yogurt and make sure it does NOT contain any xylitol as that's highly toxic to dogs.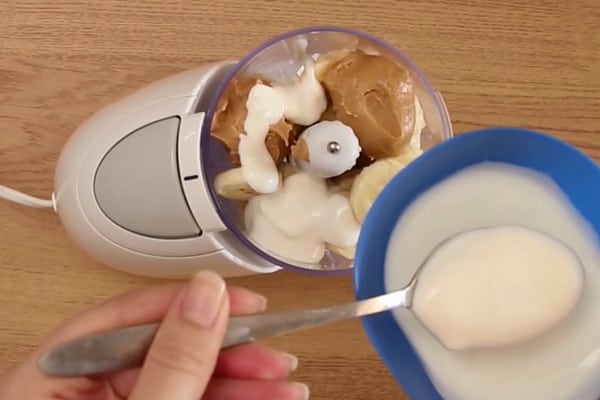 Smooth, delicious yogurt dog treats
Frozen dog treats with extra biscuits!
If your dog is a little on the fussy side, they might need a bit of extra convincing to get them to eat the frozen treats.
Some dogs are a little unsure of ice cube based treats, especially if they haven't had them before.
It was quite funny the first time I gave frozen treats to my dogs.
They weren't sure about the coldness AT ALL but eventually their curiosity took over and they crunched them all up.
One way to get a nervous dog to take the nice cold treat is to include a bit of their favourite biscuit or treat and "stick it out" of the ice cube to form a lollipop.
Your dog will be so excited to get their fave biscuit that they'll probably snarfle up the ice without even noticing!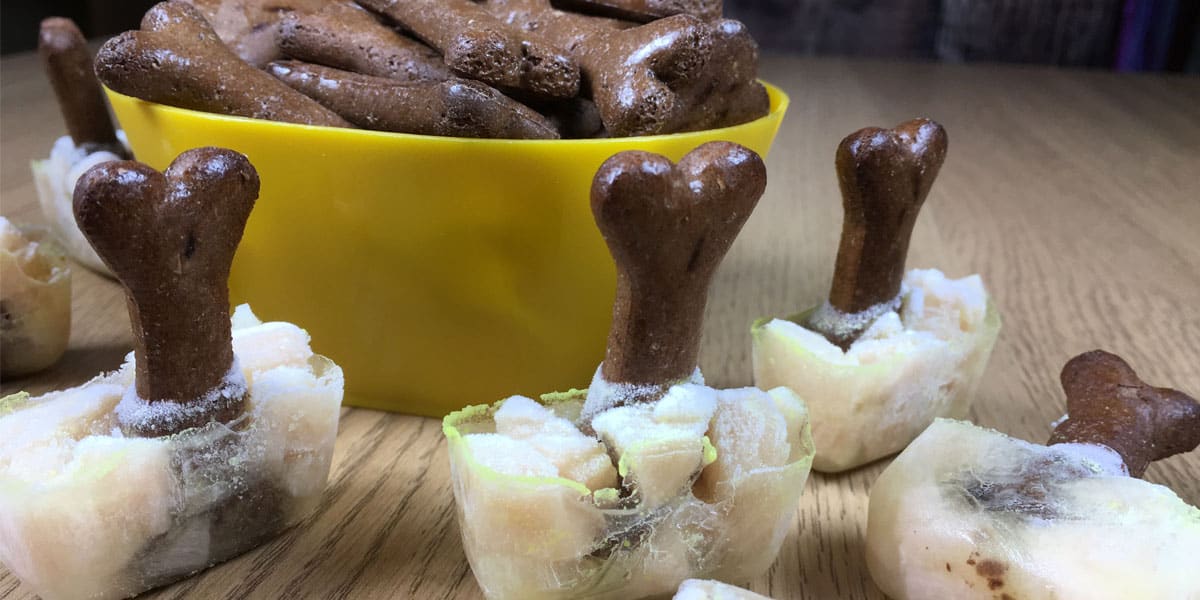 Tasty recipes with biscuits adding:
How do you make frozen dog treats?
Phew, you've finally reached the end of this HUGE recipe book collection of frozen dog treats.
I hope that you have found all the inspiration you need to whip up some quick and easy "frosty paws" for your pooch when the weather gets warm.
Ice cube treats are ideal for cooling your dog down on a hot day.
They'll be sure to thank you with lots of slobbery, sticky kisses after they have finished eating!