Strawberry & Apple Frozen Dog Treats Recipe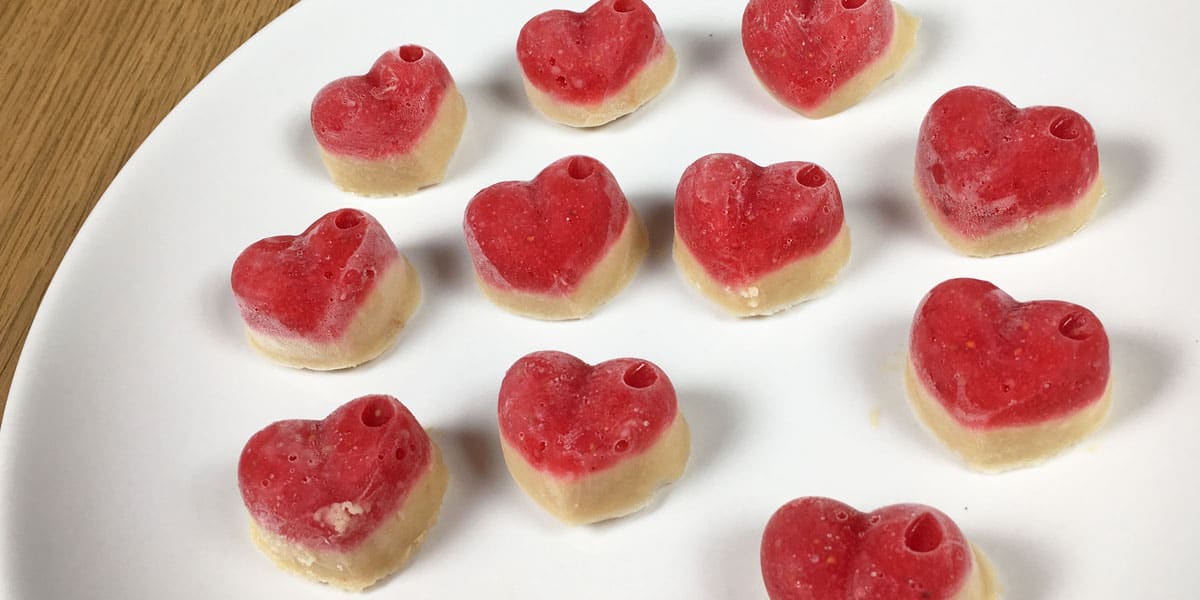 Updated on March 29th, 2019
With all this wonderful hot weather we have been enjoying in the UK I thought I'd try out some frozen dog treat recipes for my pooches.
This healthy strawberry, apple and peanut butter recipe is a firm favourite with my two shih tzus!
I tried so hard to get a photo of Freddie and Socks enjoying these treats… but they snarfled them all so quickly that this is the best I managed to capture!! They definitely liked them as they didn't last very long 😀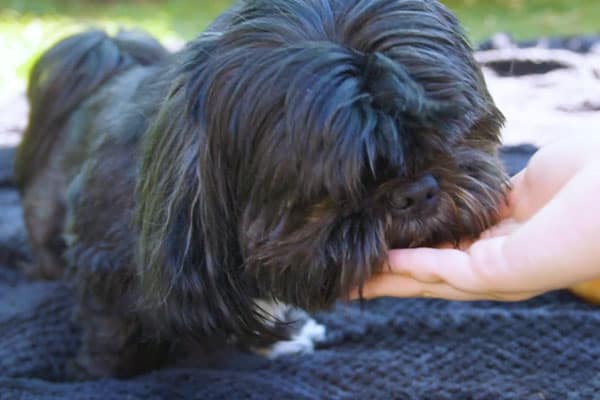 Disclosure: This post contains affiliate links, which means that I will earn a commission if you click through and make a purchase (at no additional cost to you).
Healthy fruit-based frozen dog treats
One of the huge benefits of making your own frozen dog treats is that you know exactly what's gone into them. This means you can be sure your pooch is eating only the finest ingredients!
This fruity dog treat recipe is gluten free, grain free, egg free and it's vegetarian and vegan too.
The only ingredients you need to make these delicious ice pops for your pup are strawberries, an apple, peanut butter and a dash of water – yum!
The recipe is perfectly edible for humans too – although you may wish to add some honey or other sweetener to make them taste better. Don't feed your dog the sweetened version though – they don't need all that sugar.
To make little individual treats you'll need an ice cube tray. I LOVE these shaped silicon ice cube moulds as they create super-cute shaped dog treats.
HelpCuisine Silicone Moulds Baking, Silicone molds ice Cube Tray for Hearts, Stars & Shells, Pack of 3 -Ideal for Chocolate, Candles, Jello ecc, BPA Free and FDA Approved, Make Happy Your Kids
EXCLUSIVE PACK DEAL! Get three different color and shape chocolate/candy molds to make unique and amazing cake embellishments that look as great as they taste! Pack includes: one green seashells mold tray, one yellow stars mold tray, and one blue hearts mold tray.
HIGH QUALITY, BEST SILICONE MOLDS - Made from the best, FDA approved silicone, these molds are great for making candy or chocolate. They hold the matter in a stable way that sets them great. The end result is neat chocolate or candy in cute shapes - Sturdy and Durable - Don't worry if you accidentally hit, bump, or drop these molds – they don't break, making them last you a long time without having to run for a replacement.
EXTRA USES - If you desire, you don't just have to use these molds for sweet treats – they are also great for making candles, small soaps, jello, etc. Whether you're baking or freezing these molds, they work great. Multipurpose and great for cakes, ice cream, tarts, muffins, candles, soaps, mousses, and more!
EASY TO USE & EASY TO CLEAN The molds are extremely easy to use as they feature non stick elements and an easy grip, but maintaining them is even easier. The material used makes them easy to wash and dry.
24 Months Warranty, High Quality --- Company Information: G & M GbR located in Bochum in Germany; Our Team speaks 5 languages (English-French-German-Spanish and Italian) and is always at your disposal for any information!
The other piece of equipment you need is a blender. I absolutely adore my Kenwood Mini Chopper and use it SO much when I'm cooking – both for my family and my dogs!
Kenwood Mini Chopper, 0.35 Litre Dishwasher Safe Bowl, 2 Speeds, Rubber Feet for Food Chopper Stability, 300 W, CH180A, White
MINI CHOPPER: This food processor has two speeds for control of chopping rate while creating your favourite dish
PERFORMANCE: The powerful 300 W motor ensures excellent results for your chopping when you are creating rubs during meat preparation
SAFETY FEATURES: The rubber feet provide grip on work surfaces and the bowl and body interlock for safety and security while cooking
BOWL CAPACITY: Comes with a 0.35 Litre bowl with 150 g chopping capacity for herbs, vegetables and onions
EASY CLEAN UP: The mini chopper dismantles for easy cleaning and the bowl can be put in the dishwasher after making delicious dips, sauces, salads and more
It's a lovely compact chopper that's perfect for smaller recipes such as these frozen dog treats.
So now that you have all your ingredients and equipment together… let's get started on our dog treats!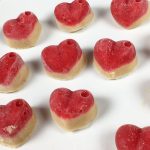 Strawberry & Apple Frozen Dog Treats
Treat your dog this summer with this easy-to-make recipe for frozen strawberry, apple and peanut butter dog treats.
Ingredients
8

Strawberries

Stalks removed

1

Apple

Peeled, cored and chopped

1-2

tbsp

Peanut Butter

Make sure it doesn't contain Xylitol as that is poisonous to dogs

1

Splash of water

1

Silicon ice cube tray
Instructions
Add the strawberries to a blender and blend until smooth.

Spoon the smushed strawberries into your ice cube tray, filling it half-way.

Clean your blender ready for the next stage.

Add the chopped apple, peanut butter and a splash of water to the blender and blend until smooth.

Add this mixture to your ice cube moulds, filling them to the top.

Freeze for at least 6 hours; ideally overnight.

Once frozen they are ready to feed to your dog! Remember - these are an occasional treat and one per day is plenty!
Got leftovers? Lucky you!
Depending on the size of your ice cube tray you may end up with leftovers.
You could store both mixtures in the fridge and re-fill the ice cube tray when your first batch has frozen – OR you could treat yourself at the same time you are treating your dog!
I like to mix the leftover shmushed strawberries in with the apple and peanut butter mix, add a generous helping of honey and some dessicated coconut and then stir into natural yoghurt.
It makes a wonderful healthy snack or you can even mix in some granola for a filling, fruity breakfast!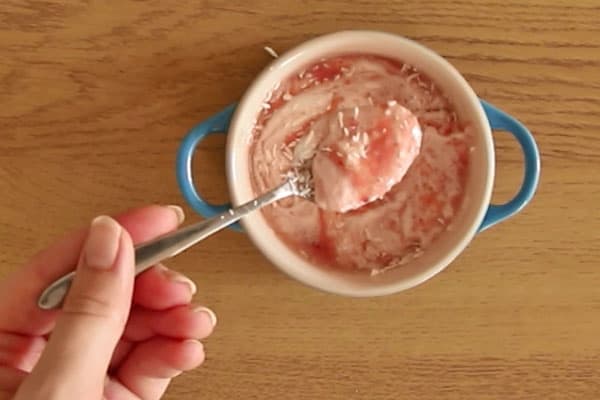 Just remember that your dog shouldn't be fed the mixture once you add sweeteners and other ingredients as it may not be pooch-friendly with all the extras.