Frozen Pizza Treats for Dogs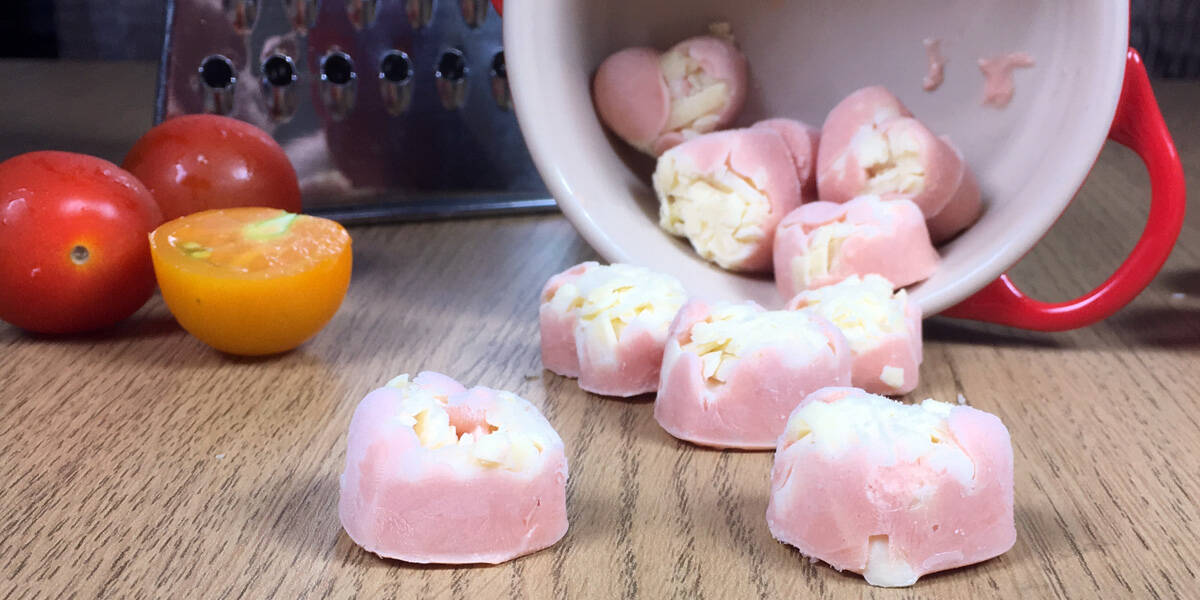 Updated on July 20th, 2019
Pizza is one of my favourite foods, and my dogs usually end up getting a cheeky little piece of crust. With these frozen pizza treats, they get all the joy of cheese and tomato mixed together in a savoury and creamy doggie ice cream treat.
Making some scrummy frozen dog treats is just one of many ways you can keep your dog cool in summer.
This dog treat recipe is perfect for older dogs as the mixture is fairly soft-set, so it's easy to crunch up and it melts quickly.
Plus, all that cheese makes them smell SO GOOD to your pooches!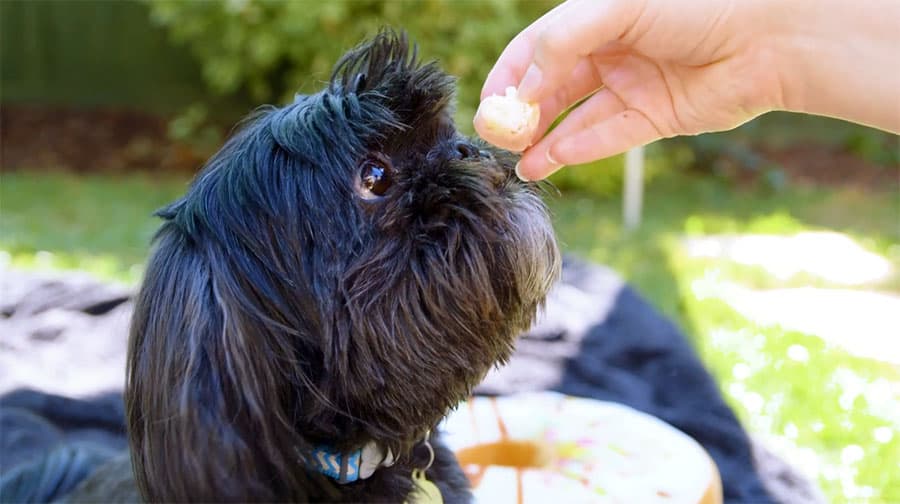 Disclosure: This post contains affiliate links, which means that I will earn a commission if you click through and make a purchase (at no additional cost to you).
Frozen Pizza Treats for Dogs
If your dog deserves some tasty pizza treats (and let's face it, why WOULDN'T THEY?), these shaped silicon ice cube moulds are a great starting point to create some fun shaped treats.
HelpCuisine Silicone Moulds Baking, Silicone molds ice Cube Tray for Hearts, Stars & Shells, Pack of 3 -Ideal for Chocolate, Candles, Jello ecc, BPA Free and FDA Approved, Make Happy Your Kids
EXCLUSIVE PACK DEAL! Get three different color and shape chocolate/candy molds to make unique and amazing cake embellishments that look as great as they taste! Pack includes: one green seashells mold tray, one yellow stars mold tray, and one blue hearts mold tray.
HIGH QUALITY, BEST SILICONE MOLDS - Made from the best, FDA approved silicone, these molds are great for making candy or chocolate. They hold the matter in a stable way that sets them great. The end result is neat chocolate or candy in cute shapes - Sturdy and Durable - Don't worry if you accidentally hit, bump, or drop these molds – they don't break, making them last you a long time without having to run for a replacement.
EXTRA USES - If you desire, you don't just have to use these molds for sweet treats – they are also great for making candles, small soaps, jello, etc. Whether you're baking or freezing these molds, they work great. Multipurpose and great for cakes, ice cream, tarts, muffins, candles, soaps, mousses, and more!
EASY TO USE & EASY TO CLEAN The molds are extremely easy to use as they feature non stick elements and an easy grip, but maintaining them is even easier. The material used makes them easy to wash and dry.
24 Months Warranty, High Quality --- Company Information: G & M GbR located in Bochum in Germany; Our Team speaks 5 languages (English-French-German-Spanish and Italian) and is always at your disposal for any information!
You'll need a good blender to make a super-smooth mixture so that it fills all the gaps in the ice cube tray.
I use this Kenwood Mini Chopper which is BRILLIANT and works really quickly. The small size is perfect for making dog treats as you can create small batches of ingredients and it all twists apart so that you can clean it.
Kenwood Mini Chopper, 0.35 Litre Dishwasher Safe Bowl, 2 Speeds, Rubber Feet for Food Chopper Stability, 300 W, CH180A, White
MINI CHOPPER: This food processor has two speeds for control of chopping rate while creating your favourite dish
PERFORMANCE: The powerful 300 W motor ensures excellent results for your chopping when you are creating rubs during meat preparation
SAFETY FEATURES: The rubber feet provide grip on work surfaces and the bowl and body interlock for safety and security while cooking
BOWL CAPACITY: Comes with a 0.35 Litre bowl with 150 g chopping capacity for herbs, vegetables and onions
EASY CLEAN UP: The mini chopper dismantles for easy cleaning and the bowl can be put in the dishwasher after making delicious dips, sauces, salads and more
Cheese & tomato frozen dog treats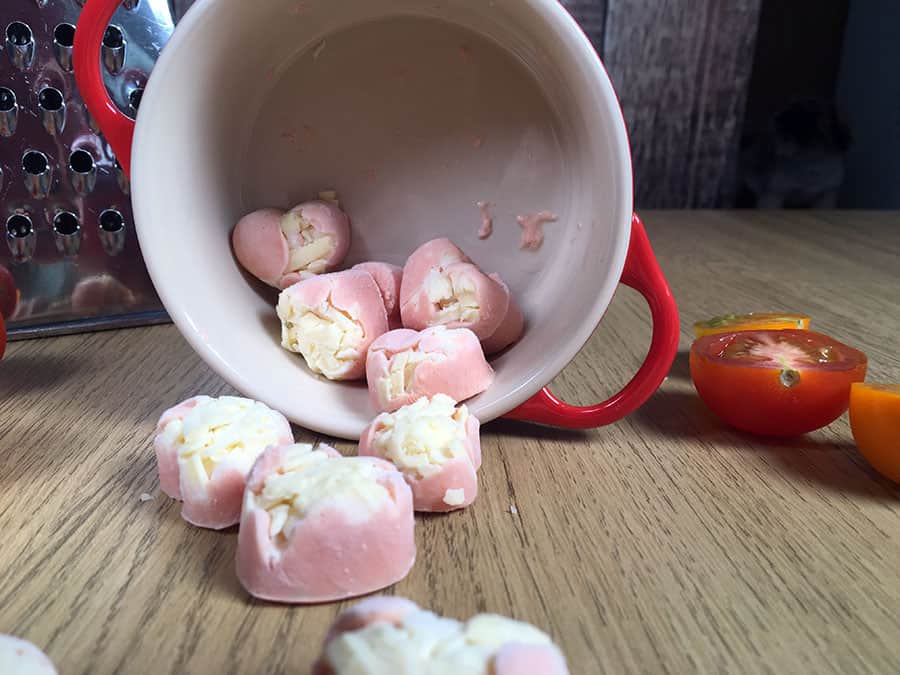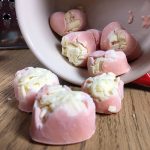 Frozen Pizza Treats for Dogs
A tasty combination of cheese, Philadelphia and tomato that your dogs will love!
Ingredients
2

tbsp

Philadelphia or other cream cheese

1

handful

Grated cheddar cheese

2

tbsp

Passata

Make sure it doesn't contain onions or garlic

1

splash

Water

(optional)
Instructions
Press a small amount of grated cheese into the bottom of each part of your ice cube mould

Add the Philadelphia, passata, water and any remaining cheese to a blender

Spoon into the moulds and fill to the top

Freeze for 6+ hours; ideally overnight