The Best Pupcake Recipes for Dog Birthday Cakes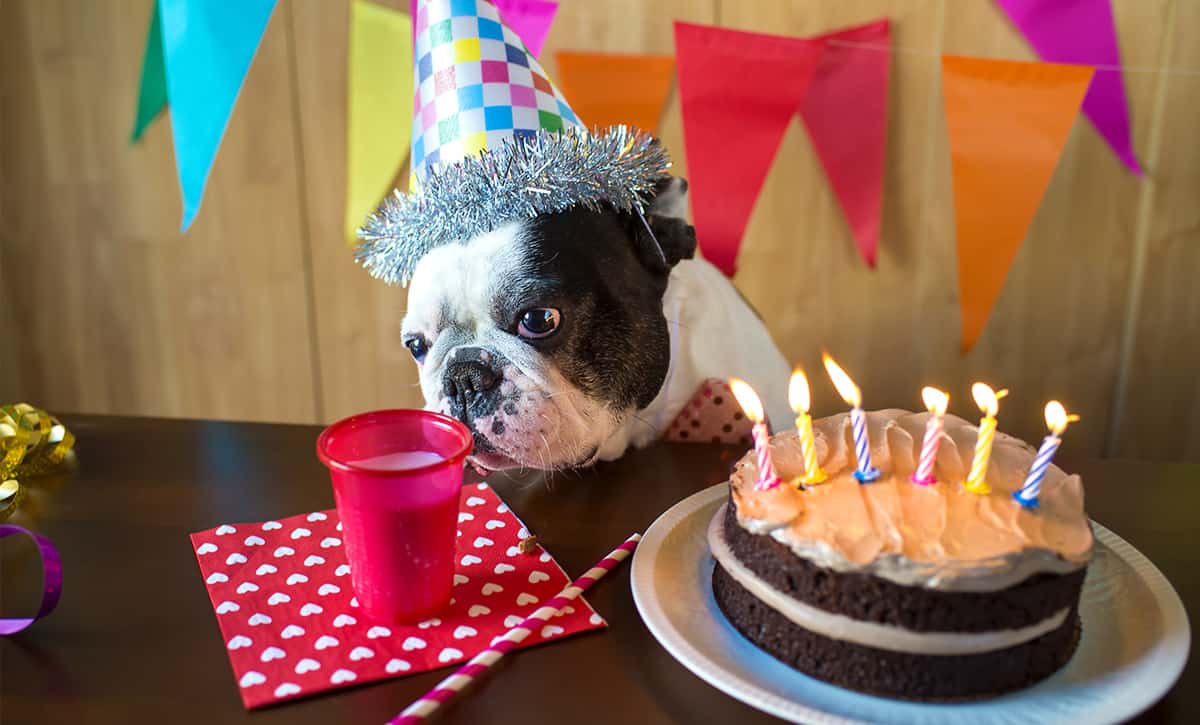 Published on March 3rd, 2020
Celebrate your dog's birthday in style with these easy pupcake recipes. Your dog deserves a birthday cake, so get your baking hat on and choose from this collection of the best pupcake recipes.
How to make pupcakes for your dog
I love to bake treats for my dogs AND I also love baking cakes.
So I thought… why not combine those two things and make a CAKE for my DOGS?
You need to be a bit careful with ingredients to make a cake for a dog because some "human" cake ingredients are bad for dogs, and you don't want to give your dog much sugar as it's unhealthy.
Using a cake recipe written especially for dogs means you can bake your pooch something he will love, whilst keeping it healthy and safe for him to eat.
Here are my favourite pupcake recipes to make your dog the best birthday cake ever!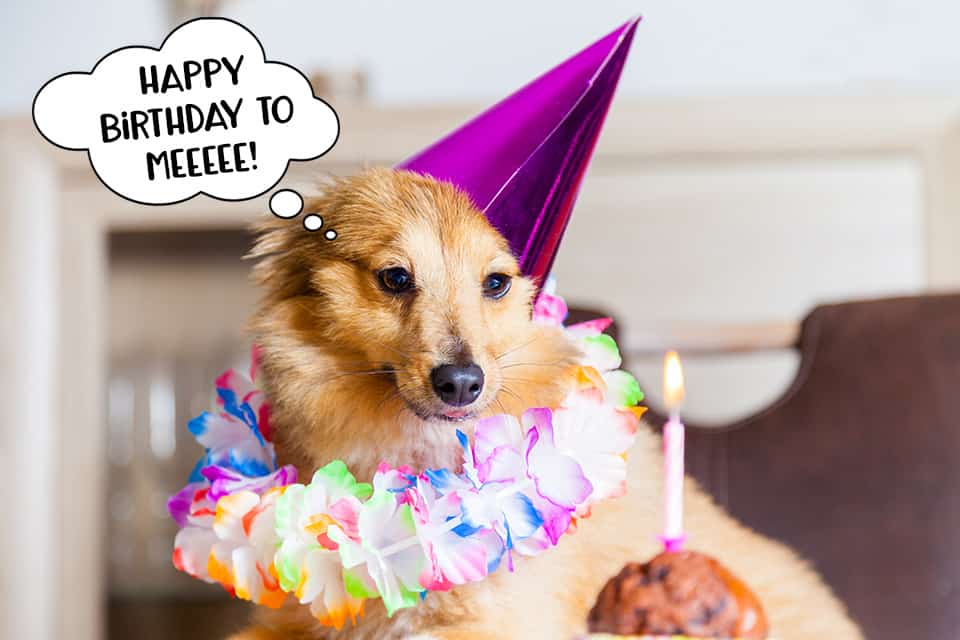 The best pupcake recipes to bake for your dog
Here is my selection of the BEST pupcake recipes that you can bake for your dog.
From frosted cupcake recipes to out-and-out showstoppers, there's something here for all levels of baking skills.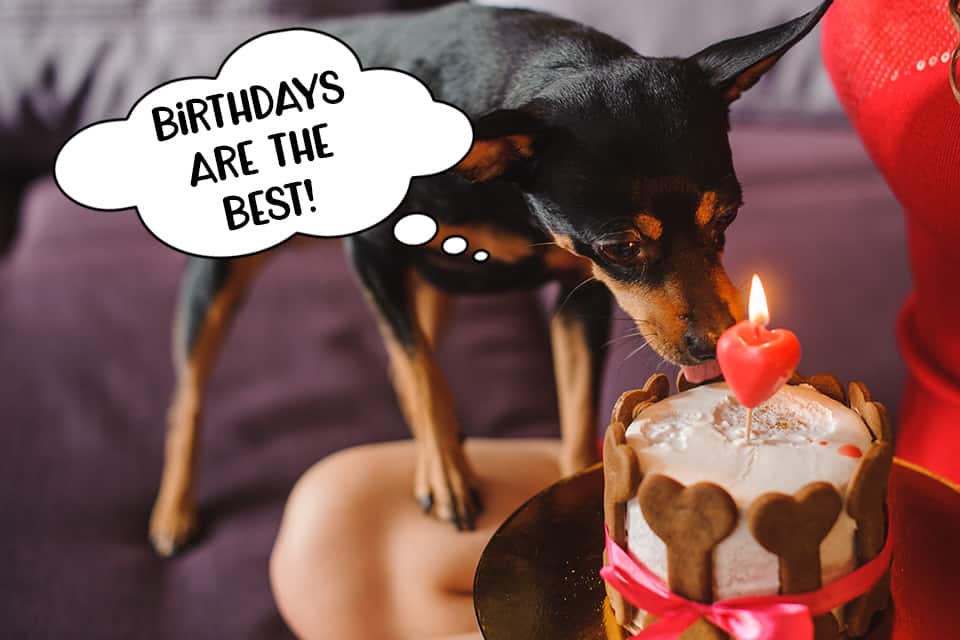 Homemade peanut butter pupcakes
It's no secret that most dogs LOVE peanut butter.
The sweet, sticky gooiness of peanut butter makes it perfect for pupcakes!
These cute pupcakes from Pet Coupon Savings also contain carrots and a little bit of honey to make them super sweet.
I love the little doggie cupcake toppers too – it really gives them an extra-special effect.
Make sure your peanut butter does NOT contain Xylitol. Xylitol is an artificial sweetener that's incredible toxic to dogs, even in small amounts. It's used in many types of peanut butter so be sure to check the ingredients list carefully.
Peanut butter delight birthday cake for dogs
We're sticking with the peanut butter theme with this amazing celebration cake for dogs by Moms and Munchkins.
This recipe is for a dense carrot cake with a tasty banana cream cheese icing.
The ingredients list actually sounds pretty tasty – there's nothing in there that wouldn't be present in a human cake so it MIGHT even taste okay for you to have a cheeky slice as well, although it might not be quite sweet enough for human taste buds.
Apple cheddar pupcakes
If it wasn't for the milk bones on top of these pupcakes then you really wouldn't know that they were intended for dogs and not people!
Barth Bakery have done an awesome job at decorating these cupcakes for dogs.
You would probably work it out pretty quickly if you bit into one though as they are made from cheese and apple so they wouldn't taste that great to you, but your dog will LOVE them.
I don't know what it is about dogs and cheese, but my two certainly go crazy for it.
The KNOW when I get the cheese grater out the cupboard and instantly seem to appear next to me in the kitchen, even if they were deeply asleep on the couch in the other room mere moments ago.
These pupcakes have a honey frosting which may be a little rich for some dogs, so if your pooch is prone to upset stomachs then you might want to leave it out and leave the cupcakes un-iced.
Peanut butter pumpkin pupcakes
We're back to the peanut butter again for this celebration style cake for dogs.
My dogs would drool like mad over this cake because it has crispy bacon bits sprinkled all over the top.
This is another recipe from Barth Bakery and there's a reason that I've included them twice – their recipes are amazing!
In this cake for dogs, you'll mix peanut butter, pumpkin puree, coconut oil, honey, applesauce, an egg, flour and baking soda to make the main cake, then finish it off with some dog-friendly frosting consisting of Greek yogurt, peanut butter and crispy bacon.
Check out the recipe for the measurements and method.
This will surely be a winner for most dogs due to the drool worthy smell of all that lovely bacon.
Banana dog cake showstopper
Okay okay, I've done it again – another recipe from Barth Bakery but can you really blame me?
This is an absolute SHOWSTOPPER of a cake that would fit right in on the Great British Bake-Off.
It's a GIANT pupcake with a big pile of tasty pooch-friendly frosting and a candle for that final piece of birthday flair.
You can almost see that gorgeous husky thinking "okay mum, you've taken the photo… now can I EAT it?"
Using bananas in this recipe for dogs gives some natural sweetness which is enhanced with a little bit of honey, coconut oil and vanilla extract.
A real tasty treat for your dog on his birthday – although this is a little on the large side so you should portion it out and give it to him over a few days.
Or, invite all his doggy friends around for a dog birthday party he'll never forget!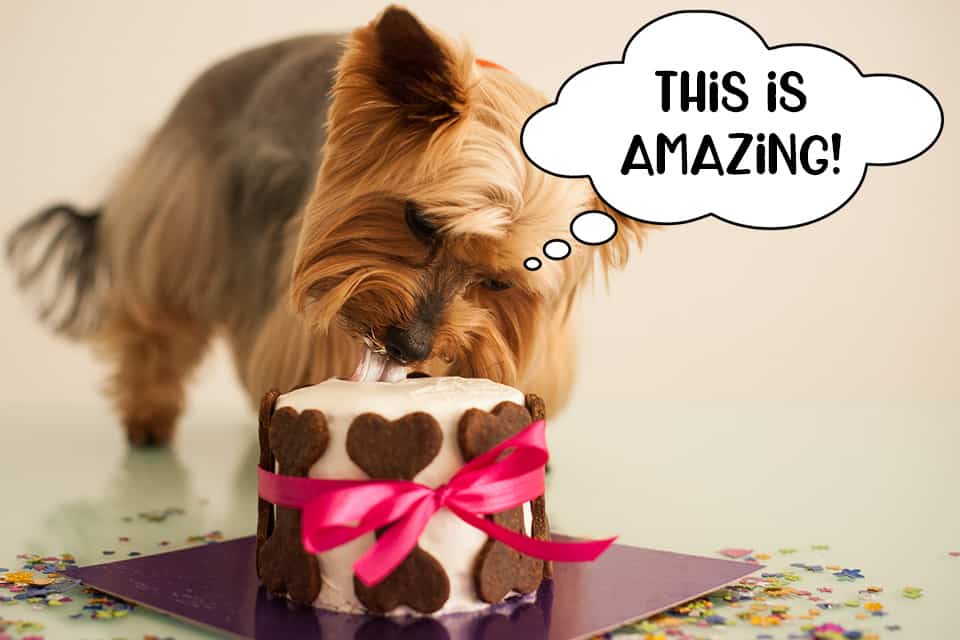 How to bake cakes for a dog
I hope you have enjoyed my collection of the BEST dog birthday cake recipes.
If you're planning on baking a cake for your dog to celebrate his birthday, why not try one of these recipes?
Your dog will love you forever when you present him with his very own birthday cake.
Although, fair warning – it might not last long as he gobbles it all up!