Easy Dog Birthday Ideas You'll Love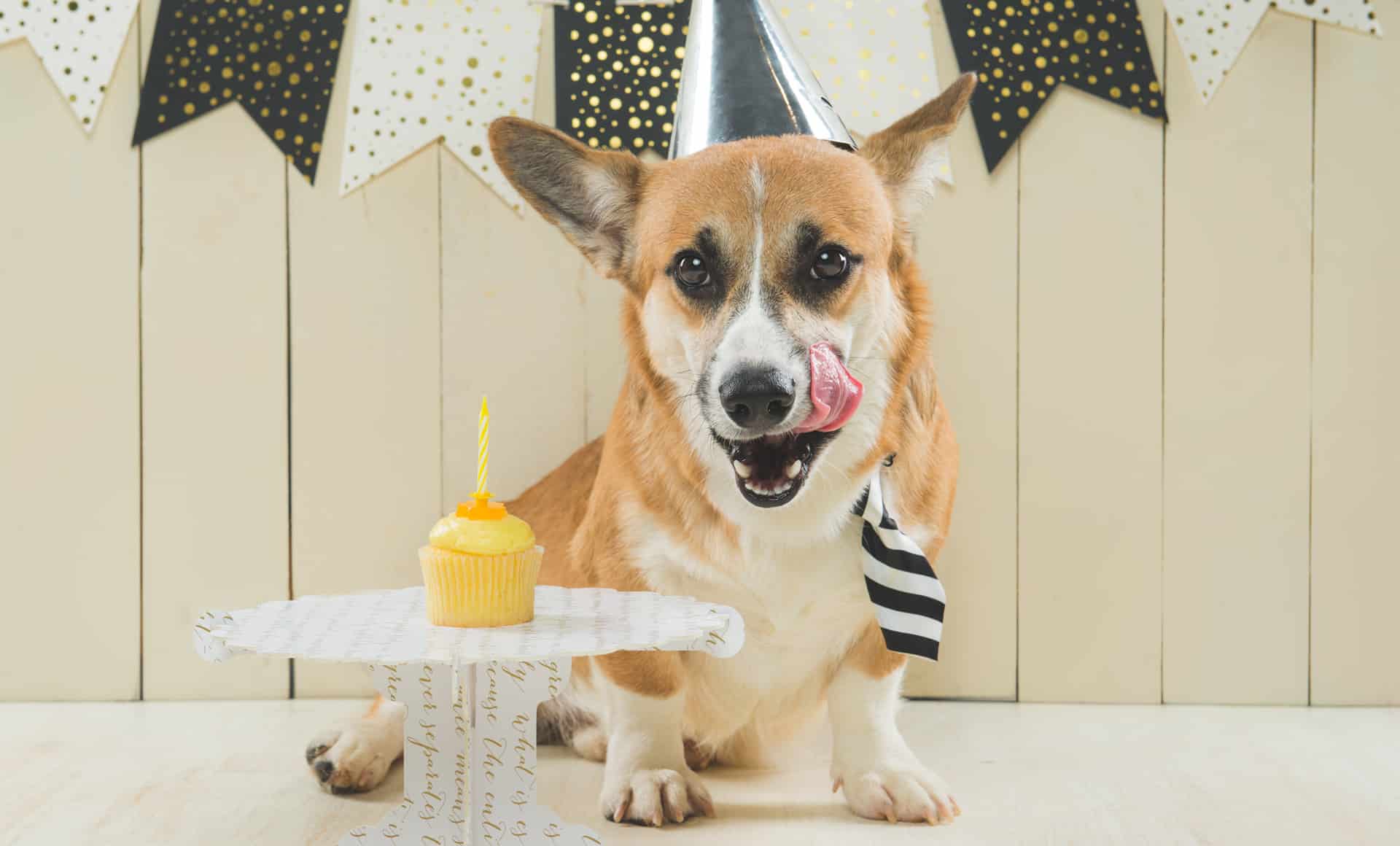 Updated on August 4th, 2019
Ever wondered how to celebrate your dog's birthday? It's a special occasion that comes around just once a year, so don't let it pass you by – give your dog a birthday party he'll never forget with these easy dog birthday ideas.
Freddie, my oldest dog, is six years old today.
We first met him when he was five weeks old and brought him home when he was 9.5 weeks old as a teeny-tiny puppy about the size of a guinea pig.
This was Freddie the first time we met him, all snuggled up with his sister. Freddie is the brown one.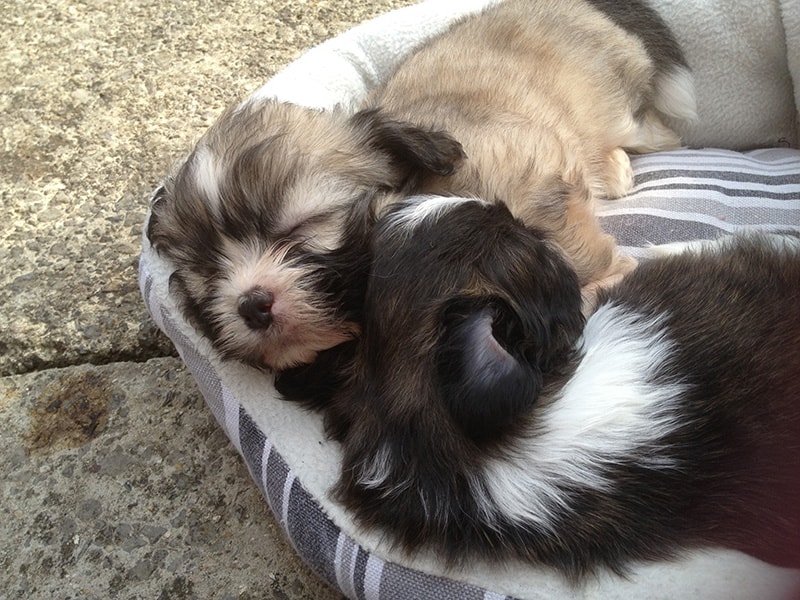 Annndddd… this is Freddie today!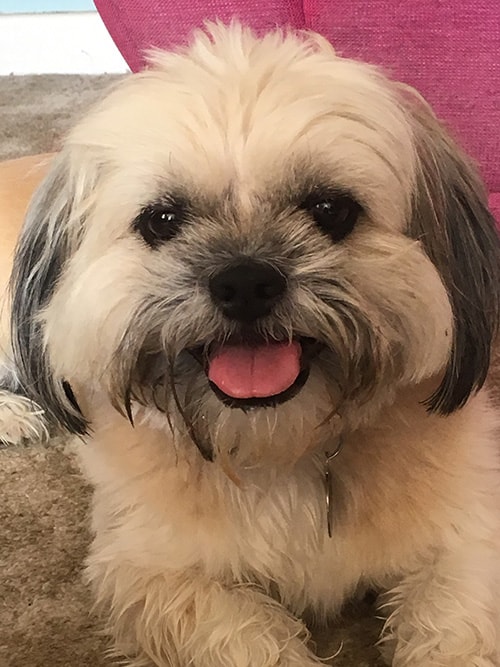 What a cutie, right?
We always try to celebrate our dog's birthdays in some way, even if it's just doing something as simple as taking them out for an extra walk or getting them new toys.
I know that celebrating dog's birthdays is more for the owners rather than the dogs (they don't know it's different to any other day!), but still… it would feel wrong not to do something.
If you feel like we do, here are seven fun ideas to celebrate your dog's birthday.
They might not understand the reason why you are changing things up, but they'll sure appreciate it!
Note: Some of the links included in this article are affiliate links, which means that if you click through and make a purchase I may receive a commission (at no additional cost to you).
7 easy dog birthday celebration ideas
1)     Change your walking route
Do you get stuck in the trap of always going the same route on your daily walkies?
We tend to alternate between 3-4 different routes around our house, but it does occasionally start to feel a little bit like Groundhog Day.
As a special treat for your dog, why not shake things up by going somewhere you've never been before?
He'll love exploring the new smells along the way, and also the stimulation of not recognising the area his is in.
If you aren't able to go somewhere different, try walking your usual route in reverse for a change.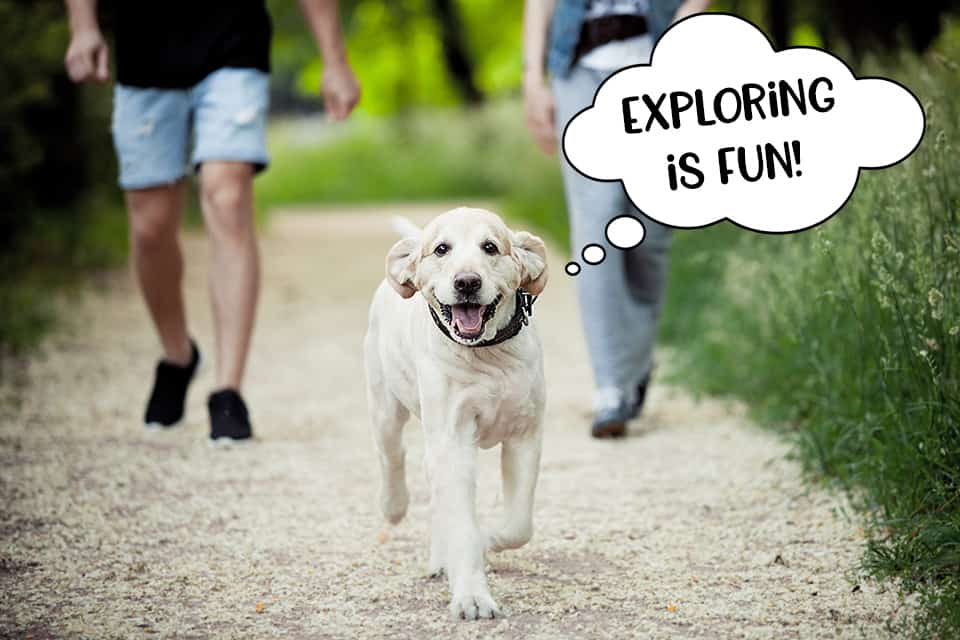 2)     Go to the woods
My dogs don't travel very well in the car, so we don't often take them in it.
However, when we do, we take them to one of the local woodland areas or country houses that allow dogs in the grounds for a special day out.
Disrupting your dog's routine to take them somewhere exciting where they can really stretch their legs can be an excellent birthday experience.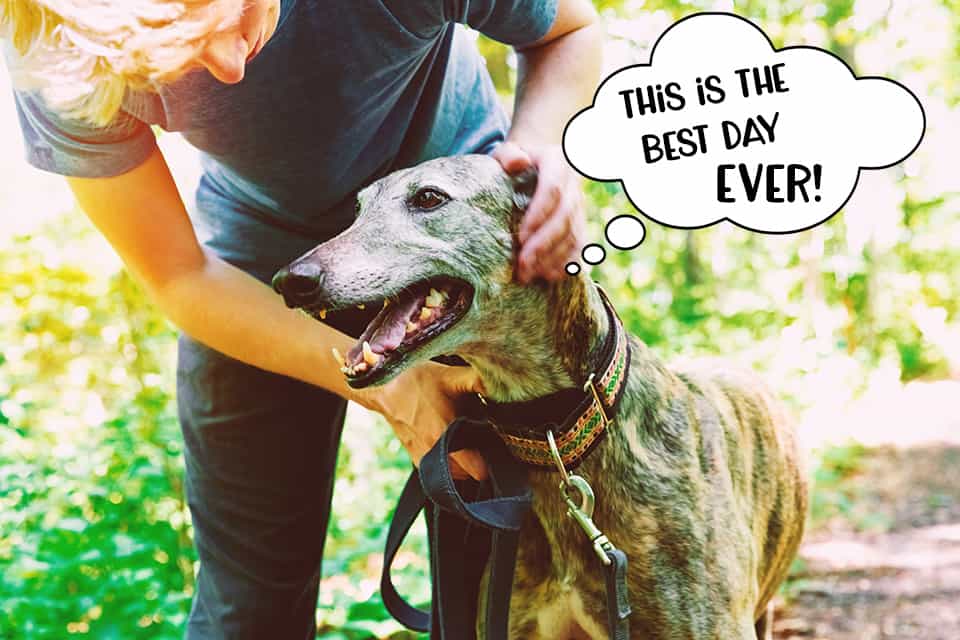 3)     Hire a secure dog field
Of course, not all dogs react well to new environments – particularly if there are lots of other dogs or loud noises that they might not be comfortable with.
If you have a reactive or fearful dog, an excellent alternative to taking them out somewhere public is to hire a secure dog field for an hour.
We have several secure dog fields within about a 30 minute drive of our house.
They are fields which have been "dog-proofed" with high fences and no gaps in them, so they are fully secure.
They are then rented out for as little as £3.50 per 30 minutes.
I love hiring secure dog fields because during your hire time, you are the ONLY people allowed in the field.
The fields are usually behind a gate with a code-lock, so nobody can accidentally get in whilst you are in there.
For dogs that don't always play well with others, or dogs with poor recall, this is an excellent way to let them have a safe run off-lead.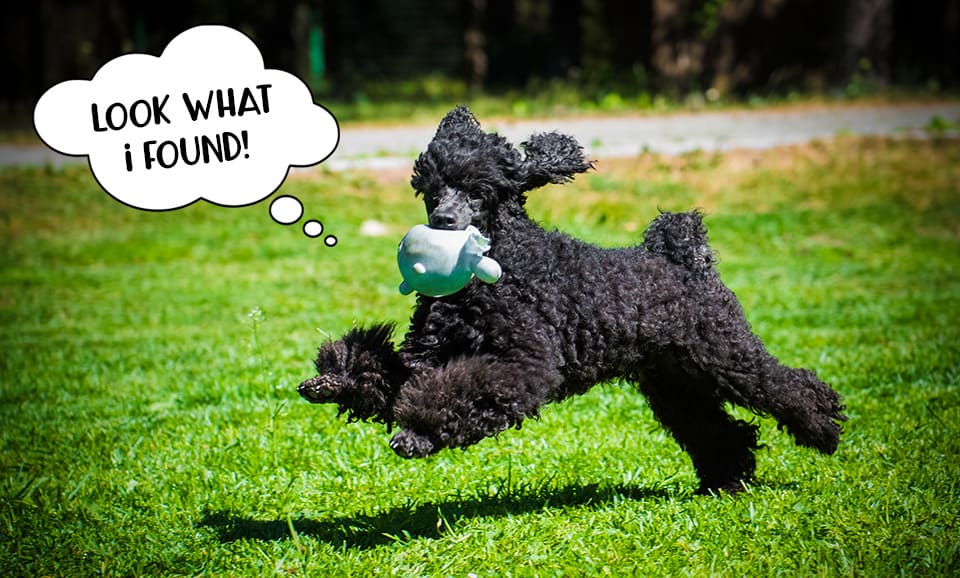 4)     Buy them a new toy
It's not a birthday without presents, right?
Treat your pooch to a new toy for his birthday and he will be very grateful, especially if you take the time to play with him.
You could even take your dog to the pet store and let him choose his own toy!
From squeaky balls to footballs; fluffy toys to interactive puzzle games, there are SO many things to choose from.
Not sure what dog toy to buy? Check out my guide to the best dog toys for puppies and the best dog toys for senior dogs.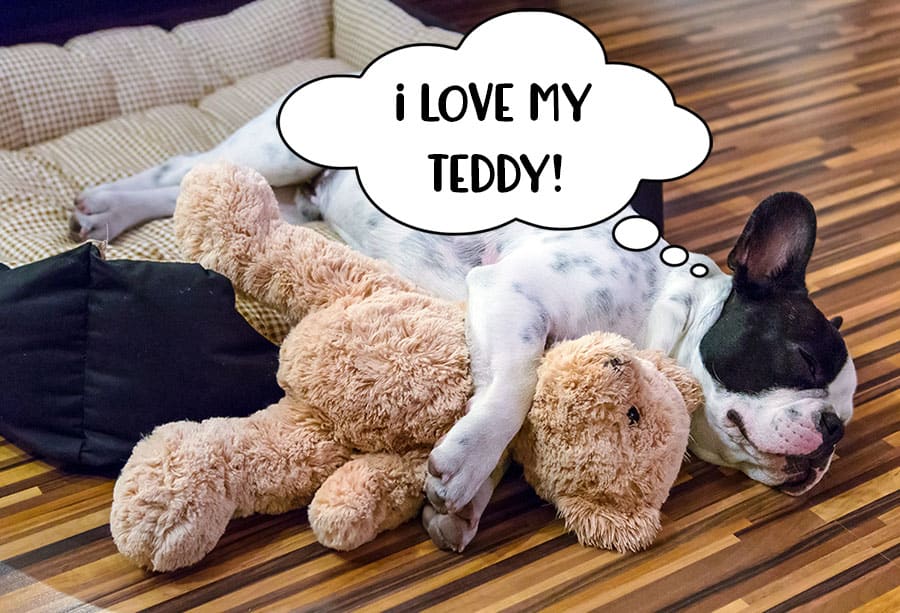 5)     Give them a special meal
Did you know that you can get cupcakes for dogs? They are called 'pupcakes' and I think they are an adorable way to celebrate your dog's birthday.
Check out these great recipes:
If you're not a fan of giving your dog lots of gluten and flour then you could treat them on their birthday with some meat that they don't usually have for example steak, liver or chicken.
To make the pleasure last longer, try incorporating the meat into a training routine or putting small pieces inside a treat dispenser toy so your dog has to work to get them out.
That way they get a mental workout, have fun AND get some amazing food all at the same time!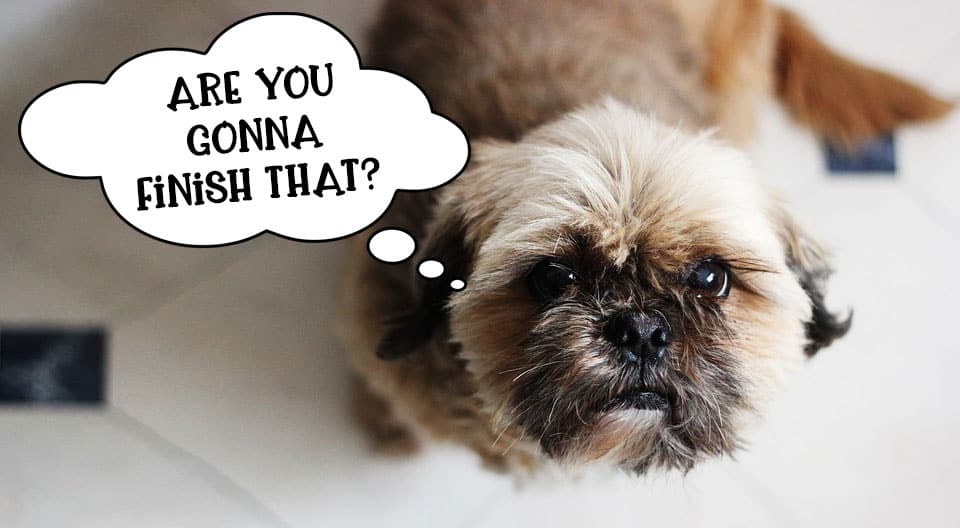 6)     Spend the day with your dog
Taking the day off work because it's your dog's birthday is a little bit extreme, so perhaps this dog birthday idea could wait until the weekend.
How many times do you get to the afternoon and realise you haven't really paid much attention to your dog?
With the busy lifestyles that many people live, this can sometimes happen all too often.
Dogs are pack animals and love to be included with what's happening in the household.
Make your dog feel like a superstar by making him the centre of the family for the day.
Take them for a long walk, play with them, snuggle on the sofa, lie on the carpet with them and let them clamber on your lap, or whatever else your dog wants to do.
They'll love being "in charge" for the day and this will help to increase your loving bond even more.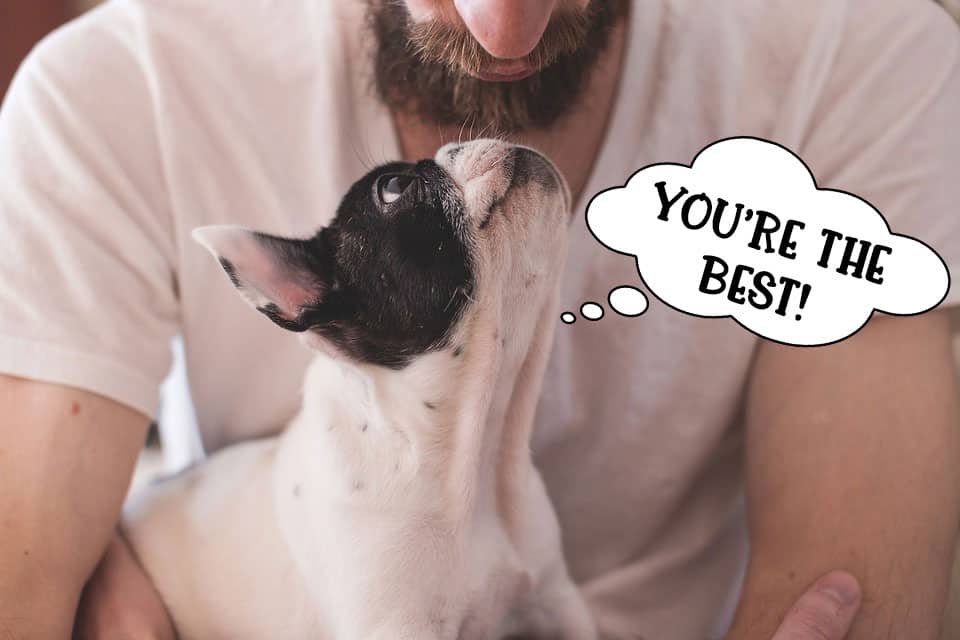 7)     Throw your dog a birthday party
Okay… this dog birthday idea is rather 'extra'… but what a cool idea, right?
Dog birthday parties are becoming more and more popular, and it's a great excuse to get your family and friends over for a celebration.
If your friends have dogs, get them to bring them along for a puppy playdate.
Arrange lots of yummy food (both for people and doggies) and of course don't forget the dog-friendly birthday cake and Pawsecco (that's prosecco for dogs, in case you were wondering)!
If you're planning a dog birthday party in advance, don't forget to send out the invitations and get the party hats ready!
You could even decorate the house with paw print decorations or create a 'feature wall' to take some Instagram-worthy pooch portraits.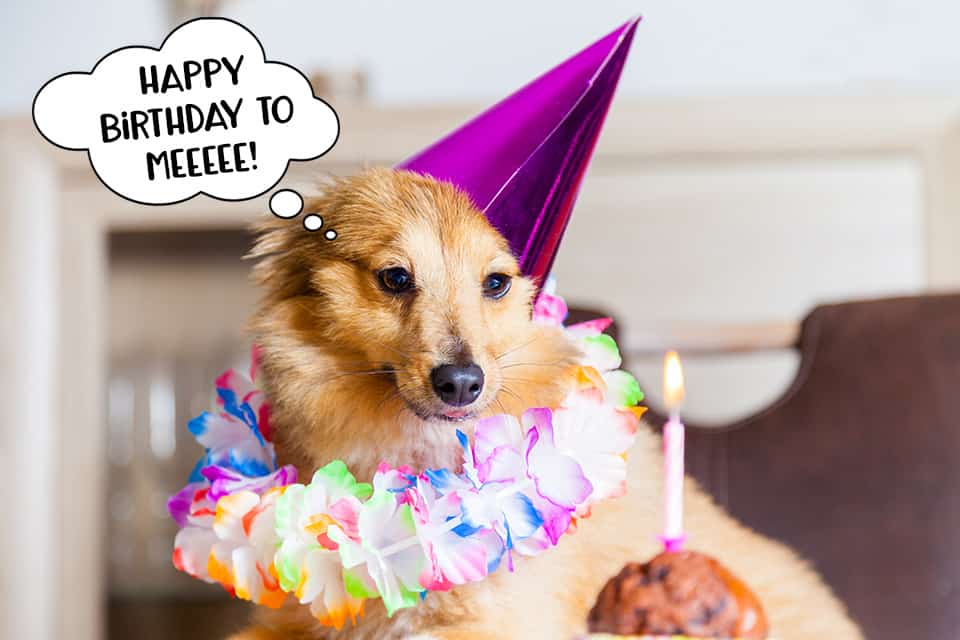 Here are some more ideas for your dog birthday party:
Bestseller No. 1
LUTER Dog Birthday Bandana Triangle Scarfs Cute Doggie Birthday Party Hat Happy Birthday Boy Print for Dog or Puppy Birthday Decor (Blue)
【Size】Triangle Scarf: 26.8" x 18.9" x 18.9", fit for neck size about 11~ 22 inches. Hat: about 4.7" in diameter of the bottom, and 7" tall. Suit for most breed dog.
【Material】Made from high-quality 100% cotton double layer fabric, comfortable and soft with fine workmanship. Easy to clean and for a long lasting use.
【Package Includes】1 PCS Dog Birthday Bandana. The bandana are printed "Happy Birthday Boy" Word, make your pet look more attractive and stand out in the birthday party!(Gift:1 PCS Dog Birthday Hat with stretchy string)
【Easy to Apply】The hat requires assembly. The hat is paper material, please carefully connect it gently when assembling to AVOID RIPPED. The scarf and hat are all designed for male dogs and are blue in color.
【Cute Puppy's Birthday Outfit】Perfect for pup photo shoot, for doggy birthday party, for pet daily life wearing.This cute set also fits small, medium and large breed dog and other pets.
Bestseller No. 2
Sale
Bestseller No. 3
Dog Happy Birthday Bandana Scarfs and Cute Party Hat for Girls Boys,Soft Scarf & Adorable Hat for Party Accessory,Pet Birthday Gift Decorations Set (Pink 1)
★SIZE GUIDE: Bandana Size 27.24" x 13.58" x 13.58". The Hat Size is 7.67" tall and 5.31" in diameter of the bottom. The elastic strap can be adjusted, fits easily under your pet's chin.
★PERFECT BIRTHDAY GIFT FOR PETS: The bandana is printed with "HAPP BIRTHDAY" and the hat with "Prince".
★ENJOY PRICELESS TIME WITH YOUR PET: This amazing birthday party kit is sure to be a eye-catching. Invite your friends to your pet birthday party and they will never forget!
★PREMIUM QUALITY: Made from cotton and polyester, soft and safe fabric, keep your dog clean and comfortable. Great idea to dress up your dog for birthday, great affordable gift for your furry friend.
WIDE APPLICATION: Suitable for cats, rabbits and dogs, small to large. Try this birthday party kit to impress your lovely pets, make your puppy be a star!
Totally paw-some dog party ideas
I hope that you enjoyed this selection of celebration ideas for your dog's birthday.
As you can see, it doesn't need to be expensive or time-consuming to give your dog a day to remember.
Just a few simple tweaks to your existing doggie routine can turn the day from the ordinary to the extraordinary!