15 Adorable Puppy Announcement Ideas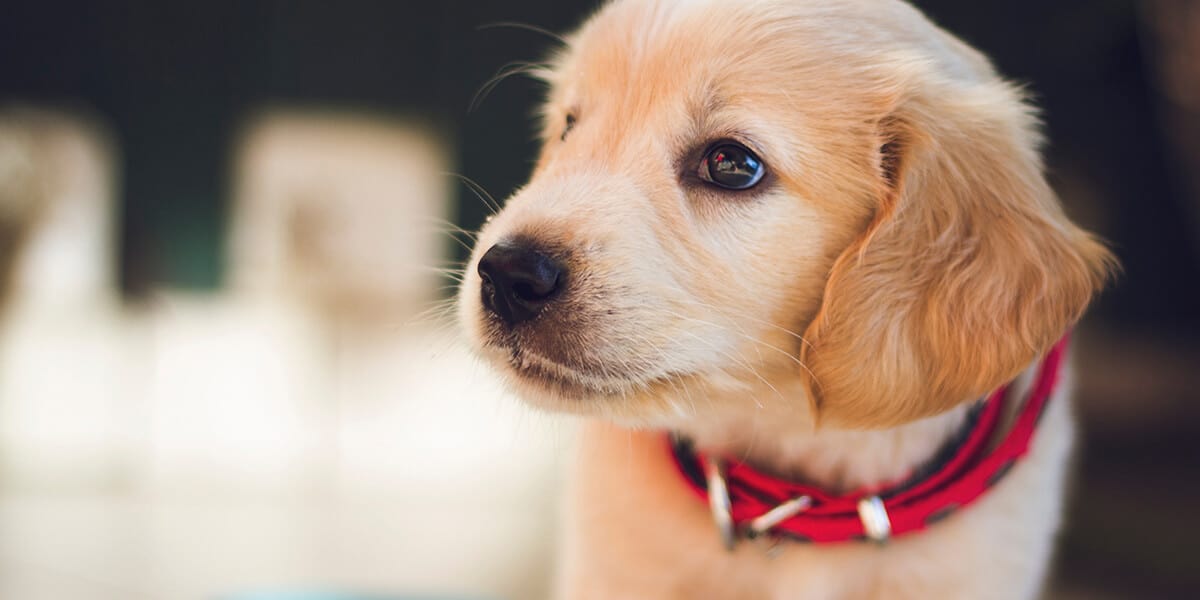 Updated on April 14th, 2019
Are you looking for some cute puppy announcement ideas to share the news of your new furry bundle of joy?
If you have made the decision to bring a furry family member into your home, that's a huge milestone in your lives that is definitely worth celebrating.
But how can you celebrate if nobody else knows what you are planning?
It's long been a tradition to announce when you are expecting a baby, but now that trend is expanding into fun and creative puppy announcements – and I'm super happy about that.
I love all the creative ways that people share the news that they are getting a dog.
It shows their excitement and love for their pooch and is such a wonderful way to remember the first few days and weeks with a puppy.
How do you share the news that you are getting a new dog?
What's the best way to tell people that you are getting a puppy or a dog?
Well, the easiest way to announce your new puppy is simply to share a photo on social media.
Here is how we told our loved ones when we were getting Freddie, our Shih Tzu x Jack Russell puppy: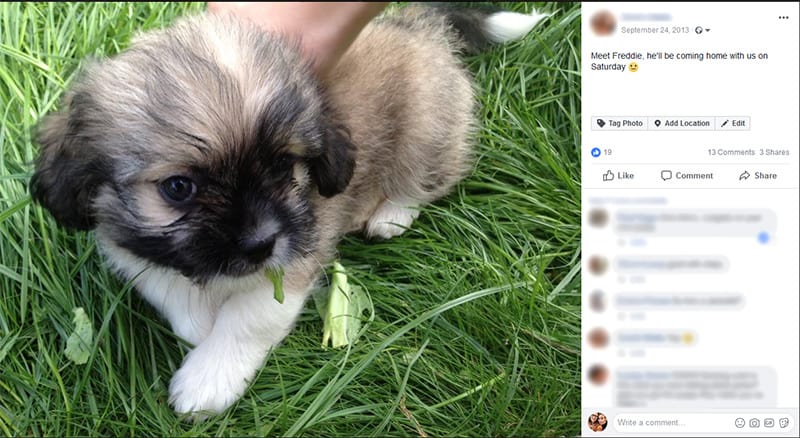 When we got Socks a few months later we took a cute little family photo of us all cuddled up on the sofa which we shared on Facebook with a simple 'welcome to the family' caption.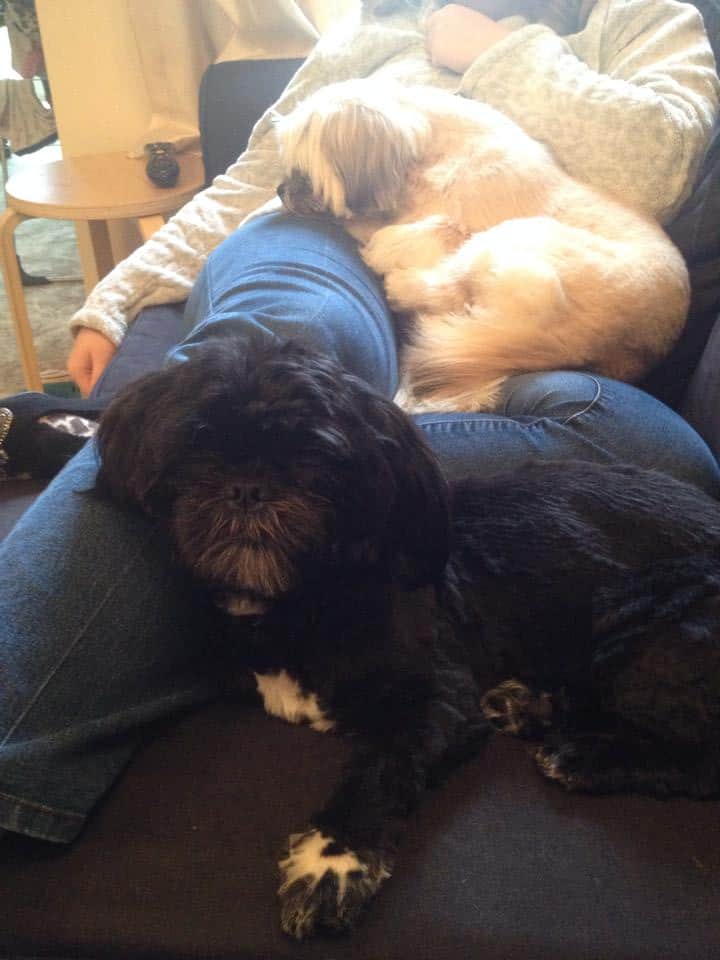 However, in the world of social media it's getting harder and harder to 'stand out' from everyone else, so you may wish to do something a little more adventurous for your puppy announcement!
Getting a new dog is a super exciting moment that you should cherish.
Here are some adorable puppy announcement ideas to share your good news and let all your friends and family share in your happiness.
Cute Puppy Announcement Ideas for Social Media
1. Include your interests to make it personal
I love the idea of personalising your puppy announcement by including some elements of your life in the photograph.
I especially liked this photo as my husband is a photographer and this would have been such a cute thing for us to do when we first brought Freddie home – I wish we would have thought of it!
2. Share a flatlay
Flatlays are so popular on social media, so why not tap into the trend by creating a flatlay to announce your new puppy?
Here are some tips on how to shoot a flatlay photo.
3. Include your current dogs
If you already have a dog (or multiple dogs!) then taking a photo of them next to your puppy announcement is a lovely way of including them in sharing your good news.
The photo below caught my attention because of the clear text on the board and also the fact that the dog is looking at the photo of the puppies – aww!
4. Do a puppy gender reveal
Gender reveals are a popular baby shower idea – but we're talking puppies here, not babies!
Take the gender reveal concept one step further by arranging a puppy gender reveal!
5. Keep calm, we're having a puppy!
If you want to announce your new puppy without spoiling the surprise of the breed then sharing a 'keep calm' poster is a great way of sharing the news without giving away any details.
I've created some free keep calm puppy announcement posters which you can download and use.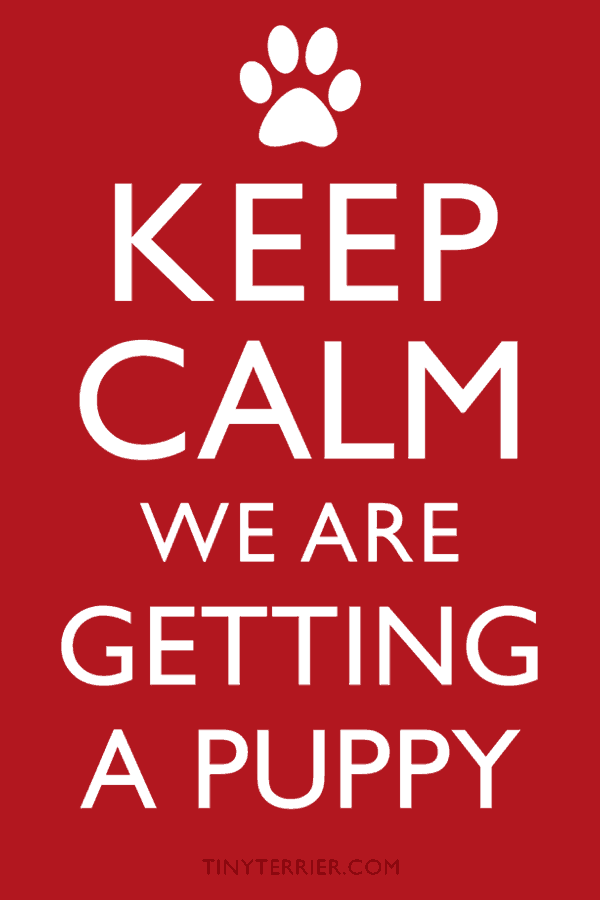 They come in 5×7 inch, 8×10 inch and square sizes, so you are sure to find one perfect for sharing – whether that's in person or on your Instagram page.
You could even print one out and design a flatlay around it (see Idea 2).
6. Take a fun photo
This is another take on the popular 'birth announcement' photos – but of course this one is for pooches!
A photo of your dog walking boots and the collar or leads of your existing furbabies makes for a great fun image to tell the world that your family is expanding – but not necessarily in the same way that they might first assume!
7. Create an infographic
Once you have had chance to learn a little bit about your dog and their personality you could create an infographic showing all their individual quirks!
Online graphics tools such as Canva can be used to create fun dog infographics like this:
8. Share a family photo
This is one of the easiest ways to share your puppy announcement, and in my opinion one of the best.
Have someone take a photo of you and your family members with the new puppy.
It's simple, super cute and a lovely memento of your puppy's first day at home with you that you can treasure forever.
9. Get a personalised puppy announcement sign
There are lots of different puppy announcement signs available on Etsy which can be personalised to add the name of your dog.
These are lovely as a keepsake of your puppy announcement.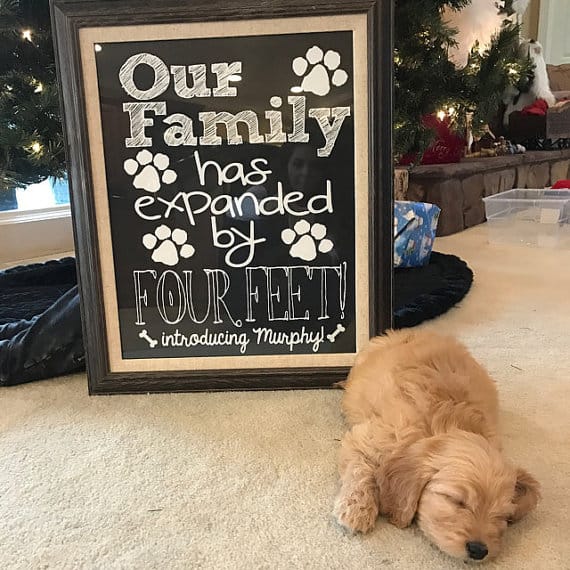 10. Announce your dog adoption
If you are adopting a dog from a rescue or shelter then this is lovely news to share.
A photo of your lovely adopted dog with a sign saying that they have found their forever home is sure to make your friends and family go 'awwww' when they see it pop up on your social media.
11. Create a fake 'baby scan' photo
If you're a whizz at Photoshop then you could have some fun and create a fake 'baby scan' photo with a twist!
This is a fun way to prank your friends as it takes a second glance to notice that it's actually not a baby in the photo, but a gorgeous little Frenchie poking their face out!
12. Book a professional photo shoot
Having a professional photo shoot ensures that you can capture those early days with your puppy and have gorgeous photos that you can frame around your house.
It's probably a good idea to allow a few days for your puppy to get settled in your home before you book the shoot. This lets your dog build trust with you and become familiar with its surroundings, so it will be more comfortable during a photo shoot.
13. Get seasonal
Create a perfectly themed puppy announcement photo by considering the season that you will be bringing your pooch home in.
This pumpkin photo is perfect for new doggies that join your family in the fall.
14. Get humorous
If tired of all those family members hinting that it's probably time you should be thinking about babies (I know that feeling!!) then this is a fabulously tongue-in-cheek way to share the news that you are getting a new dog.
There are lots of funny new dog printables available to download on Etsy.
If I was getting a new dog now this is probably how I would share the news 😛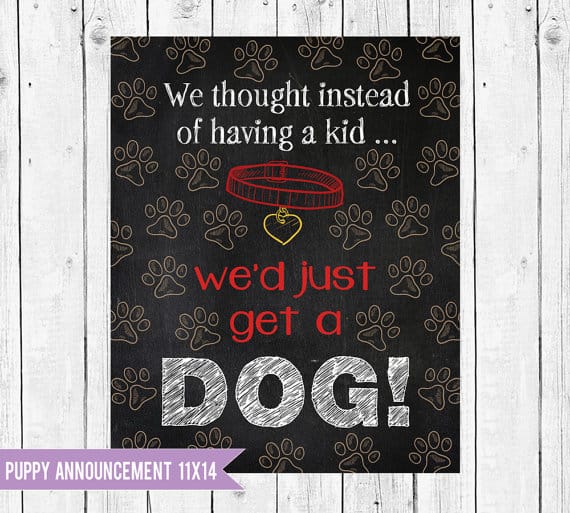 15. Throw a puppy party
What better way for your friends and family to meet your new bundle of fluff than with a puppy party invitation?
I would definitely recommend keeping it small and not inviting too many people as you don't want to overwhelm your dog when they are still getting used to living with you.
You could even spread it out and throw several puppy parties over a couple of months so that your loved ones can meet the puppy in smaller groups rather than having everyone over at once which may be too much for the little pooch to deal with.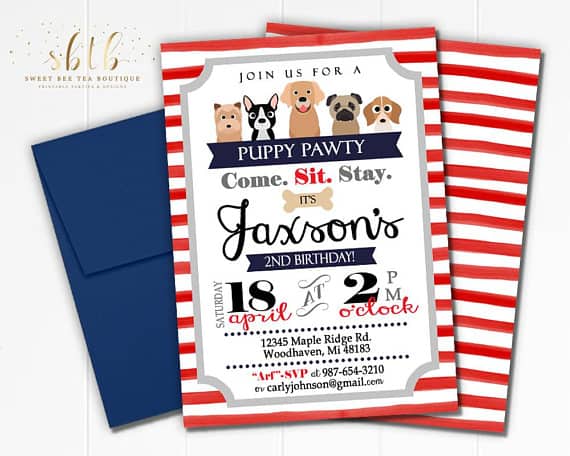 New puppy reveal ideas
I hope that the new puppy announcements above have given you some ideas on how to surprise your family and friends with your exciting news.
Some other ideas for your new reveal are:
Get t-shirts made with the announcement information or a photo of your new pooch
Have a professional photo shoot taken of your family and your new dog
Share a photo of the lovely new bed and toys that you have bought for your dog with a "coming soon" message
Post a Facebook poll with an open ended question such as "Our family has some big news… can you guess what it is?" and see how many of your Facebook friends get the answer right. You'll have fun laughing at some of the suggestions people come up with too!
Take a cute little video of your dog when you go to visit them before you bring them home, and share it on your social media accounts.
Don't forget though – once your puppy gets home, it's essential to spend the first few days making them feel comfortable and settled in your home.
Getting the "perfect Instagram photo" of your dog shouldn't be your main focus. It's much more important to settle your dog into your home gradually than to risk scaring them or losing trust by forcing them into situations that they are not comfortable with.