Top 10 Best Toys for Senior Dogs [2019 Edition]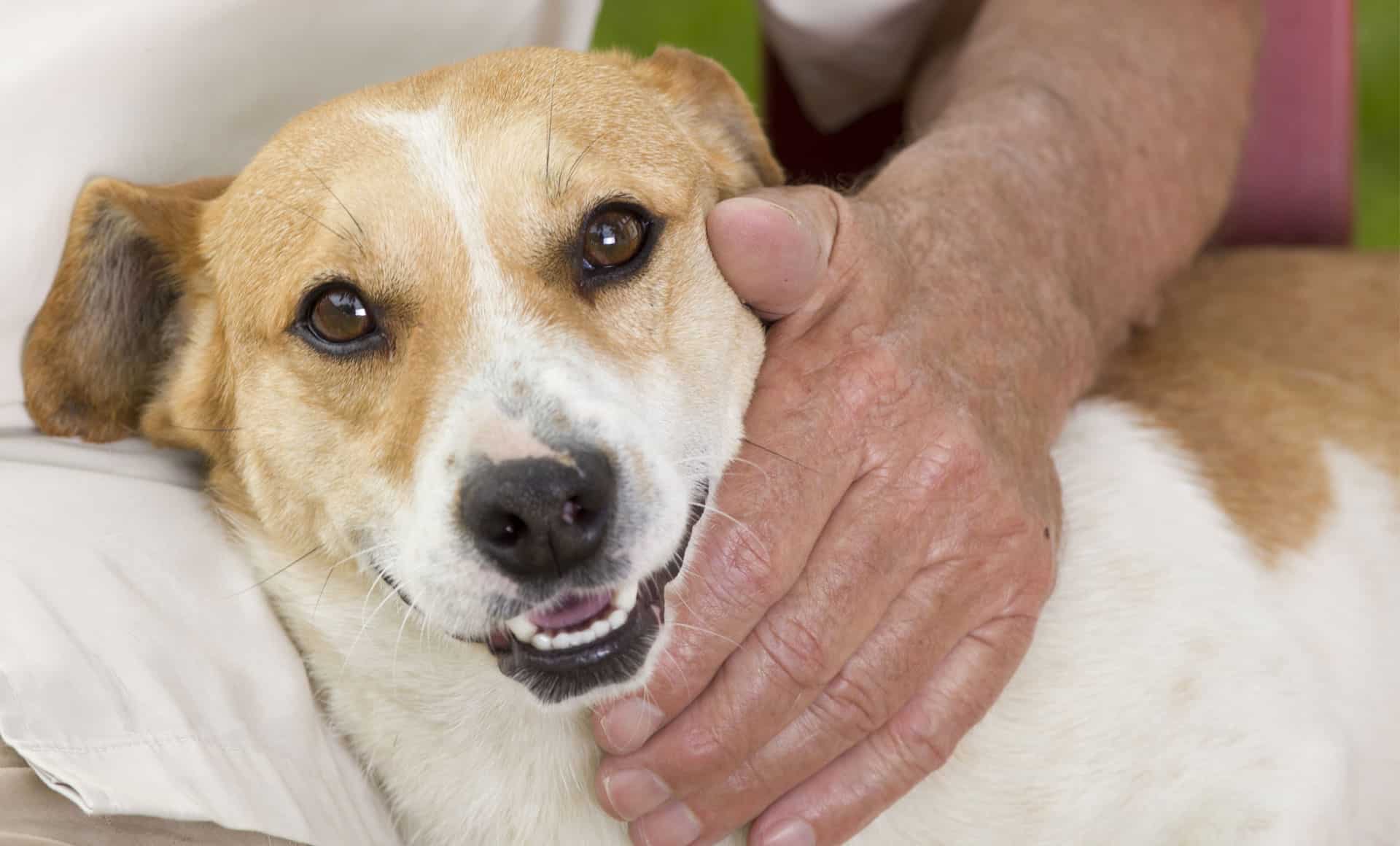 Published on July 2nd, 2019
Are you struggling to find a new toy for your older dog? I've put together my favourite selection of the best toys for senior dogs that your older dog will love!
As dogs age, they may lose interest in some of their toys that they previously loved. Don't fret though – their changing toy preferences means you get to try out some new fun games with them!
In fact, keeping your dog physically and mentally stimulated can help them to keep healthy in their older years!
Disclosure: This post contains affiliate links, which means that I will earn a commission if you click through and make a purchase (at no additional cost to you).
At what age is a dog considered a senior?
It's a sad fact of life that dogs age much faster than people. The exact life span of a dog can vary dramatically, not only down to factors such as the breed and size of dog, but also their lifestyle and any underlying health problems that they may have.
Dogs are known as 'senior' during the last 25% of their lives, which can help to explain why it's difficult to say an exact age for when your dog is considered a senior.
A study found that only 13% of giant breed dogs lived to be over 10 years old, compared with 38% of small breed dogs.
In general though, you can usually class your dog as a senior from around age 7-9 upwards, depending on the breed.
It's often said that a dog ages 7 'human' years for every year of their life, so that would make them around 49 – 63 in human years.
At what age do dogs stop playing?
If you are wondering 'do senior dogs play with toys?', then the answer of course is YES!
You might find that your senior dog plays with toys less as they get older. They may get tired more easily or simply find that their preferences change from running round shaking their toys around all day to long leisurely snoozes on the sofa!
However, if your dog has always enjoyed playing with toys then there is no reason why that won't continue into their senior years.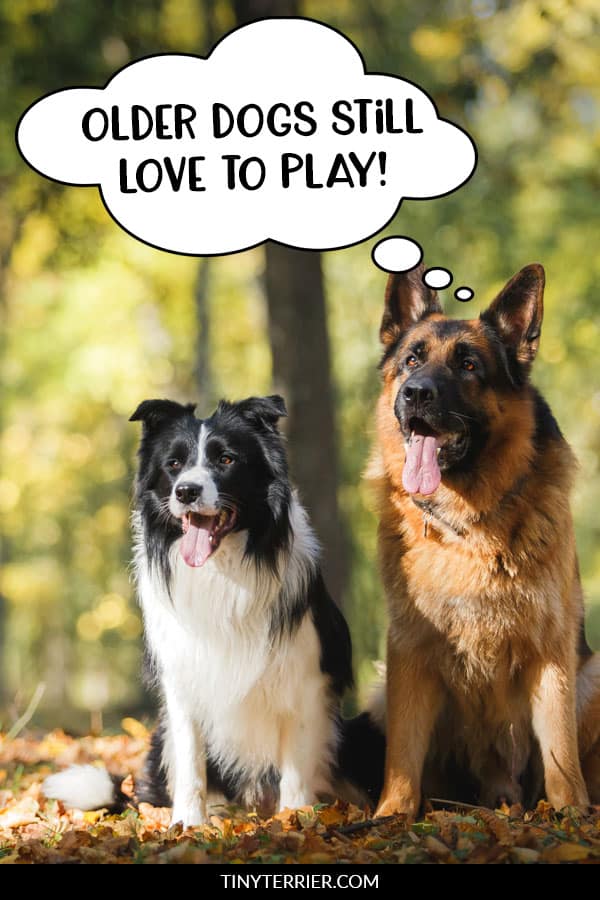 How do you play with senior dogs?
As your dog ages, you need to be a bit more careful when playing with them to ensure you avoid injury.
When dogs get older they may experience pain in their joints which could progress into arthritis. This can stop them from wanting to play as much as it starts to become painful. If your dog has arthritis then it's important to keep them mentally stimulated if their physical abilities start to get reduced so that they continue to lead a fulfilled, enjoyable life.
Some games that you have previously enjoyed playing with your dog may need to be toned down a bit, or even phased out, as they age. For example, tug of war can become problematic if your dog has weakened teeth or gums.
What are the best dog toys for senior dogs?
Here is my Top 10 list of the best dog toys for senior dogs.
My two dogs aren't quite at senior age yet (they are both around five years old), but I can totally see them having fun with these dog toys in a few years' time.
If you're wondering how to entertain an old dog, these could be the perfect toys for you!
KONG senior dog toy
If your dog loves the challenge of working for their food or treats then a Kong could be perfect for them!
These are ideal for senior dogs that may be 'slowing down' a bit in their older age, as they don't need much physical activity, but the challenge of getting the food out of the Kong will give them plenty of mental stimulation.
This Kong for senior dogs is similar to their regular range, but it's made with more gentle materials to make it easier and safer for your senior dog.
KONG Dynos Stegosaurus Dog Toy, Large
Reinforced lining for strength
Varied textures to entice play
Squeaks and crinkles for added fun
Available in four characters: T-Rex, Stegosaurus, Triceratops and Pterodactyl
Pulvillus Interactive Frisbee
Most Frisbees for dogs are made from plastic or other hard materials that can hurt a senior dog's teeth or gums.
This fun-looking Frisbee from Pulvillus is made from non-slip cloth material with soft edging to make it kind to teeth and gums.
The Frisbee contains a squeaker for that extra bit of fun when your dog catches it!
Plus, it floats too – so it's perfect for dogs that love to swim!
Pulvillus Pet Toys-Dog Toy Squeakers-Dog Flying Discs-Pet Dog Training Interactive Toy Fun to Chase & Catch(RED)
Adapting 600D oxford cloth non-slip material, soft edging design makes it easier for your pet dog to fetch and catch, also won't hurt teeth and gums.
High flying and floating features make your dog can have a lot of fun with it no matter on land or in the water.
Inside the dog Frisbee is a squeaker, so it can catch your dog's attention easily and make him/her happy.
Environmental material, not easily deformed and various colors that you can have better choice based on the dog's preference.
Worry-free buyers' guarantee and a one year guarantee: fair prices with 30 days money back, 100% risk-free satisfaction guarantee,supported by professional and easy to reach customer service team.
Planet Dog Old Soul Orbee with Treat Spot
This is a dog toy designed for seniors.
It's a soft-but-tough ball which bounces and floats in water.
This Orbee toy has been especially designed to address issues that dogs face as they get older, including reduced vision, reduced snout strength, weakened jaw muscles and brittle teeth.
If your dog still enjoys a good chew on their toys but you are worried about the dental health, then this is a great toy to choose.
'Olive the Octopus' eco dog toy
I LOVE this cute little octopus dog toy, it's so cute!
This tough, long-lasting toy is perfect for throwing for your senior dog, as well as playing a gentle tug of war with the natural jute rope 'tentacles'.
Olive is a multi-sensory dog toy as she contains a recycled bottled inside to make a wonderfully satisfying 'crunch' noise when your dog plays with her.
Because this is a natural dog toy, it means that it doesn't have bright artificial colours. If your senior dog is struggling with their sight then this may not be the best choice as they may struggle to find it when you throw it for them.
Eco dog toy- Olive the Octopus
Made from four layers of jute twin stitched over recycled cotton and jute rope
Inside is a recycled bottle to add that "CRUNCH" when playing
A great toy for throwing and tugging
Made from sustainable jute which is a natural plant fibre
Tough and long lasting
Interactive treat feeding mats
These interactive feeding mats are fun for dogs of any age, but especially good for senior dogs as they provide lots of mental stimulation without causing physical exhaustion.
Hide some of your pooch's favourite treats inside the various folds, shapes and materials on the feeding mat and enjoy watching them 'snuffle' their way through it to get the tasty morsels.
You could try experimenting with different treats to see which ones your dog manages to sniff out first!
ALINICE Snuffle Mat for Dogs,Dog Feeding Mat,Pet Nosework Snuffle Blanket,Feeding Mat for Dogs,Training Feeding Stress Release Pad (purple)
♥Materials: made of super soft and durable polar fleece with non-slip eco-friendly plastic frame, Hand woven into all sorts of beautiful design for your choice.
♥ENGAGE YOUR DOG'S SENSE OF SMELL - : Promote natural foraging instinct Motivate your dogs sense of smell through dinner or treat time by mimicking the hunt for food in grass and fields.
♥EASY TO CLEAN AND CARRY: Both hand washable and machine washable.
♥SLOW FEEDING MAT: Manage your dogs digestive health, prevent digestive health problems from eating too fast.
♥EASY TO USE DESIGN: Roll up for storage and carrying. Great for indoor and outdoor activity for your pets
Outward Hound Squirrel Plush Toy
I recommended this toy in my best dog toys for puppies feature, however I think it's also a great dog toy for senior dogs!
This is more than just a simple stuffed toy as the squirrels can all be pulled out from the tree trunk section, turning it into four separate toys!
Try hiding some treats in the trunk and then putting the squirrels in to encourage your dog to use his brain to work out how to get the squirrels out to eat the treats.
This toy comes in many different sizes, so you can choose an appropriate size for your breed of dog.
Outward Hound Hide-A-Squirrel Squeaky Puzzle Plush Dog Toy - Hide and Seek Activity for Dogs
HIDE & SQUEAK FUN: Fill the Hide A Squirrel dog activity puzzle tree trunk with Squirrel stuffed dog toys and let your dog sniff, hunt and fetch them.
CUTE ANIMAL PLUSH: This dog puzzle game comes with squirrels with hidden squeakers your dog won't be able to resist!
CHALLENGING PUZZLE: An attached trunk top makes it trickier for your dog to remove the plush stuffed toys from their home. Watch as your dog learns to nuzzle its way in to reach the prize!
BOREDOM BUSTER: Bored dogs can become chewers - however indestructible your home. This hide and seek game challenges your dog's brain, keeping bored dogs occupied for hours!
INTERACTIVE PLAY: This plush squeaky dog toy puzzle is also ideal for interactive dog games with you - get your pet to retrieve the stuffed Squirrels, and start again!
DADYPET Dog Food Ball
Dog puzzle toys are always a winner in our household, and this foraging pet toy looks so much fun!
Make meal times more exciting by putting your dog's food into this interactive treat dispenser.
Your dog will have to wobble the dispenser around to get his food to fall out the hole at the bottom. This is great for slowing down your dog's eating which can help to reduce the risk of bloat.
Turn feeding time into a fun, interactive experience that's mentally stimulating and enjoyable.
Sale
DADYPET Dog Food Ball, IQ Treat Ball Bite Toys Chewing Food Ball, Fun and Interactive Treat, Feeding Training Puppy for Dogs and Cats, Best Alternative to Bowl Feeding (Orange)
[FUNNY PET FORAGING TOY] Transparent storage tank allows your pets to see their favorite food inside and arouse their curiosity and appetites of dogs. Reduces boredom and destructive behavior through healthy play and exercise, promoting active and healthy feeding.
[INTELLIGENCE DEVELOPMENT] Your dogs or cats need to figure out how to get the food, which trains them become smarter. Compared with the ordinary toys, IQ treat ball greatly extends the pet hunting difficulty. The adjustable flap allows the toy to accommodate pet food in more sizes while controlling the speed and difficulty. developing and maintaining your dog's physical alertness.
[SLOWS DOWN FEEDING] The toy slows down feeding to help aid with digestion and bloating. More work and physical activity will be needed for them to eat the food inside the ball. This hard work is rewarded with food or treats once they come out of the toy. When by putting a portion of your dog 's meal in this toy, they will have no choice but to only eat what is dispensed.
[SEPARATES FOR EASY CLEANING] Two separated design for easy use. The interactive toy ball easily unscrews to add food or treats, as well as to make cleaning. Wash each part with warm, sudsy water. Rinse and dry before filling.
[BEST GIFT FOR YOUR PET]-- 100% safe, the pet food ball is made of high quality ABS and polycarbonate material, Non-toxic, durable, washable, completely safe for pet and owner. Best gift toy for your pets
iHeartDogs AgriChew
This durable dog toy was especially designed for aggressive chewers. As your senior dog ages, you might find that they prefer to spend their time chewing on toys rather than chasing after them.
If they still have strong teeth and jaws, this could end up with them getting through lots of dog toys as they chew them up!
With this AgriChew, that's not a problem because it's made from a super-strong material.
The toy is pet-safe, non-toxic, FDA and RoHS compliant and free form any nasty chemicals.
The fun design means that it bounces in random directions when it's thrown, which ups the fun factor!
Pet Qwerks Talking Babble Ball Dog Toy
This is a fab toy for preventing boredom in your senior dog as it is motion sensitive so it starts interacting whenever your dog goes up to it.
This talking interactive dog toy makes over 20 sounds and has replaceable batteries.
Be sure to supervise your dog when using this toy, especially if they are strong chewers, due to it containing batteries.
KONG Stegosaurus Dog Toy
Kong get their second entry in my Top 10 Senior Dog Toys list, this time for their super-cute stegosaurus soft toy.
It has varied textures to encourage play, including squeaks and crinkles. The lining is reinforced to make it stronger so it should stand up to the vigour of your senior dog playing with it non-stop!
My dog Socks has the smaller pterodactyl version of this toy and it's his absolute favourite. He plays with it daily and it's still all in one piece after about three years, so that makes it a great purchase in my opinion!
KONG Dynos Stegosaurus Dog Toy, Large
Reinforced lining for strength
Varied textures to entice play
Squeaks and crinkles for added fun
Available in four characters: T-Rex, Stegosaurus, Triceratops and Pterodactyl
Fun toy gifts for senior dogs
I hope that you enjoyed my roundup of the best dog toys for older dogs.
This collection of fun dog toys and interactive puzzle toys would make a great birthday or Christmas gift for your furry friend.