Frozen Chicken Lollipops for Dogs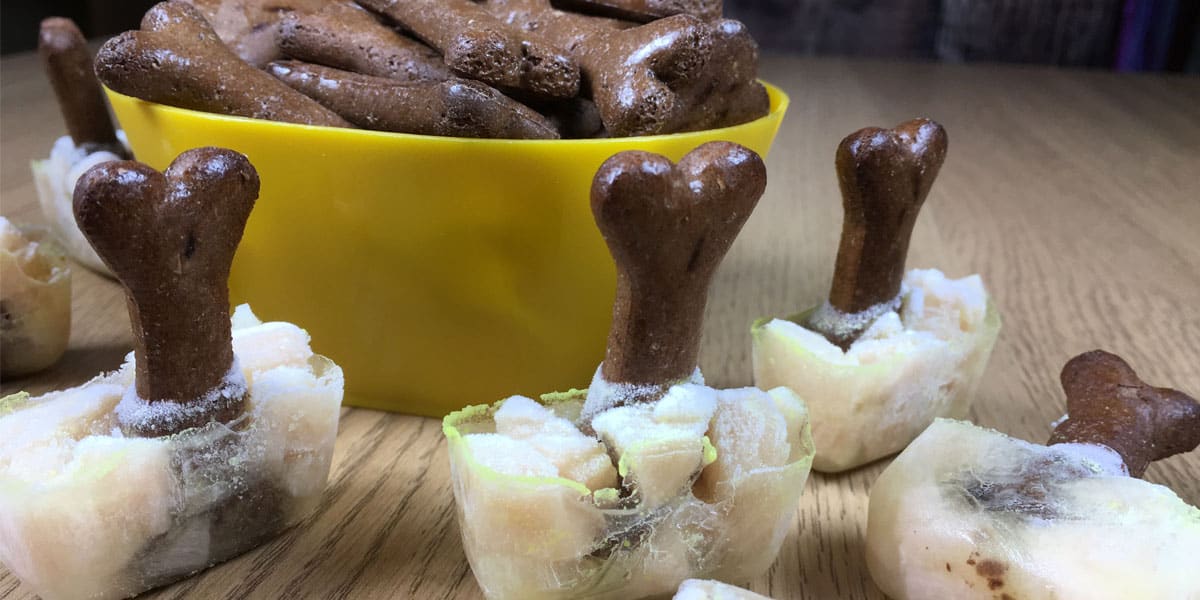 Updated on September 3rd, 2019
Making frozen dog treats for fussy eaters can be tricky. Using meat and chicken stock is a great way to tempt those who would normally turn their nose up at homemade treats. Even my super-fussy Freddie loves these frozen chicken lollipops!
Having a fussy eater can be a little bit demotivating when you are making homemade dog treats.
You put all your heart and soul into creating delicious treats, only for your pooch to give them a quick sniff and then wander off *sob*.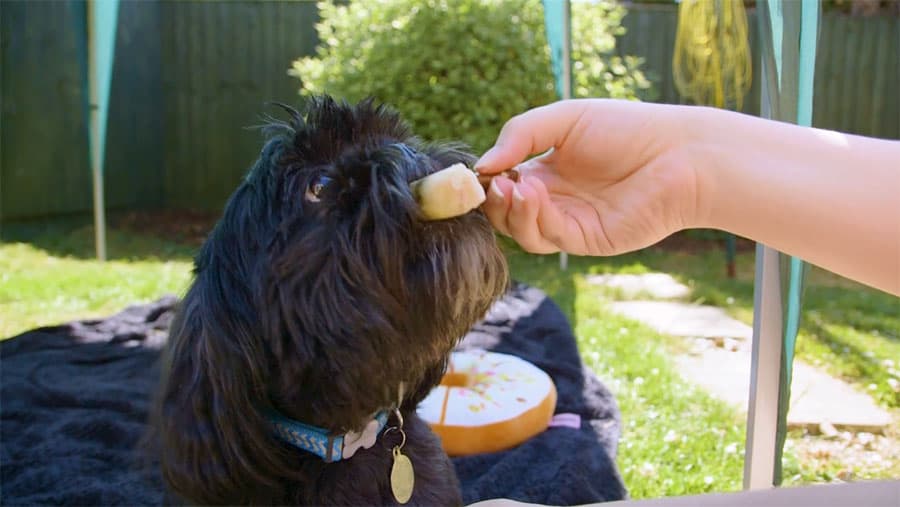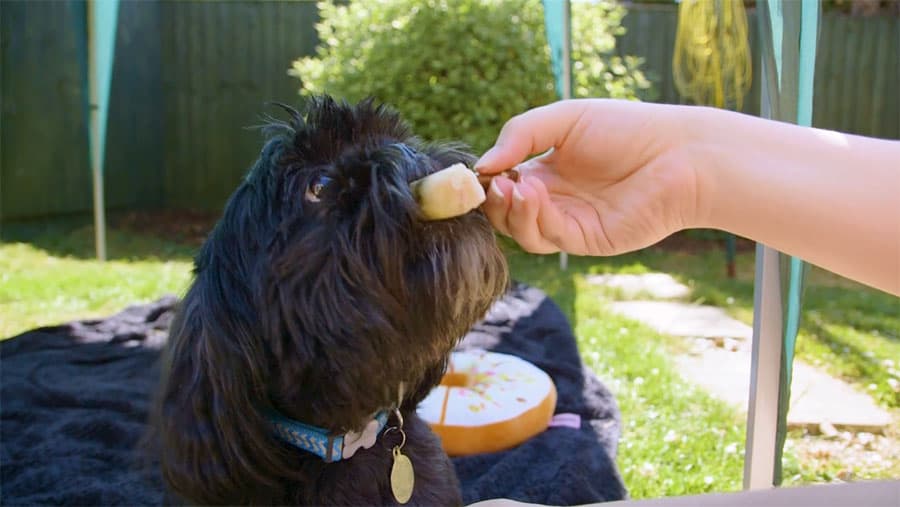 Disclosure: This post contains affiliate links, which means that I will earn a commission if you click through and make a purchase (at no additional cost to you).
I know how that feels. My shih tzu Socks will eat ANYTHING and barely stop to chew, but Freddie, a shih tzu/jack russell cross, is more discerning when it comes to homemamde treats.
He is particularly fussy about frozen treats – I don't think he really likes the cold feeling, even on a hot day.
However, when I presented him with one of these frozen chicken lollipops, he took it out my hand straight away and starting munching – which I call a definite RESULT!
It probably helped that they use gravy bones as the "stalk" for the lollipops, which are his favourite treat.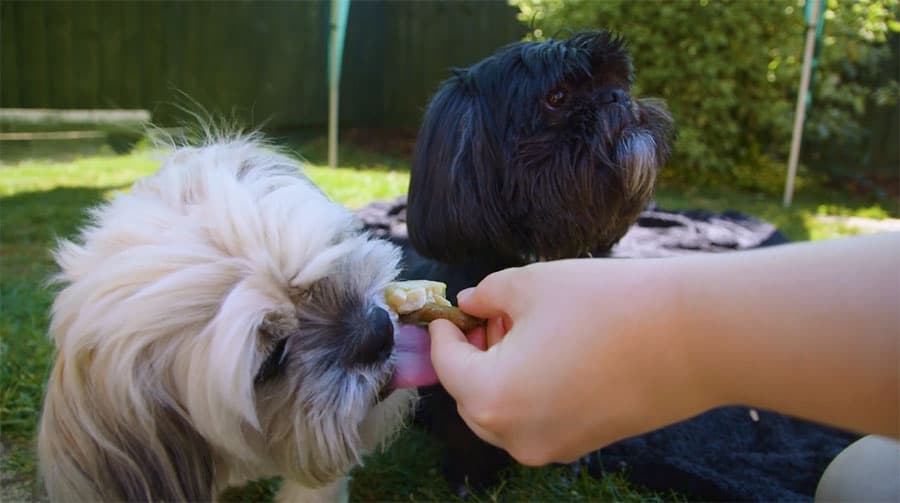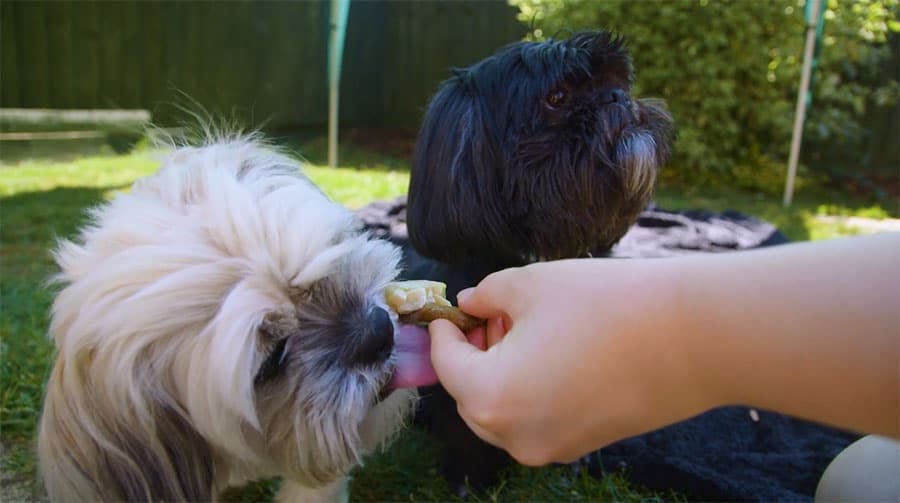 How to make frozen chicken lollipops for dogs
These frozen chicken dog treats a really easy to make. You can even use leftover chicken from a Sunday roast dinner, or any other cooked meats that you have available.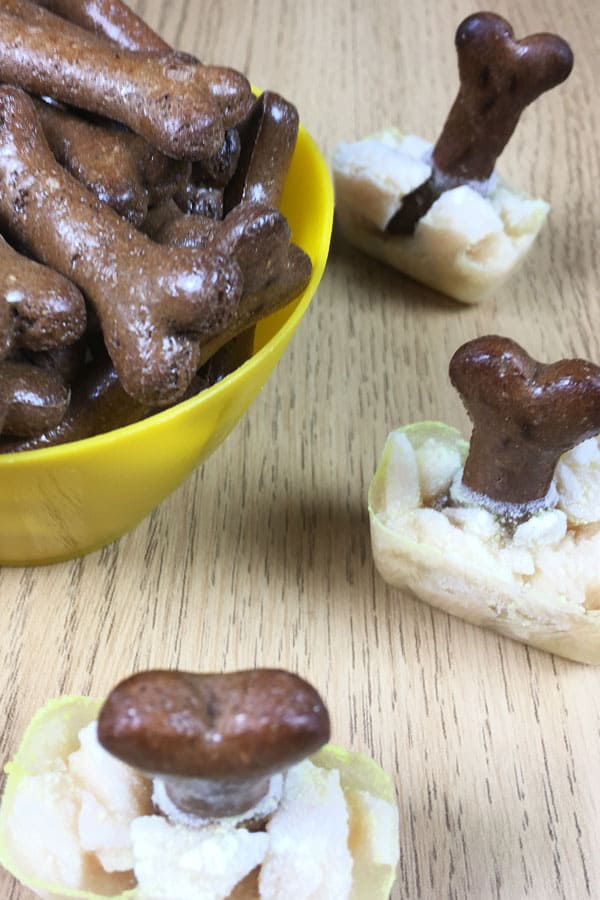 All you need is an ice cube tray, a handful of cooked meat, some chicken stock (ideally low-sodium stock without onions or garlic in it as those aren't good for your dog) and then something to put in to form the stalk of the lollipop. These Pedigree gravy bones worked perfectly!
Pedigree Biscrok Gravy Bones Original, Tasty Biscuits Dog Snacks, 1 x 1.5 kg
Delightfully crunchy dog biscuits baked to perfection for more of that crunch dogs love
Complementary pet food developed by nutritionists and vets at Waltham Centre for pet nutrition
Omega 3 to help keep them fit for life
Minerals including calcium to help give him strong bones
Available in three delicious varieties: Biscrok original, gravy bones and milky biscuits, all with ideal-tasting flavours
You'll want to use quite a deep ice cube tray to allow the gravy bones to stand up. If your tray is too shallow then they will just fall over.
Not that your dog will actually MIND, of course (it still tastes great!), but for perfectly shaped little chicken lollipops, ideally the stalks will stand upright.
iGadgitz Home Silicone Ice Cube Tray 15 Square Food Grade Ice Cube Moulds - Pack of 2
BPA free ice cube tray perfect for whiskey, mixed drinks, cocktails, juice, water, coke and many other drinks
Made from FDA food grade silicone. Reusable and flexible with an easy cube release design
Silicone ice cube trays won't crack or break like stiff plastic molds or trays. Freezer and dishwasher safe
Just fill it with water, juice or other food as you need, and then place in freezer for a few hours
Ice cubes tray size: 20cm x 11.8cm. Ice cube size: 3.3cm fits perfectly in most glasses size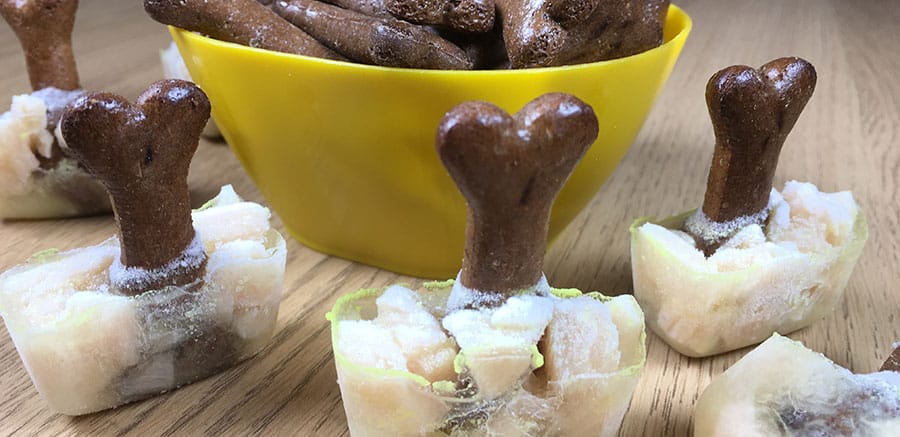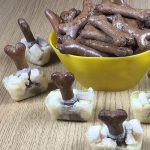 Frozen Chicken Lollipops for Dogs
Turn your leftover cooked chicken or turkey into a scrummy summer treat for your dog.
Ingredients
2

handfuls

cooked chicken or turkey

200

ml

chickenstock

(low sadium; no onion or garlic powder/extracts)

12

gravy bones

(or however many you want to make!)
Instructions
Cut the cooked chicken into very small pieces

Fill each section in the ice cube tray with the cooked meat

Pour in chicken stock so each section is about 3/4 full

Take the tray out the freezer and push the gravy bones into the treats

If there is room, add a little more stock to help hold the gravy bone in place once the liquid freezes

Freeze for 6+ hours; ideally overnight