10 Halloween Dog Movies to Watch with your Dog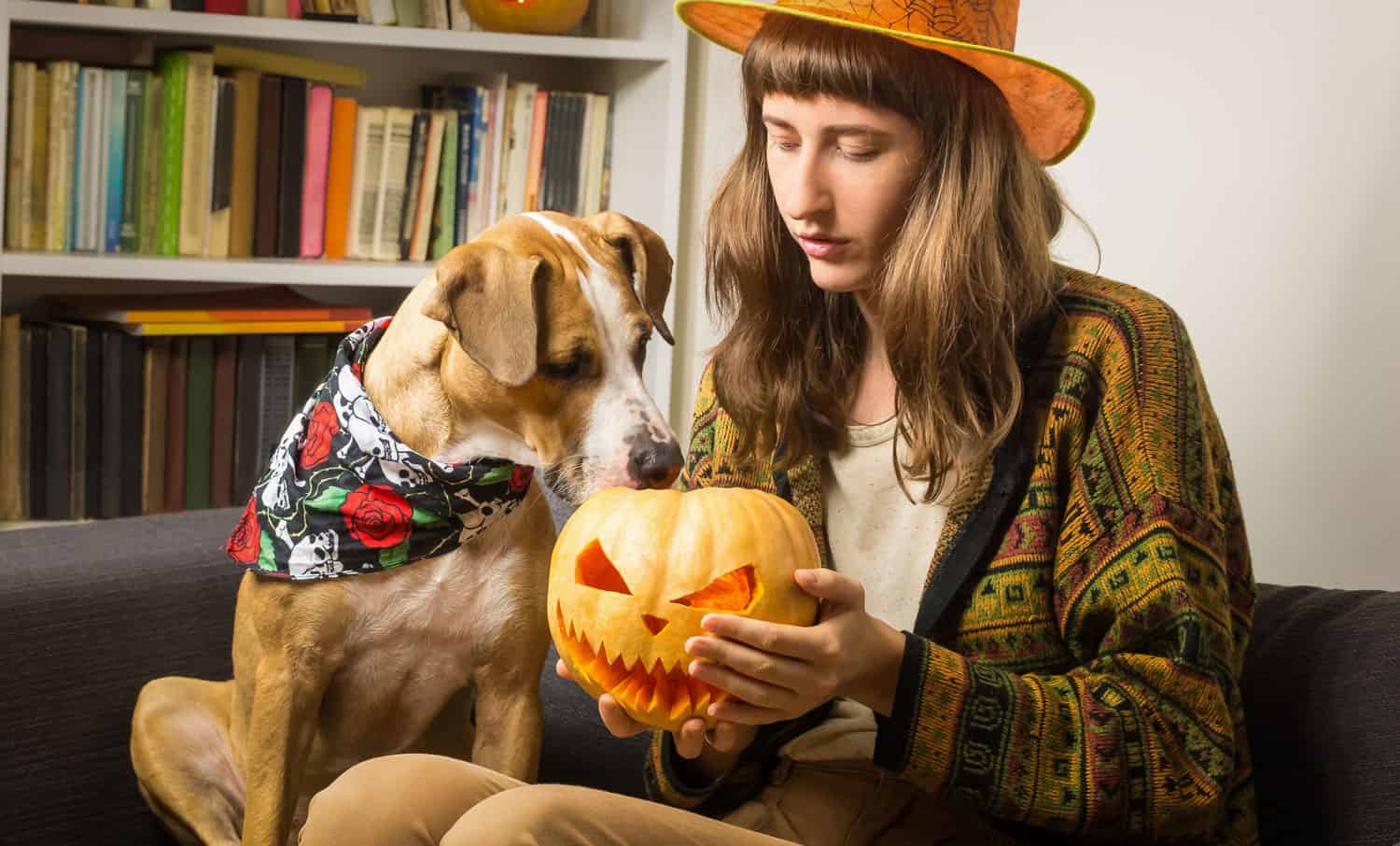 Updated on October 19th, 2019
Do you have a favourite Halloween dog movie? There are many excellent choices of Halloween dog films – read on to find out some of the best.
Halloween is coming up, and for some of us that means an evening on the sofa with our dogs waiting for the trick-or-treaters to appear.
My dogs are quite reactive at the front door (despite lots of training) so Halloween can be a bit of nightmare.
We have been lucky the past few years as we haven't had any trick-or-treaters, but we still like to stay in so that we can keep the dogs calm if the doorbell should ring.
If you're going to be spending Halloween in a similar way, why not find a Halloween movie to watch with your dog?
It's a great way to keep your dog happy and safe this Halloween.
Sit back, relax, and grab the popcorn!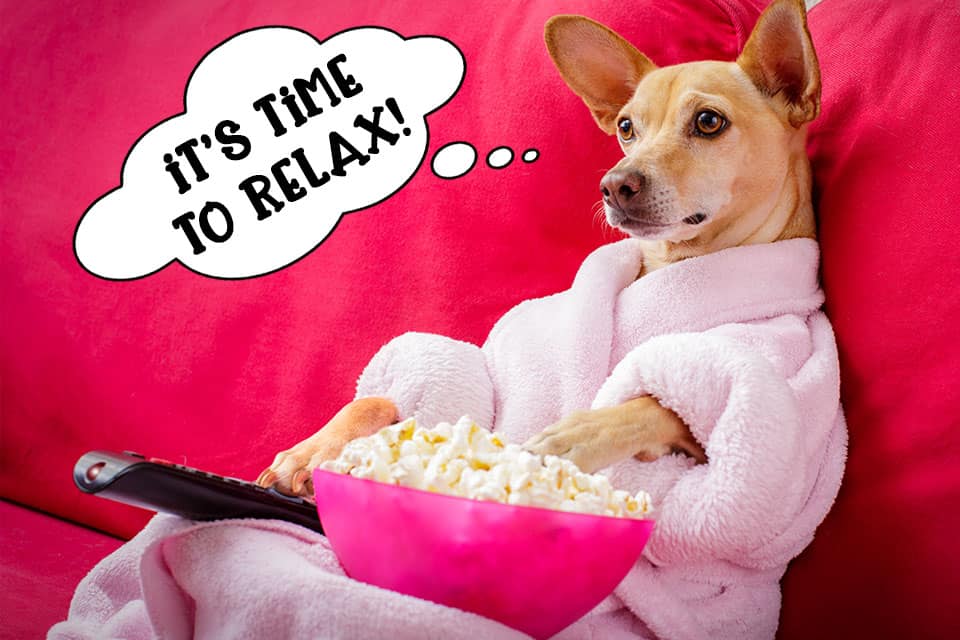 Halloween movies featuring dogs
Here is my collection of the best Halloween dog movies to watch this October.
Get the movie snacks at the ready and a big blanket to hide behind, then snuggle up with your dog and be prepared to get spooked!
Disclosure: This post contains affiliate links, which means that I will earn a commission if you click through and make a purchase (at no additional cost to you).
1) Cujo
Release date: 1983
Cujo is one of the most iconic Halloween dog movies, and one of the scariest on this list.
Based on a Stephen King novel, Cujo is about a St Bernard dog who gets bitten by a rabid bat.
The bite turns him into a killer and he begins a vicious killing spree.
2) Scooby Doo
Release date: 2002
This is a live-action movie of the popular Scooby Doo cartoon.
It's definitely more action-adventure than horror, but still features the members of Mystery, Inc teaming together to sole the mystery and defeat the monsters.
3) I Am Legend
Release date: 2007
I am Legend is a post-apocalyptic film starring action-hero Will Smith, and his wonderful German Shepherd called Samantha (Sam).
A deadly re-engineered measles virus originally designed to cure cancer has turned the human race into vampiric mutants called Darkseekers.
Robert Neville (Will Smith) is scientist working on the ground, desperately trying to create a cure. He is the only human left alive in the city… or so he thinks.
Fair warning – you'll need a good pack of tissues for this one.
4) The Hound of the Baskervilles
Release date: 2002
There are several movie versions of this Sherlock Holmes classic. I've chosen the 2002 BBC film starring Richard Roxburgh, Ian Hart and Richard E. Grant but unfortunately I couldn't find a trailer video for this one.
In this story, Sherlock Holmes and Doctor Watson investigate an heir to a large estate's claims that his land is being haunted by a ghostly dog.
5) The Mask
Release date: 1994
We've moved on from mystery to comedy for Number 5 in this list of Halloween films that feature dogs.
The Mask stars comedy genius Jim Carrey as Stanley Ipkiss, a bank clerk who happens to find a mysterious wooden mask which he can't resist trying on.
The mask turns him into a green-faced trickster who goes on a comical rampage throughout the city.
Stanley's dog Milo, a Jack Russell terrier, features heavily in this film.
6) Man's Best Friend
Release date: 1993
Man's Best Friend is a comedy-horror movie about a genetically modified Tibetan Mastiff called Max who gets rescued from the laboratory where he is being experimented on.
However, this kind-hearted act of rescue turns bad when Max releases his murderous nature upon members of the community.
7) Spooky Buddies
Release date: 2011
Well, what's a movie roundup list without at least one Disney film?
This is the fifth movie in the popular Disney 'Buddies' series which is a whole series of films starring dogs.
In this Halloween edition, the pups must team up with new friends to save the world by defeating Warwick the Warlock.
If you're more in to 'cute' than 'scary' this Halloween, I'd recommend choosing this family-friendly adventure.
8) Frankenweenie
Release date: 2012
Frankenweenie is a black-and-white stop-animated movie by cult classic director Tim Burton.
It's based on the Mary Shelley story of Frankenstein's monster.
In this spooky retelling, Victor Frankenstein is a schoolboy scientist who brings his dog Sparky back to life after he gets struck by a car.
The reanimation is successful however Sparky gets scared and runs away.
When Victor's classmates discover his new reanimation skills, they try to do it themselves but end up raising monsters.
Can Victor and Sparky save the day?
9) The Pack
Release date: 2015
The Pack is a horror film about an Australian family who are terrorised by a pack of wild dogs.
Despite not receiving overly positive reviews when it was released, it's gone on to achieve 50% average on Rotten Tomatoes, which is fairly respectable for a horror film of its type.
10) Isle of Dogs
Release date: 2018
Isle of Dogs is another stop-animation dog movie which also features in my choice of the best dog movies of all time.
It's not a scary film in the traditional sense, however it does deal with the scary nature of man and how people can become corrupted and force their ideals upon others, which is why I have included it in this list as well.
The story follows a young boy searching for his beloved dog after all dogs in Japan get banished to an island following an outbreak of canine flu.
It has an excellent voice cast of well-known actors, including Bryan Cranston, Bill Murray, Scarlet Johansson, Edward Norton, Tilda Swinton and Jeff Goldblum.
The best Halloween dog movies
I hope you enjoyed this collection of the best Halloween dog movies of all time.
Will any of these films make it to your watch-list this Holiday season?
For me, I think it's definitely about time I re-watched I am Legend as I enjoy it lots, and it's been a few years since I last saw it.
If you liked this collection, you might want to check out brand new dog films for 2019.