Easy DIY Halloween Dog Costumes to Make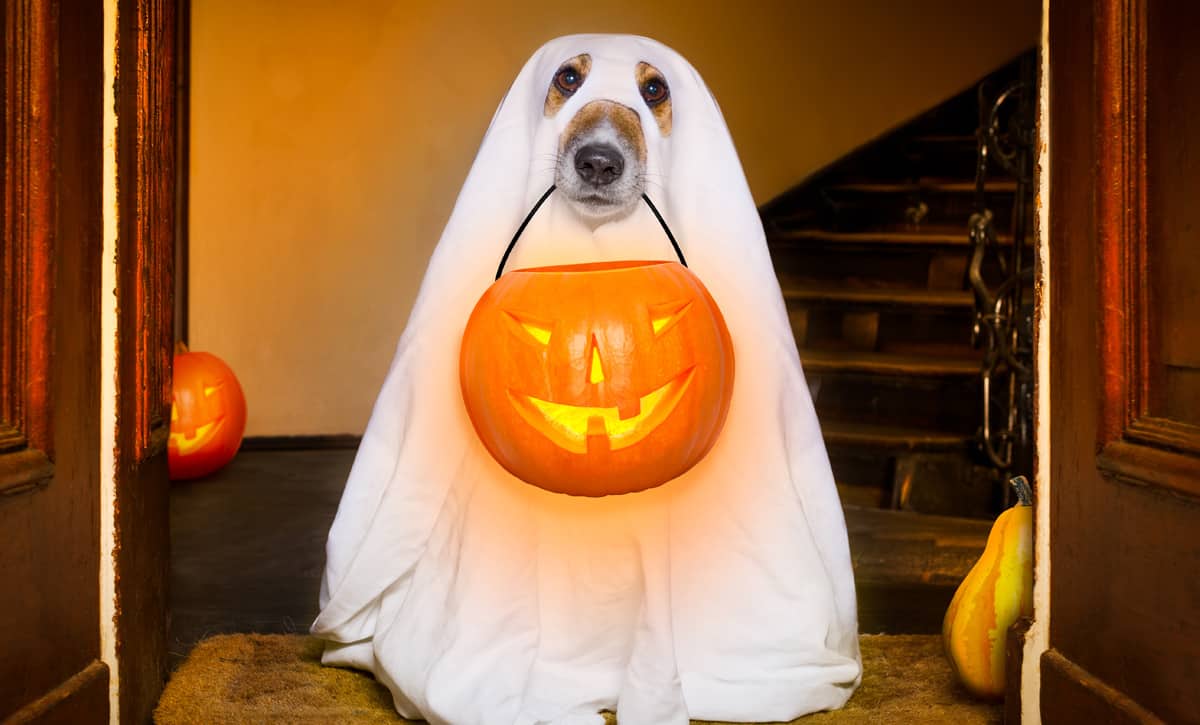 Published on September 6th, 2019
Try out these easy DIY Halloween dog costumes to make your pooch stand out from the crowd this spooky season.
Making your own DIY dog costume this Halloween is a great way to really get involved in the Holiday spirit and celebrate Halloween with your dog.
Before planning your costume project, keep in mind your dog's experience at wearing unusual costumes.
If your dog isn't overly fond of wearing dog coats, you'll want to opt for a simpler design that isn't too different from the style of coat they are used to wearing.
For dogs that allow a bit of adventure, you could try some of the more creative designs.
Keep scrolling all the way to the bottom to discover my favourite DIY Halloween costume idea.
DIY Halloween dog costumes to make yourself
Pinata Dog Costume
Pinata, pinata! If you're in search for a colourful costume for your dog then this pinata costume by The Crafting Chicks could be just what you need.
Pineapple Dog Costume
Pineapples are right on trend at the moment. Dress up your dog in this fashionable theme by making a homemade pineapple dog costume.
Brit+Co have created this gorgeous costume tutorial for you to make your own yellow little bundle of fluff!
Lego Costume for Dogs
Did you play with Lego when you were younger? My husband still plays with it now!
If your dog is up for wearing a slightly more imposing costume then try making this Lego costume by Pet Guide.
My dog Freddie looks just like the dog in the photo, but I don't think Freddie would want to wear this, he would probably be scared of it!
For more bulletproof dogs I think this would be a fab funny Halloween costume to make for them.
Frida Kahlo Dog Costume
Craft a more distinguished Halloween costume with this Frida Kahlo inspired design by Jaderbomb.
The floral crown is really cute but you might struggle to get your dog to keep it on, especially when they are running around playing.
Garden Gnome Costume
Turn your dog into a gorgeous garden gnome with this DIY tutorial from the Crafting Chicks.
This looks like a really easy dog costume to make, and probably one that your dog wouldn't mind wearing as it's fairly simple.
The only exception might be the hat, which may be a little prone to falling off!
Cereal Killer Dog Costume
For a last-minute Halloween costume for your dog that will really make an impression, you can't get much better than this Cereal Killer costume by Sew Doggy Style.
Upcycle a simple cereal box into a costume for your small dog.
I like the clever pun on the 'serial killer' term.
You might need to introduce your dog to this costume slowly, as it may be a little uncomfortable and scary.
This is perhaps a good costume idea for a quick photo shoot, but not that suitable for going trick-or-treating or wearing all evening. Remember, keeping your dog happy at Halloween is the important thing to keep in mind.
Eggs and Bacon Dog Costume
This is a funny Halloween costume that looks fairly quick to make once you've got the material.
The tutorial is from Instructables and they've even included a video to showcase their pooch strutting their stuff in this costume.
An adult version is included too – so you could dress yourself to match your dog!
Cupcake Dog Costume
Hey up, cupcake!!
This little bundle of fluff is just SO adorable in her cupcake costume!
Her name is Vanilla, which is absolutely perfect to match the costume design.
Get the full tutorial on how to make a cupcake costume for your dog over at Lovely Indeed.
Smores Costume for Dogs
We're keeping with the sweet-treat theme with this costume from Studio DIY.
Upcycle an old white dog dog with some cardboard and coloured felt, and you've got a tasty Smores costume to help your dog celebrate Halloween.
Mmm… marshmallows!
Starbucks Dog Costume
Tell everyone about your Starbucks coffee obsession with this easy and inexpensive costume idea by Coolest Homemade Costumes.
Just like with some of the other ideas, as this is a bit different to what your dog is used to wearing, you'll want to introduce it to them slowly so that they are comfortable with it.
Lightning Bug DIY Halloween Costume
This gorgeous little sighthound looks so cute all curled up with her lightning bug Halloween costume.
Head on over to DIY Show Off to find out how to make your own version of this bug-themed dog design.
I especially like the little light above the tail – just like a real glow bug!
DIY Unicorn Dog Costume
I've saved my favourite DIY Halloween Costume until last!
I love all things unicorn, so this fab costume by The Dog Lovers World is my absolute fave.
It looks pretty easy to make, and it's just soooo cute!
If I was going to make any costume for my dogs this Halloween, this would be the one I chose!