Adorable Knitting & Crochet Dog Sewing Patterns to Make Today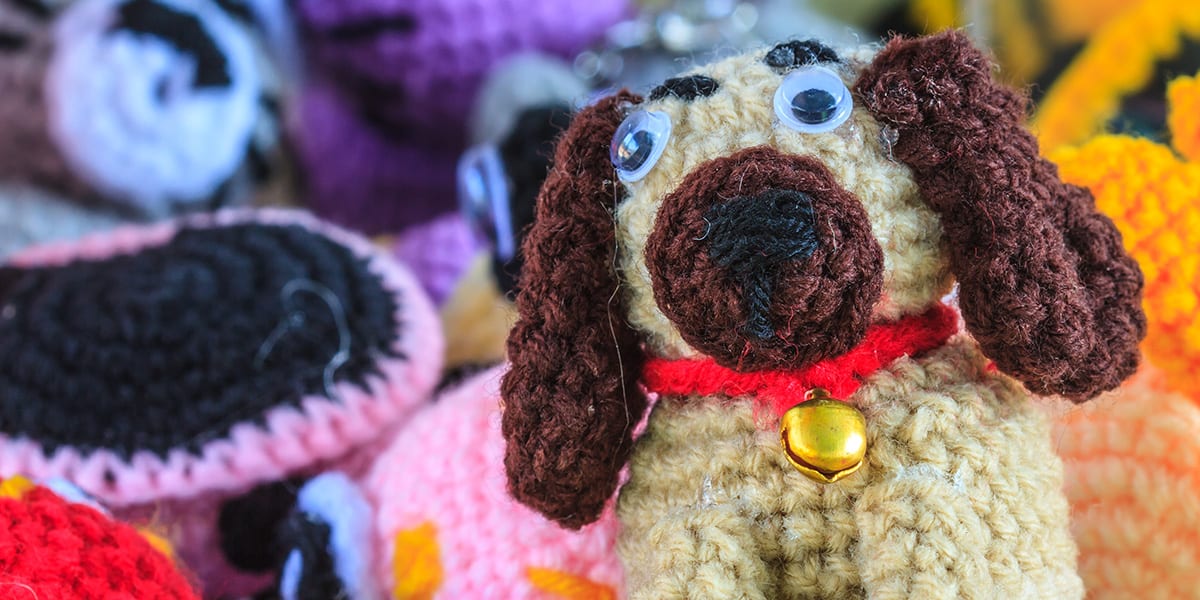 Updated on August 4th, 2019
Dog knitting patterns and crochet dog sewing patterns allow you to make some of the cutest handmade toys around.
If you've recently welcomed a new child or grandchild into the world, what better gift to give them than a handmade toy that they can treasure forever?
From cartoon style dog toys to realistic fluffy dog sewing patterns and even rainbow pooches, you'll find all you need for a bundle of dog sewing inspiration in this article.
Note: Some of the links included in this article are affiliate links, which means that if you click through and make a purchase I may receive a commission (at no additional cost to you).
Gorgeous homemade dog toys to sew
I've previously released collections on sewing projects for dogs which includes patterns for dog coats, toys, beds and accessories, plus a separate post on how to sew handmade dog toys.
For this article, I thought I'd keep with the sewing theme, but this time I'm showcasing dog shaped sewing patterns for children's toys.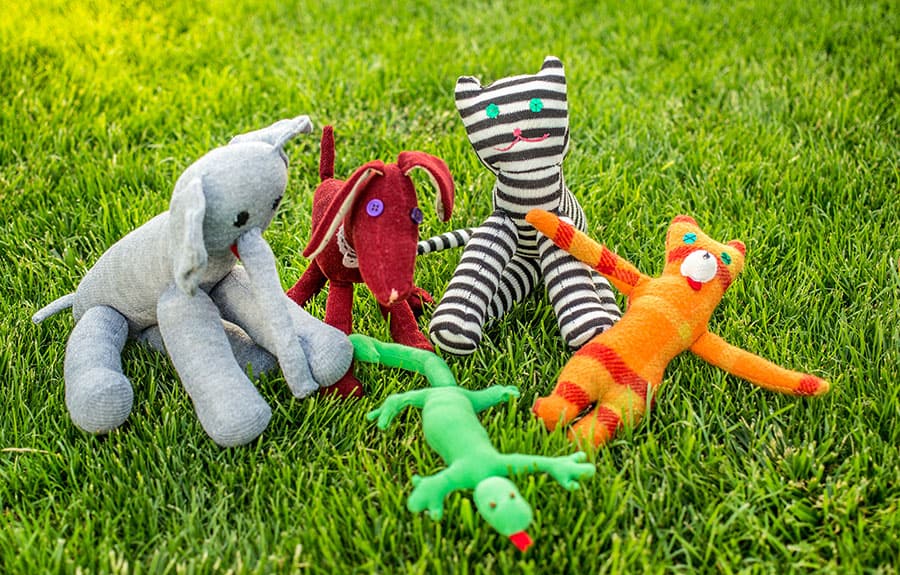 How to make a stuffed dog toy
If you're looking to knit your own dog then you can find a selection of patterns below.
Most of them are free, but the couple that are paid are still excellent value and you can download all patterns straight to your computer to get your project started straight away.
Are you ready for an onslaught of puppy toy cuteness?
You are? Excellent, fire up the sewing machine and let's go!
Knitting & crochet dog sewing patterns
If you are a pattern creator and would like to see your dog shaped pattern featured in this list, please send me a message and I would be happy to add it in!
Freddie the Schnauzer knitted dog toy
I have a special fondness for this pattern as the dog is called Freddie which is the name of one of my dogs. My Freddie is a shih-tzu not a Schnauzer though.
This free Schnauzer knitting pattern from 'Lets Knit' has so much mischievous character in the facial expressions.
You could knit him in shades of grey for the more standard Schnauzer colouring.
Floral stuffed dog toy pattern
This dog sewing pattern is more of a cartoon style than the one above.
I love the pink floral material that's been used to make this toy and I think it would work well in almost any pattern of material.
The pattern is available on Etsy.
Humphrey the Hound
How cute is Humphrey? The red gingham material works wonderful and the floppy floral ears really help to make this dog sewing pattern look extra-special.
This is a free pattern from 'Bustle & Sew' and you can find full sewing instructions on their website.
Rainbow dog crochet plushie
It's time for another free crochet pattern – this time of a rainbow puppy!
Crocheting all the different sections in a rainbow of colours makes this dog toy stand out and you can be completely creative with how the finished toy ends up looking.
The knitting pattern is from 'Knitting Day' and comes with full instructions on how to crochet the dog plushie.
Crochet Gromit Pattern
I've never really been a fan of Wallace and Gromit, but my husband loves it.
I do enjoy the 'Curse of the Were Rabbit' film they made though where they hold the 'giant vegetable' competition in the village and end up getting plagued by bunny rabbits eating all their prized veg.
If you (or someone you know) love to laugh at this comedy, why not crochet them their very own Gromit dog?
With this free pattern from 'Free Crochet Patterns', you can do just that!
Quigley the Corgi free dog sewing pattern
We're taking a break from the knitting and crochet with this gorgeous Valentine's pattern.
Quigley the corgi is sewn from organic cotton and hemp fleece, but poly fleece could also be used.
Full instructions are included with the pattern from 'Fluffmonger'.
There is also a handy video tutorial to help you to sew your own dog toy.
Fluffy puppy knitting pattern
Now THIS is one adorable knitted puppy!
With big black eyes, a cute button nose and a cheeky tongue poking out, you won't fail to fall in love.
As someone without any knitting experience, I think this looks amazing and so different to anything I've seen before with the fluffy yarn that's used. I wouldn't have even realised that this puppy had been knitted!
Download the free pattern from 'Red Heart'.
Dog Amigurumi pattern
If you fancy a challenge then this could be the dog pattern for you.
These toys stand at about 20 inches tall, so it's a real cuddler toy which is great for your kids or grandkids. They will cherish this special toy that you have lovingly crafted for them.
I like that you can knit this Amigurumi dog to look like he is wearing clothes as that gives you a whole new level of customisation options. If your child has a favourite colour or a t-shirt that they always want to wear, why not make them the dog a matching one?
The Amigurumi pattern can be downloaded from 'Amigurumi to Go' and it's available in English and Danish, plus there is a separate version to knit a pair of overalls for the pooch to wear.
Pomeranian Amigurumi dogs
The cuteness meter is OFF THE SCALE with these two doggies!
They remind me of Bo, the world-famous Pomeranian dog that features in lots of internet memes.
For these dog toys, brushed fur and facial details make the Pomeranian puppies look incredibly realistic.
The yarn is brushed up using an actual dog brush, which helps to give it the super-fluffy appearance.
Get the free pattern from 'All About Ami'.
How to sew or knit a dog toy plushie
If this list of dog plushie sewing patterns has got your creative juices flowing, why not give one of them a go?
If you've not seen the perfect dog sewing pattern for what you're looking for then perhaps you'll find one you like more from the selection below:
Knitting Pattern Cracker the Old English Sheep Dog
Knit this Old English Sheepdog with the help of this knitting patttern
Needles required : 3mm. Yarn : Double Knitting Yarn. Toy Dimensions : Approx 21cm high and 32cm from nose to tail. Skills used : Cast on, knit, purl, increase by knitting into the front and back of stitch, loop stitch, decrease by knitting two stitches together, cast off, Sewing pieces together.
Buy fresh and unique patterns direct from Knitting by Post
Patterns are professionally printed on FSC Certified paper
Please Note : You are buying a knitting patterns and NOT the finished items.
Sale
I think they are probably all a bit advanced for me – I can't even sew a button – but I still very much enjoyed putting together the collection of patterns for you to read.