17 FREE dog toy sewing patterns your pooch will LOVE!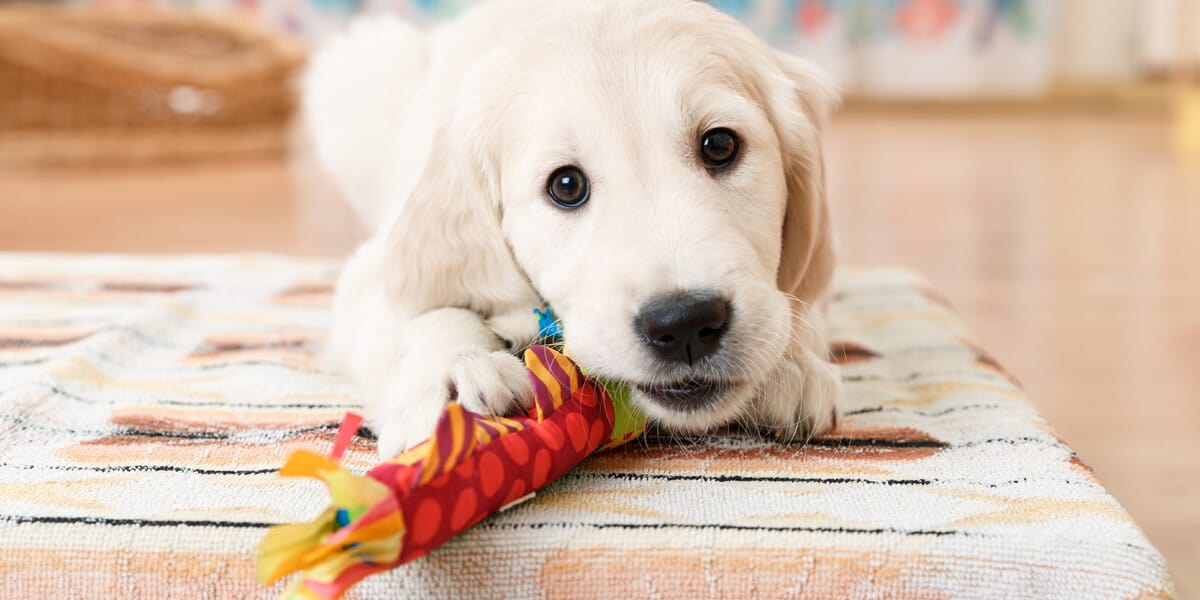 Updated on July 23rd, 2019
Show your dog how much you love them by sewing them their very own handmade dog toy just for them!
Homemade dog toys are the ultimate luxury for the pampered pooch! You can create something that perfectly matches your dog's personalities and toy preferences.
Making your own dog toys is also a great way to save money because in many cases you can use materials that you already own.
Plus, using old clothes or blankets that belong to you will make your dog love the toy EVEN MORE because it smells of their favourite person – YOU!
Read on for my favourite FREE handmade dog toy sewing patterns. Some of them are so adorable, I'm not sure I would even be able to part with them to give them to my dogs!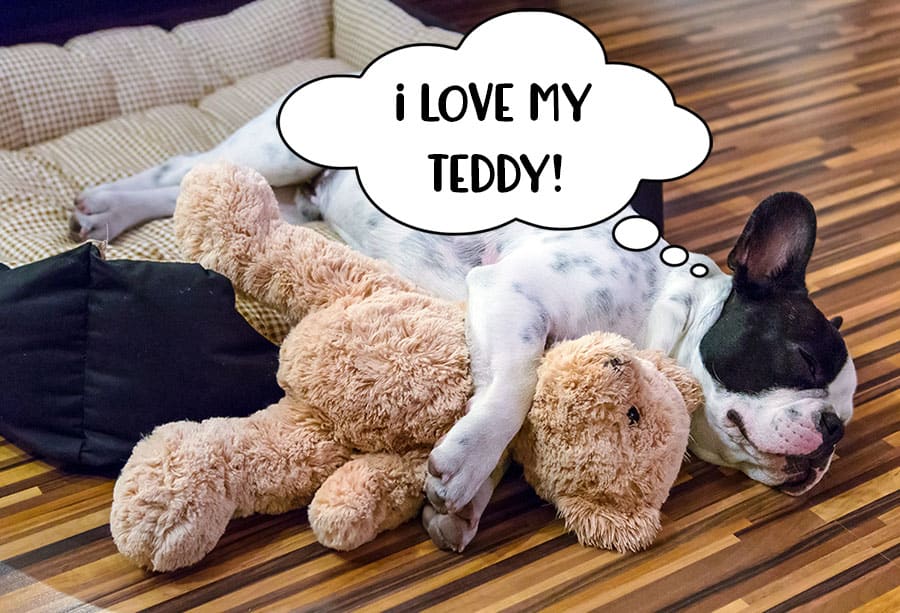 Disclosure: This post contains affiliate links, which means that I will earn a commission if you click through and make a purchase (at no additional cost to you).
17 free dog toy sewing patterns to download
I've put together a list of my favourite free dog toy sewing patterns and projects to download.
There's a handmade dog toy idea here for every type of dog – whether your dog would do anything for a squeaky toy, or if their favourite pastime is pulling the stuffing out of their toys.
Crafting for your dog is so much fun as you know your efforts will be hugely appreciated!
1) Quick & easy dog bone toy
'The Spruce' is well known for its easy to make craft projects, and this dog bone toy is no exception.
There are step-by-step instructions with photos to make this an easy sewing project for beginners to follow along with.
2) Crochet dog toy
If you love to crochet, then this pattern from Lime Green Lady could be the handmade dog toy pattern for you!
I love all the different colours that the creator has made these toys in – it's a whole rainbow of dog bones!
3) No-stuffing bunny dog toy
If your dog is prone to ripping apart his teddies, this no-stuffing bunny toy by Lia Griffith could be the answer.
You won't need to worry about your dog tearing the toy apart and accidentally eating any of the fluff, because there isn't any!
4) Water bottle dog toy
This is a great idea for you to do your part from the planet by recycling a plastic water bottle into an interactive toy for your dog.
My dogs would LOVE this, as crunching up plastic bottles is one of their favourite activities. This would be a safer option as they get all the fun noises of the bottle but the lining of the toy will protect them from any sharp edges on the bottle.
5) Upcycled denim dog toys
Turn your old pair of jeans into a unique bone-shaped toy for your dog.
Your pooch will LOVE this toy from Pillar Box Blue, because it smells of you!
Plus, denim is a really strong fabric, so this is a fairly hard-wearing dog toy – great for those who like to play a little bit rough.
6) Rubber chicken crochet pattern
Time for another dog toy crochet pattern, and this time it SQUEAKS!
This fab crochet idea from Natalina Craft is super cute and comes with easy-to-follow step-by-step instructions.
The pattern comes with both English and French instructions.
7) Candy Crush dog toy
Are you obsessed with playing Candy Crush on your phone? I have to admit, I've never played it, but I've got friends who are a little bit addicted to it…
This DIY dog toy from Sew Doggy Style is based on a 'color bomb' power up in Candy Crush (yeah, I don't know what that is either – but the toy looks great!).
8) Sweater dog toys
Here's another great idea for turning your old clothes into dog toys.
This post from Erika Kern shows you how to make a dog toy from your old jumpers.
It's worth clicking over to the site just to read her heart-warming adoption story of how she met her dog Gracie.
9) Valentine's Day homemade dog toy
Mwahhhhh… who wants a kiss?
Dalmatian DIY is one of my favourite websites for finding wonderful sewing projects for dogs, and this fun Valentine's Day themed project is no exception.
How cute does that Dalmatian look holding those oversized lips in his mouth?
10) Shark dog toy
I had to follow up from the craft project above with another fabulous dog toy from Dalmatian DIY.
This creative shark shaped sewing pattern is probably my favourite from this whole collection.
With pearly white teeth, thick grey fabric and a cheeky smile, this shark will not only be a winner for your dog, but will charm your heart too!
I can almost hear the Jaws music playing…
11) Christmas doughnut dog toys
Just in case these mini doughnut toys aren't cute enough, will you just LOOK at that adorable little doggie face! I think I'm in love…
These fun holiday themed dog toys from Pretty Fluffy are made from socks (yes, really!) which make them super quick and easy to make.
12) Fabric scraps DIY dog toy
If you've got loads of fabric scraps laying around that you can't quite bring yourself to part with, why not turn them into a dog toy?
Using scraps is great because it's a cheap way to make dog toys, and you can mix-and-match loads of different colours to make sure your toy grab's your dog's attention.
Tennis balls are used to add an extra fun dimension to these toys.
13) Re-stuffable soft dog toy
If your dog destroys toys in a couple of minutes then why not make them something that they can safely unstuff as many times as they wish?
This is a very quick sewing project for dogs as you basically just unstitch a shop-bought soft toy, remove the filling and then replace it with different filling that you can easily put back in once it comes out.
14)     Sock toy creature
Turn an old sock into a much-loved dog toy with this fun sewing tutorial.
This toy uses more old socks for the stuffing, so if your dog manages to pull out the poor sock animal's insides then they will be met with more socks to play with!
15) Squeaky doughnut dog toy
That's right – another project from Dalmatian DIY – I just can't help myself!
This fun donut dog toy is a real winner for dogs that like to carry their toys around with them as they can fit their mouth around the rim of the donut shape.
Plus, how could I NOT include this project with all those amazing doggie expressions in the photo!
16) Squeaky doggie bones
If you have some old dog toys that your dog doesn't really play with any more, you can remove the squeakers and turn them into exciting NEW toys for a fraction of the price of buying new ones from the store.
Laura Griffin has shared a free printable pattern for making dog toys using wonderfully colourful fabric scraps.
17) Squeaky snake handmade dog toy
Okay, okay, I've done it again… The final free dog toy sewing pattern is yet another from the wonderful Dalmatian DIY #sorrynotsorry.
This clever little snake has lots of sections to hide squeakers for an interactive fun toy for your dog.
I'm a dog mom to a Shih Tzu that would do ANYTHING for a squeaky toy, so this would be a great one for me to make for him.
How do you make homemade dog toys?
One of the easiest ways to make handmade dog toys is by sewing them.
Sewing homemade dog toys is a lovely way to show your love towards your dog.
Not only do they end up with something that's been made especially for them, but you can tailor the shape, colours and style of toy to your dog's personal toy preferences.
You don't even need a sewing machine – many of these dog toy patterns can be sewn by hand with a needle and thread.
If you love sewing, and you love your dog… well, it's a no-brainer to combine your two passions to create something wonderful that both you and your dog will enjoy!
What do I need to make homemade dog toys?
If you're thinking about making your own DIY dog toys, then there are a few things you'll need to get started.
Needle and thread
If you are going to be hand-sewing your toys rather than using a sewing machine then you'll of course require a needle and thread.
It might be worth investing in a sewing kit like the one below so that you have a wide range of thread colours and needle types to choose from.
Sale
TUXWANG Premium Portable Sewing Kit - With 130 Piece Sewing Accessories and Carry Case - Includes Assorted Needles and 24 Reels of Thread
Lightweight & Portable - Strong hard case that measures 21cm long and 14cm wide when fully zipped up. Also with a pocket on the side and a looped handle for easy carrying.
All You Need in Sewing - Over 130pcs premium sewing supplies including 24 colored spools, 30 high quality assorted needles, powerful stainless steel scissors, tape and beautiful buttons, etc.
Colorful and Durable Spools - Sewing kit contains a selection of 24 colors of thread spools and tools needed for your sewing emergency; there're 50m additional thread of each color for extra use and optimum plastic spools for better storage.
Everything In Its Place - The straps holding the spools and tools in their places, which makes you easily to find it out and mend anything you want without any worry to lose it in your bag, purse, drawer or anywhere!
A Practical Gift for All Ages - Your wise choice gift for your mom, grandma, lovely kids, best friends, lovers, even beginner, crafters or DIY lovers. They would be grateful for your lightweight and useful gift!
Fabric scissors
A good pair of fabric scissors will make cutting out the dog toy patterns MUCH easier.
To keep your fabric scissors sharp, make sure you never use them on anything other than material – especially paper and that can blunt scissors.
Sale
Dressmaking Scissors 10 inch (25.5cm) - Dressmakers Upholstery Shears with Sharp Blades & Soft-Grip Handle for Cutting Fabrics, Leather, Material, Clothes, Altering, Sewing & Tailoring (White)
【Wide Range of Uses】- Dressmaking Scissors heavy duty 10'' (25.5cm) for cutting fabric, Leather, thin materials, raw materials, clothes, carpet and more; Free thread snips included (Color Random).
【High Quality Materials】- T8 Germany imported stainless steel blades remain sharp for 100,000+ precision cuts, surpassing normal stainless steel.
【Perfect Combination】- Tailoring Scissors with adjustable brass and stainless-steel sharp blade pivot for a precise balance.
【Comfortable Handle】- Tailor's excellent scissors ergonomically designed soft-grip handles for comfortable use; For right-handed only.
【Money Back Guarantee】- We Guarantee you that our Dressmaking Scissors are made of high quality materials. If you are not 100% Satisfied, we will refund your money back totally.
Squeakers for dog toys
Take your dog toys to the next level by putting in some squeakers. These plastic squeakers are great because they are affordably priced and they last for a long time.
Fabric & fleece pieces
Most dog toy patterns can be made from material you already have lying about the house, for example old jumpers, socks, pairs of jeans and blankets.
If, however, you'd rather use something brand new then you can buy gorgeous fabric online.
Fleece material is my favourite for making dog toys as it's more durable and it's nice and soft for your pooch to hold on to.
How cute is this paw print patterned fleece fabric?
Such Textiles Black Paw Print Polar Fleece Fabric (Per Metre)
150cm wide. Price Per Metre. Each order will be sent as one continous length.
This is one of our fun printed polar fleece fabrics. It features a multicoloured paw print design on a black background.
Polar Fleece is a soft, napped, insulating fabric with an anti-pill finish, which stops it from bobbling.
It has many properties which help it remain lightweight, warm, strong and easy to wash.
It has a wide array of uses, including jackets, throws, blankets and much more.
Stuffing for dog toys
When I'm making dog toys, I tend to cheat and re-use stuffing from old broken dog toys, or from old pillows that I have since replaced. It's recycling AND saving money all in one go!
However, you can buy it new if you prefer:
Rayher super-soft Polyester Fibrefill, washable Stuffing for soft toys, cushions and crafting
Use this high-quality polyester fill to create lovely stuffed animals, dolls, sock toys and teddy bears, an ideal filler for your Amigurumi animal characters, monsters and other crocheted and knitted toys, this stuffing material pulls apart very easily for a quick and hassle-free stuffing
This soft toy stuffing is the perfect choice if you are planning on using it to stuff plush toys for your little ones, this toy filling conforms to European Toy Safety Standards DIN EN71-3, its machine washable and can safely be dried in the tumble dryer for easy care
The perfect padding for all your sewing projects, this hypoallergenic and lofty polyester stuffing is easy to mould into shape but firm enough to retain its high resiliency, the lightweight fibre filling easily re-fluffs and provides lasting softness and comfort
Create beautiful arts and crafts pieces with this fiberfill stuffing, ideal for fluffy clouds and snow themed craft ideas or make your crafted animals soft and cuddly with this craft stuffing
Up to 95 degrees machine washable, hypo allergenic, 100% Polyester
Printer
Many of the patterns linked in this article have downloadable patterns that you can print out.
Any standard printer should be fine for printing out the patterns, and you'll only need standard paper to print them out on.
I print lots of patterns and templates for crafts, so I have this printer which is AMAZING! It prints really quickly, the ink lasts for ages and it can print up to A3 size so it's perfect for larger projects.
Seriously, this is by far the BEST printer I've ever had; it's brilliant!
Sale
Canon 8746B008AA PIXMA iP8750 A3+ Wi-Fi Photo Printer,Black
Premium A3+ printer with wireless connectivity forphoto enthusiasts
6-colour system includes grey ink for exceptional colourand mono prints
Apple AirPrint, Google Cloud Print and WirelessPictBridge support
Superfast 10.4 ipm for A4 colour document print. Photo-lab quality 10x15cm borderless photo inapprox. 36 seconds
Supported operating systems are windows 10, 8.1, 8, 7, vista ap1 and ssp2, xp sp3 32 bit and mac os x v10.6.8 or later
Top tips for sewing dog toys
If you're new to sewing, you may have questions about how to make homemade dog toys.
Here are some top tips to keep in mind when sewing dog toys:
Don't leave any gaps in the sewing – your dog will probably find these and use the hole to rip out the filling which can be dangerous if they get any caught in their throat or if they swallow it
Double-sew the seams for strong chewers – to make your toys last longer you can double-sew along the seams to make them stronger. Great for strong chewers or dogs that like to teat up their toys!
Make sure the edges of the material don't fray – frayed material can easily be torn, or your dog could swallow small parts of material which isn't good for them, so ensure the edges of your material are not frayed and regularly inspect the toys for signs of wear-and-tear.
Size matters! – When making homemade dog toys, try to make appropriate sized toys for your dogs. If you have small dogs, you probably want to make smaller toys so that they can easily pick them up in their mouths. For larger dogs, toys should always be large enough that there is no risk of your dog accidentally swallowing them.
Practice makes perfect – don't worry if your first couple of attempts at making dog toys end up 'less than perfect'. Your doggie isn't going to mind if your stitching is a bit wonky or the stuffed animal you've made has wonky eyes. As long as the toy is safe for your pooch, it's perfectly fine to let them play with your practice attempts, and just remember – you'll get better every time you make one!
Can you wash handmade dog toys?
Over time, your once-pristine hand-sewn dog toys may be in need of a little wash. This is especially true if your dog likes to play with their toys outside in the garden, or if they are a bit on the slobbery side when playing!
Depending on the materials you have used, it may be possible to wash handmade dog toys.
If you've used material and soft toy filling, putting the toy through the washing machine on a cool wash (or on "hand wash" settings) should be okay for washing your dog toys without damaging them.
How to handwash dog toys
If you are worried about them coming apart in your machine then another option for cleaning dog toys is to hand-wash them.
Make sure you use dog-friendly detergent. When I wash dog toys in the sink, I tend to use a squirt of doggie shampoo instead of washing powder as I know that's safe for my dogs in case any residue gets left on the dog toys.
Deodorising shampoo is perfect for getting all those icky doggie smells out of the material!
Dirty Talk Deodorizing Shampoo, 16.1 oz Yummy Orange
Yummy Orange scented deodorising shampoo - great for dogs that love rolling in the smelly stuff
This powerful yet gentle formula actually neutralises odours - doesn't just cover them up
Baking soda and ordenone deodorise and freshen the coat. Vegetable proteins help build body and elasticity and leave the coat looking fuller and luscious
All Pet Head formulas are manufactured in the USA to human quality standards. They are pH balanced for dogs and free of petroleum derivatives and DEA and will not harm your dog if licked or swallowed
Fresh and unique fragrances ensure your pooch will smell great and is one of the key features that differentiates Pet Head from other brands
After washing, ensure the toy is completely dry before giving it back to your pooch.
If you have used clothing material then a short spell in the tumble dryer will help to dry out all the stuffing. Alternatively, you can put them on the radiator or peg them to the washing line to let the sunshine dry them.
Just be warned – your dog might be slightly transfixed by seeing all his favourite toys spinning around on the washing line all day!!