20 Free Sewing Projects for Dogs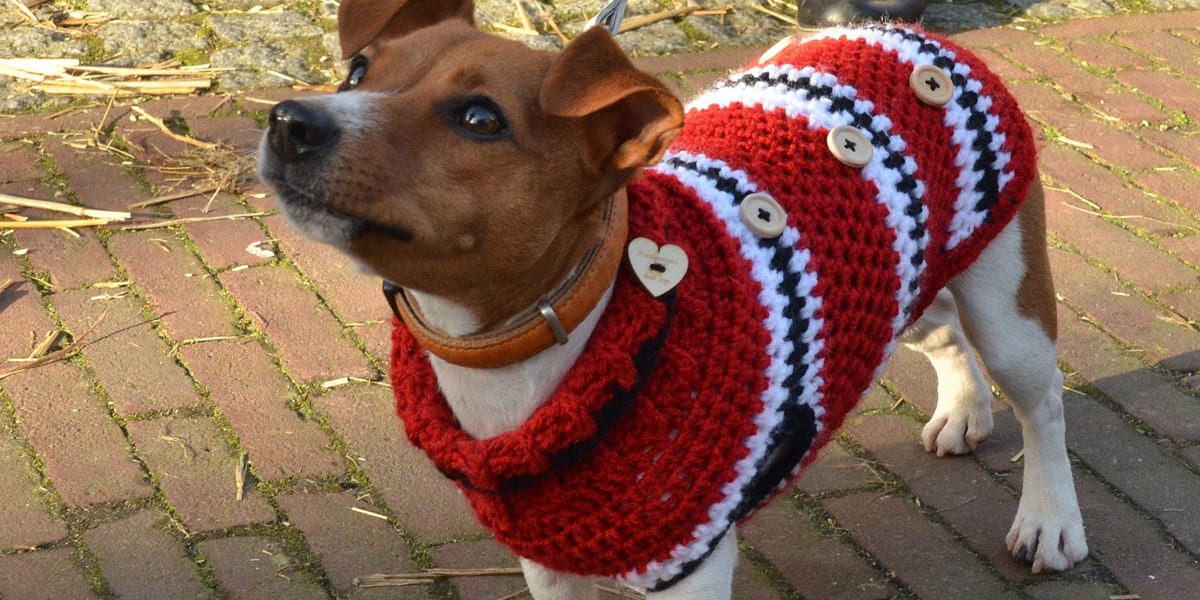 Updated on February 18th, 2019
I love to make handmade craft projects for my dogs. It might be a new toy for them to play with, somewhere comfy to sleep, or simply sewing up a hole they have made in one of their favourite toys.
If you're looking for some inspiration for your next DIY dog sewing project then look no further!
I've collected together 20 gorgeous sewing projects for dogs – and the best part is, all the tutorials and patterns can be downloaded for free!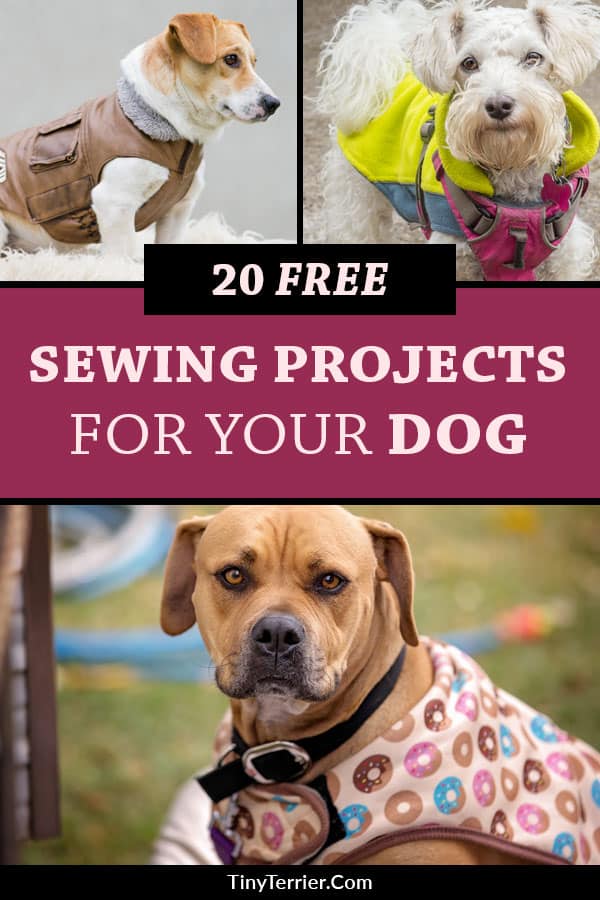 How to make dog sewing projects
Follow the links below to view the full sewing tutorial for each dog craft project.
Dog sewing patterns: Coats
Valentine's Day dog costume
Get your dog ready for Cupid's arrow with this gorgeous crochet coat pattern. It's free to download and full instructions are included.
Tweed dog coat
Your dog will look quite the gentleman in this rather posh looking tweed dog coat. Perfect for walks in the countryside with a stop-off at the local pub!
Upcycled hoodie/coat
Turn your old zipped hoodie or coat into a coat for your dog! This is a great project because it's suitable for larger dog such as staffies whereas many sewing patterns seem to be aimed at smaller dogs.
Waterproof dog coat
My dogs hate going out for walks in the rain, so they have waterproof coats to help make wet walkies more bearable. Here's a fab dog sewing project for making your own waterproof dog coat.
Dog coat tuxedo
Get your dog ready for a special occasion by sewing him his own doggie tuxedo. This would be brilliant for couples who are including their dogs in their wedding or other family celebration.
Dog collar & leash sewing projects
DIY dog collar
This is a detailed tutorial on how to make your own dog collar. It clearly explains all the materials you need to buy and how to put together the collar.
Scrappy dog leash
I love all the different patterns and colours in this dog leash. You'll definitely have a unique lead that stands out in the park when you are out on your walkies!
Pet bandana
Make your dog the envy of all his furry friends by sewing him a bespoke pet banana to wear with pride. You can match the fabric to your interests – perhaps a favourite movie franchise or simply choose your favourite colours.
Dog collar slipover
This is a fab alternative if you're a bit nervous of your abilities to make a secure dog collar. It's a simple sewn slipover that you thread over your dog's collar to give them a completely unique look without risking their safety with an insecure collar.
Ribbon dog collar
This dog collar tutorial combines ribbon and webbing fabric to create a customised dog collar. It has photos of the author's gorgeous basset hound – those lovely long ears cannot be missed!
DIY dog bed sewing projects
Patchwork pet bed
This is a great dog bed sewing project for using up scraps of old fabric or clothes. Use a range of colours and materials to crate this stunning and unique patchwork bed.
Upcycled sweatshirt dog bed
Upcycle an old sweatshirt or hoodie into a comfortable bed for your small dog. I think this would be the perfect size for my shih tzus – although they may need one each as they don't really like to share!
Make your own dog cooling mat
Get your dog ready for summer with this DIY dog cooling mat project. My dog loves his cooling mat and they are great for keeping dogs cool in hot weather.
Vintage suitcase dog bed
I cannot even deal with how adorable this is. Upcycle a vintage suitcase into a dog bed with this clever tutorial.
When I was planning my wedding I picked up several vintage suitcases like this at a local car boot sale for a couple of quid each. They are now in the back of my garage somewhere – perhaps I should turn them into dog beds!
No-sew dog bed
Okay, okay – I know this is an article on free dog sewing projects, but this was just too clever not to include. By cutting strips of fleece and tying them together around a cushion or pillow you can make your very own DIY no-sew dog bed that doesn't require any sewing. Marvellous!
How to sew your own dog toys
Denim dog toys
Upcycle your old jeans by turning them in to DIY dog toys. This tutorial takes you through all of the steps to create your own bone shaped dog toys made from denim.
T-shirt tuggie toys
Technically this isn't a sewing project as there is no stitching involved, but it's still a cute material-based project – so I've included it.
I make t-shirt tuggie toys for my dogs and they love them – plus they last a long time too, even during tug-of-war.
DIY water bottle dog toy
My Freddie likes nothing better then to crunch away at a plastic water bottle. However, they don't seem to last very long as he wrecks them quickly.
This DIY water bottle dog toy should help them to last longer as it encases the plastic bottle in a cute dog bone shape.
Crochet dog toy
This crochet duck dog toy is definitely beyond my sewing capabilities but I know Socks would love it – especially if there was a squeaker in the middle of it.
Scroll to the bottom of the article for instructions in English.
DIY shark dog toy
Never mind the dogs, I want one of these! This squeaky shark dog toy is super cute and the instructions make it seem fairly simple to make.
Can anyone else hear the Jaws theme music playing??