7 Easy Ways to Keep your Dog Safe in the Car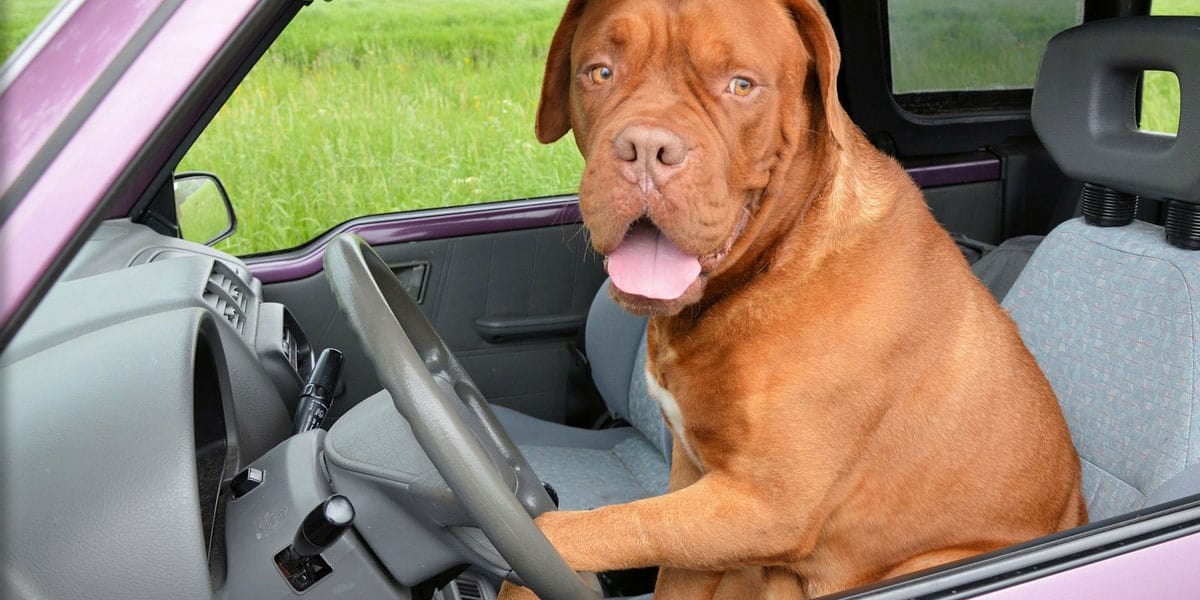 Updated on February 20th, 2019
If you drive with your dog unrestrained then it's a danger not only to you and your pet but to other road users too. Dogs can be unpredictable; the last thing you need when you're driving is a dog jumping around in the car or trying to get on your lap.
Disclosure: This post contains affiliate links, which means that I will earn a commission if you click through and make a purchase (at no additional cost to you).
UK rules & laws about dogs in cars
The Highway Code in the UK states the following:
When in a vehicle make sure dogs or other animals are suitably restrained so they cannot distract you while you are driving or injure you, or themselves, if you stop quickly. A seat belt harness, pet carrier, dog cage or dog guard are ways of restraining animals in cars.
If you fail to restrain your dog in the car then you could receive a £100 on-the-spot fine for being distracted whilst driving. If you fail to pay this then you could end up being taken to court and a fine of up to £5,000.
How to keep your dog safe in the car
Here are my top pick of products to help keep your dog safe in the car:
These dog seat belts work best if your dog wears a harness rather than just a collar. We used to attach these to our dog's collars but found that if the car braked suddenly then the belts would pull on the dogs' necks and cause them to jolt about which was uncomfortable for them and possibly a danger in itself.
They were also a bit long for our small dogs so they could still jump into the footwells but then they found it difficult to jump back onto the seats due to the limited movement allowed by the seat belts.
When these seat belts are clipped on to the back of a harness instead of a lead they seem to offer more protection and don't pull on the dogs' necks.
If your dog doesn't have a harness then you can buy car-specific harnesses with in-built seatbelt attachments.
The Company of Animals Clix Carsafe In-Car Safety Harness For Dogs,Medium
The patented COA CarSafe Harness provides comfort for the dog, both in the car and whilst walking.
It is extremely strong, secure and safe as it is made from safety-standard seat-belt material.
Extremely comfortable, padded material, featuring a unique 'X-Cross' design for strength and security.
Easy to fit and use - just plug directly into your seat-belt socket (not suitable for Volvo or Saab cars) or slide the existing seat belt through the loops in the harness handle.
Can also be used as an extremely comfortable walking harness.
Be sure to check the measurements so that you buy the right size. Too big and your dog may be able to wriggle out of the harness; too small and it will be uncomfortable to wear.
One of the great features of this car harness is that it's made from safety-standard seatbelt material which makes it really strong and safe.
I've had my eye on one of these for a while and it's finally made its way into my shopping basket.
Sale
X-Large Dog Seat Cover-Heavy Duty & Waterproof, Machine Washable, with A Safety Seat Belt and Carry Bag,Dog Hammock(152 x 147 cm )
🐾[Made from Superior Materials]--Unlike others, our dog seat cover use a total of 4 materials. First of all, 600D Oxford cloth can effectively prevent pets and nails from being rubbed. Secondly, PU coating can be used to effectively waterproof. In addition, the rubber sole can be used for anti-slip and safer during driving. Finally, polyester cotton is added in the middle to increase the softness and comfort of the product.
🐾[Outstanding stability] - Four ways to prevent slipping. First, the bottom rubber pad has greater friction; second, it has an adjustable strap that is flexibly fixed to the seat headrest; the third bottom two handles can be placed between the seat gaps to make the dog more stable The fourth experience is to provide a seat belt for pets to ensure safety.
🐾[X-Large Size]--152 x 147cm /60 x 58 inches can fits any cars and SUVs-Large or small, and perfect for small medium large dogs breeds.
🐾[Best travel solution, easy to install]--Lightweight, easy to install, no tools required, can be installed in a few minutes, not only as a dog mat, but also as a hammock, picnic mat, sofa cushion, beach mat .
🐾[Practical gifts, easy to clean] - A beautiful reusable storage bag and a pet seat belt that can be fixed more securely. It is easy to clean and can be rubbed by hand. It is not recommended to use a washing machine. In short, the product is necessary for people with cars or for pets.
One of my dogs gets bored on car journeys and tries to jump into the footwells of the back seats. He is restrained by a car harness which prevents him from doing this, but… being a stubborn Shih Tzu… he still tries, and can sometimes manage to slip down in the gap despite the harness.
This dog hammock looks like it will solve that problem and create a much safer environment in the car.
It hooks over the headrests of the front seats to create a hammock inside the car so that there is no risk of a dog falling into the footwell.
It's made from wipe-clean, non-slip and heavy duty material so it should be easy to clean when it gets covered in footprints after a muddy walk!
If you have a small dog then a pet booster seat is a good option for keeping your dog safe in the car.
The strap goes around the back of the seat's headrest and then your dog is contained in the carrier space.
The box creates a lovely little bed for your dog to curl up in and go to sleep. They'll feel safe and secure in the space as they won't slip about when you go round corners or roundabouts.
If you have more than one dog then this product is also great for keeping them separated so that they have their own space.
Do you ever get an inquisitive dog nose poke against your arm whilst you're driving? This can be very distracting and possibly dangerous.
FREESOO Car Pet Barrier Safety Net for Dog, Vehicle Universal Mesh Fence Safety Barrier Durable Travel Blocks Dogs Access To Car Front Seats
Durable and anti-bite. Make of High quality mesh fabric. Not easy to tearing but easy to clean.
Mesh design, breathable, ventilated and visible.You can see the rear seat clearly.
Easy to fit. With plastic buckles on rear seat for easy on/off. This car net barrier come with 2 adjustable bands and 4 hook. You can install it in few second. If you don't know how to fit it, please contact us.
Light weight, foldable and space-saving, small size could be stored in a car properly. Size: 115 * 62cm
Creates a barrier between front & back car seats to prevent distraction while driving. Suitable for all the car, vans, SUVs and trucks.
This safety net barrier clips on to the front seats to create a mesh barrier between the front and back sets.
I like the fact that it has holes in it so that your dog can still see you and be reassured that you are still close by.
The durable material is designed to be easy to clean and difficult to tear, making it long-lasting and hard-wearing for your car.
If you travel with your dog in the boot of your car then you'll need a way of preventing them from jumping into the back seats.
The most common way to do this is with a metal car boot barrier, often called a dog guard.
Sale
XtremeAuto® Durable Universal Deluxe Heavy Duty Dog Guard Pet Car Barrier Cage Mesh Head Rest Pet Dog Guard
Attaches to vehicles headrests, height & width adjustable, suitable for most hatchbacks, SUV, MPV, Jeeps, estates and 4x4s
Quick & Easy To Fit, Provides essential COMFORT for both driver & pETS, Acts as a Barrier to keep your dog in the Boot
Fits Years: 2001, 2002, 2003, 2004, 2005, 2006, 2007, 2008, 2009, 2010, 2011, 2012, 2013, 2014, 2015, 2016, 2017, Universal Fit On MK1, MK2, MK3, MK4, MK5, MK6, MK7 Hatchback, Saloon, Estate, SUV, MPV
Ideal Christmas or Birthday Treat Gift TAXI Present for the Cleaning, Dog Lover, in the Family, Man, Boy Racer, Boyfriend, Father, Dad, Brother, Daddy DAY, Granda, Mother, Mum, Sister, Girl, Granny, Wife or Girlfriend.
You could buy a specialist dog guard specifically built for your make and model of vehicle. This can be expensive and if you ever change your car you'll have to buy another one. If you do decide to get a custom dog guard then Barjo are a fabulous British company that produce car-specific dog guards.
A more affordable option is to buy a barrier that's built to fit lots of different vehicles. If you're thinking of buying a dog guard, be sure to check the product description to make sure it will fit your car.
Car boot barriers are usually fairly simple to fit; you may not even need any tools to complete the installation.
The final item on this list of dog car safety products is one for keeping your dog safe before and after the journey rather than during it.
Sale
Trixie Pet Ramp, Black, 40 × 156 cm
plastic anti-slip coating protects the joints of the pet highly recommendable in cases of arthrosis and arthritis
can also be used for preventative measures collapsible
weight 4.5 kg universal use easy to clean
It's a big old jump to get into a car and as your dog gets older they may find it difficult to manage. This isn't so much of an issue with smaller dogs that you can pick up and place in the car, but it's not very practical to pick up a Labrador, staffie or St Bernard to get them in the car!
This foldable dog ramp will let your dog get in and out of your vehicle with ease. Using a car ramp helps to protect your dog's leg joints and makes entering and exiting the car an enjoyable experience rather than a painful one.